Individual Post Subscriptions Panel
This panel lets you manage your (or someone else's if you are a User Admin) subscriptions to individual Posts/Topics/Items.
Before you have any subscriptions, you will see something like this:

If you wish to subscribe to new comments on a collection post or new replies on a forum topic, look at the bottom of the comment/reply form of that post/topic. You will see a number of buttons like this: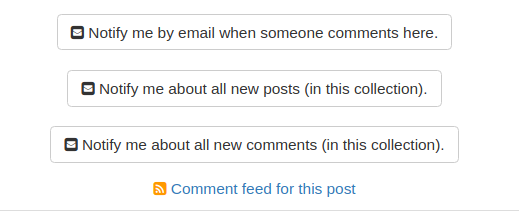 Once you have clicked the Notify me by email when someone comments here button, you will see this instead:

You can unsubscribe in one click right there. You also get a 1-click unsubscribe link in any email notification you receive.
After having subscribed to a couple of individual posts, if you go back to your notifications panel, you will see something like this:

Here you see a list of all your individual post subscriptions. You can uncheck all the ones you don't want to be subscribed to any more. You can also click on the Post titles to see them in the Front Office.