Wow! June Already! What happened to April?
It was about time for an update! We've got great news!
b2evolution version 6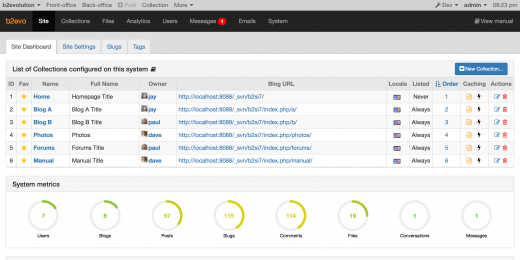 The site dashboard in b2evolution 6.4.4
We've made huge progress on b2evolution version 6. Several betas have been released and the latest is 6.4.4 released just 2 days ago! Download Here.
Along the way, we actually added quite a few goodies and b2evolution v6 now far exceeds our original ambitions for this release!
A few highlights of v6:
Everything is now redesigned 100% in Bootstrap by default: front-office, back-office and even the installer (but it's still possible to use non-Bootstrap skins of course);
Tag management interface;
HTML5 semantic markup;
Custom templates for custom post types;
More clean URL schemes accessible without editing any .htaccess file;
More powerful search feature;
Forums can track what posts you have already read and which are new.
You can find more v6 features/changes in the original 6.0.0 release notes and following.
Logo redesign
So the whole app has been redesigned and got a fresh, new, 2015, responsive, bootstrapy look… Now it's time to also give the website a facelift! (Upgrade it to v6, make it responsive…)
Actually, we're starting with the logo. Here are a few variations of what we've been experimenting with: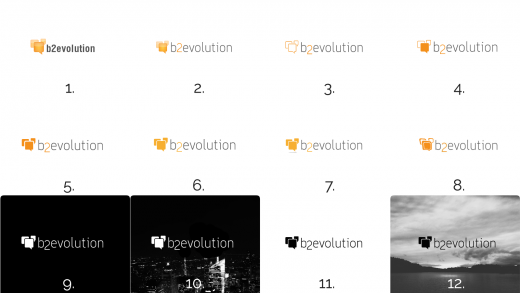 Logo tentatives (click to zoom)
What do you think?
Can you tell us which one you like the most?
And possibly why?
All feedback is welcome!
Have you noticed we have been listening more and more to our users' needs for the last couple of years?
One defining moment was this: Your feedback matters!.
You gave us awesome feedback so far, and we have implemented most of what you requested. A few requests are still in the pipeline, as fixing v6 bugs was a priority over new features. But worry not, if we said we were going to implement it, you'll see it in the next couple of months.
As you check out b2evolution v6, please continue telling us what you think and what you need. No matter how small or how big! If we can make it happen, we will!
Enjoy v6!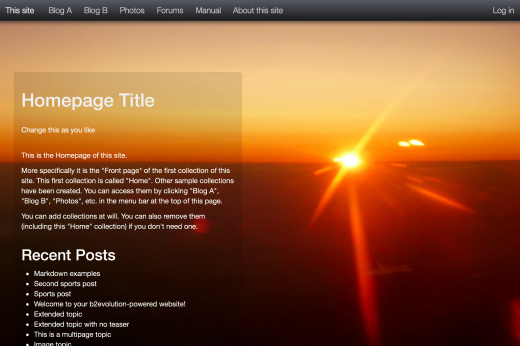 Hello b2evolution Folks!
We have a ton of exciting news for you this month! (We hope you'll understand why we skipped the February news ;)
b2evolution version 6 is here!
We have just released b2evolution version 6.0.0-alpha and it is PACKED with good stuff! Following the previous link will take you to a list but just to mention a few:
Several new skins based on the bootstrap framework.
It supports a global Home Page for the site.
Collections/Blog can be made private, even invisible to non-members if needed.
Email capture / quick registration widget.
100% UTF-8. No more weird character hassles when dealing with multiple languages.
We also have a Guided Tour if you'd like ;)
Posted on January 19, 2015 by
Francois Planque
in
Development
Happy New Year Everyone!
Security Release
You have probably seen the invitation to upgrade on your dashboard last week. If you haven't, please be advised we issued a security release (version 5.2.1) and for optimal security, we encourage everyone to upgrade.
If you're using b2evolution 5.1+, you can upgrade very quickly with the auto-upgrade feature. Otherwise you can download the release here.
Translations & language packs
Now that version 5.x is very stable and not evolving much any more, we are updating all the language packs.
If you'd like to help translating b2evolution to your own language, now is a good time to head over to our Transifex Project Page where you can sign up for free and translate one, a hundred, or a thousand strings. You can also use Transifex to efficiently report any inconsistency or any problem you noticed while using the app in your own language: search for the problematic string and leave a comment on it (mark it as an issue). Of course, if you know a better translation, type it in!
b2evolution v. 6
We regularly update the development version of b2evolution version 6 on GitHub. If you're interested in the latest cutting edge version of b2evolution and don't mind a few bugs, you can get it from there.
You can also check out the growing list of features here.
Hello Everyone!
This month we've got some heavy releases! One stable and one alpha!
Version 5.2 (stable)
Beginning of December we released b2evolution 5.2.0-stable. Many bug fixes. Rock solid. It's a recommended upgrade for everyone. Get it here.
Version 6.0 (alpha)
This is codenamed "i7″ and it's actually not really released yet BUT you can get it on GitHub since today! ;)
This one is really a massive leap forward with tons of new features. We haven't even documented all the features yet but you'll find some of them listed here.
This branch actually makes 5.2 seem obsolete already, but as we haven't fully tested everything yet, we call it "alpha" still. Nevertheless, we wanted to make this available to our true fans without further delay.
If you have some time to play during the Holidays, we believe this should keep you busy for a little while ;)
Please feel free to report bugs for this version already. We'll make fixes available on GitHub as we progress.
What happened to October & November?
I (francois) haven't posted any news in the last couple of months. Sorry about that. I was all absorbed in the birth of my first son ;) Despite the silence, we have a great dev team who has worked relentlessly in between. I think that if you look at i7 you will notice! :)
Happy Holidays to all of you!
Posted on September 9, 2014 by
Francois Planque
in
Development
Hello everyone!
We hope you had a great summer!
Next release
We took a little time off but we're back at fixing bugs in order to release version 5.1.2 and hopefully stick a "stable" label on it… We're a bit picky about that ;)
Update: 5.1.2 has been released!
GitHub
In the meantime, please remember you can always get an up-to-date version, including the latest fixes, on Github here: https://github.com/b2evolution/b2evolution . This would be a good habit to take as we're going to update GitHub even more frequently in the future. We're also working on importing the previous project history onto GitHub (thanks to blueyed).
twitter
Are you following us on twitter already? https://twitter.com/b2evolution
Before the summer we posted quite a few interesting links about web design, front-end development and more generally: techniques to improve your website that complement the use of b2evolution. Did you find those helpful? Would you like some more?
UTF-8
While version 5.1.2 will remain unchanged, upcoming versions (internally "i7″ which will probably translate to "6.0″) will rely entirely on UTF-8. This is made possible because most web hosts now correctly support UTF-8 in PHP and MySQL which certainly wasn't the case when we started b2evolution.
But we're doing it not just because it's possible. We're doing it mostly because many users seem to have encoding problems as soon as they run blogs in multiple languages. By standardizing them all on a common character set — and UTF-8 is the de-facto standard for that — all those charset headaches might as well magically go away.
We also have a fallback for old web hosts that don't have native UTF-8 support, at the expense of a small performance impact.
Globally we feel that moving towards UTF-8 will help us better fulfill our mission of providing a blog/CMS platform that just works from the moment you install it and with any content you add to it.
Stay tuned for more!
Here's a quick update on what we've been working on since the last update ;)
GitHub
GitHub has become the go-to place for open source projects of all kinds. It was about time for b2evolution to be on GitHub too. We're happy to announce the new b2evolution git repository on GitHub:
https://github.com/b2evolution/b2evolution
This repository is already ahead of the latest 5.1.1-beta.
We are updating it weekly for now and we plan to use it as the primary development repository in the (near) future. Which means you will have extremely easy access to bug-fixes and new features in real-time as we work on them.
If you're unfamiliar with git and github, it is still very easy to download and keep up to date with this repository if you use the Git Client tool that can be downloaded from the GitHub home page.
Site Redesign
We changed our intro last month and changed it again today! There's so many possible angles to look at b2evolution that it's a bit tricky to choose one that really catches the gist of it...
We also streamlined the design some more. It's starting to look much more modern.
Anyways, as always, feedback on the homepage design is very welcome.
As a side note, let us give a plug to Font Awesome which we're now starting to use across the whole site.
Development Focus
The last month of development was very focused on performance. More specifically on reducing the number of files being loaded with each page b2evolution serves and also the size of the files.
This was achieve with several techniques:
Concatenating multiples CSS and JS files into one;
Minifying the CSS and JS files;
Doing the above two automatically using Grunt (Note: You'll find our Gruntfile.js in the GitHub repository mentioned above));
Loading non essential JS files asynchronously;
Using an icon font instead of image sprites;
Loading some resources from public CDNs...
You may already have noticed page load time improvements on this site. You will benefit from the same in b2evolution 5.1.2.
5.1.2
We expect to release version 5.1.2 before the end of July. We may call it "stable" instead of "beta" if it passes the tests.
Stay tuned!