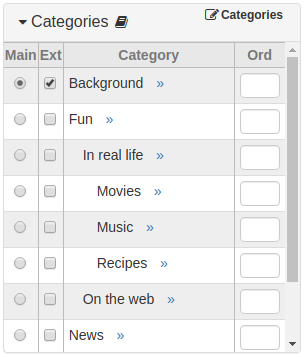 The Categories Panel allows you to set where an Item/Post appears in your Content Hierarchy (Categories and Sub-Categories).
Each Item/Post can have:
A mandatory Main category. This will determine the Permalink of the post, including the canonical URL of the post.
Several optional Extra categories. This will determine all the other places where the Item/Post can be found when browsing the Content Hierarchy.
An Order number for each category where the post appears.
Configuring this Panel
This panel may have more or less available fields depending on the settings of the Create/Edit Options Panel.
Cross-Posting
When cross posting is enabled, you will be able to see all categories of all collections that can accept the current Item Type in this Panel.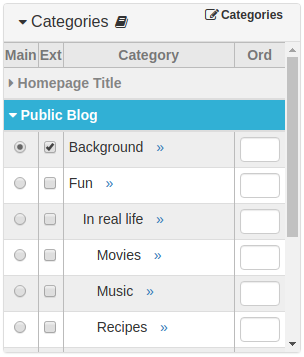 In order not to make the scroll bar too long, only the current Collection is expanded by default. Click on another Collection title to expand it.