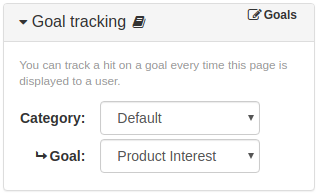 This panel allow to record Goal hits to page/post views.
In order to record a hit on a specific goal every time the Post or Page is displayed, do the following:
Create a Goal in Goal Settings.
Select a Goal Category – the final goals of that category will be displayed.
Select a Goal.
Note: Only "final" goals will be made available for selection. That means that only goals without a redirection will be available for selection.