Create/Edit Options Panel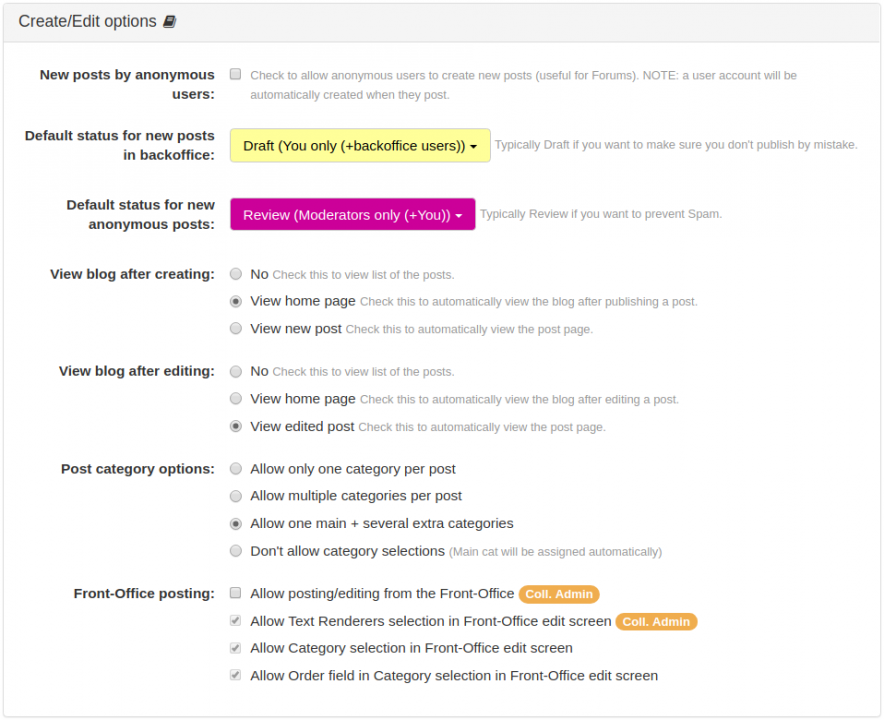 In this panel, you can configure several options that affect the creation or editing of Posts/Items.
You can enable anonymous users to create new posts by checking the New posts by anonymous users option. This is typically used in forum collections. Take note that a new user account will be created for them when they post.
The Default status for new posts in backoffice and Default status for new anonymous posts options allows you to specify the default Visibility Status of every new post created in the back-office and of new posts created by anonymous users respectively. The visibility status are as follows:
as Public, which everyone can see (not a highly recommended setting)
as Community, which is visible only to all logged-in users
as Members, which is visible to all members only
as Review, which is visible only to Moderators who are authorized to publish the post
as Private, which basically means, only you can see the post
as Draft, which also means only you and other back-office users can see (and maybe edit) the post before it is published (this is the default setting)
as Deprecated, which means the post won't be published, or if it was published before, it won't be anymore
as Redirected (301)
Other create/edit post options in this panel are:
View blog after publishing: this lets you select where to be redirected after publishing an item.
View blog after editing: this lets you select where to be redirected after editing an item.
Post category options: allows you to setup the categories for your post as follows:

Allow only one category per post which will restrict authors to a single category for each post
Allow multiple categories per post, which gives authors the freedom to assign a post to different categories
Allow one main plus several extra categories, which is the default setting
Don't allow category selections, which automatically assigns the post to the main category

Front-Office posting: this lets you to enable front-office posting/editing and select features that will be available to authors when posting from the front-office.