Item Workflow Properties Panel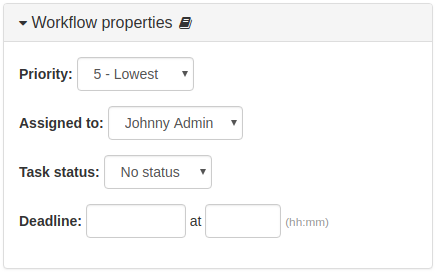 This panel allows the assignment of Workflow properties to the item.
Priority: indicates the priority of the item on a scale of 1 to 5 with 1 being the highest and 5 the lowest.

Assigned to: assign the item to a User.

For collections with advanced permissions, only users that are allowed to have items assigned to them via Advanced User Permissions or users that belong to groups that are allowed via Advanced Group Permissions will be included here.

For collections with simple permissions, only the collection owner and admins are included.

Assigned users will receive an email notification of the item assignment if the feature is enabled in the Receiving Notifications Panel.

Note

: The field "Assigned to" is displayed as a

<select>

list only when collection has ≤ 20 potential assignees, otherwise we display an

<input>

field with

Username Autocomplete

instead of the

<select>

list in order not to load 1,000 users in the

<select>

.

Task status: indicates the Item Status. Only item statuses allowed for the current Item Type will be included here.

Deadline: you can set the date and time of the deadline for this item.