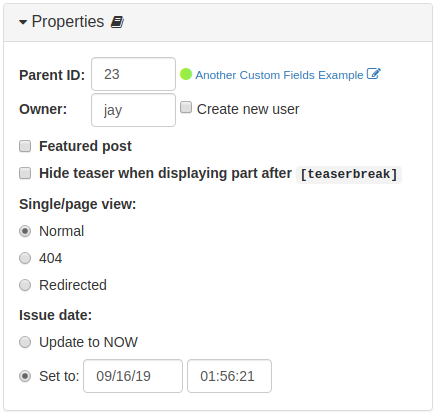 This panel lets you change several properties of the Item.
Parent ID: this allows linking to an Item to a parent Item (if enable in the ). This can later be used with the [parent:] Short Tag.

Owner: enter the login of the author/owner of the Item/Post.
User admins may also create a new user at the same time they enter a login here. This is useful when creating initial contents of a website.

Featured Post: check the box if you want the post to be a featured post.

Hide teaser: controls whether we want to hide the Teaser of the post once we have clicked on "Read more".
If a [teaserbreak] tag is found, the teaser won't be displayed in single view.

Single/page view: this controls what disp=single or disp=page will display.

Normal will display the normal template for disp=single or disp=page. 99% of your Items will probably use this.
404 will display the 404 page. Use this for Deprecated Items/Posts/Pages that you do not want to be shown any more (even if people have bookmarked it in the past).

Redirected will redirect any attempt to display disp=single or disp=page to the "Link to URL" you enter in the Item Advanced Properties Panel. Use this for Items/Posts/Pages you have reorganized/merged with another, so that users who have bookmarked the old page will be redirected to the new one.

Note: You don't need this if you only want to change the slug of your page. If you change the slug of your Item/Page, redirects are automatic.

Issue Date: you can publish the post immediately or schedule a date in the future.
By default, post with a future date are hidden until their published date/time arrives.
Configuring this panel
This panel may have more or less available fields depending on the configuration of the current Item Type.