Working with Results Tables
After login and once you navigate the backoffice, you will notice that there are several lists of different sort of things. Those lists are supposed to show you organized information and its tools will let you work with b2evolution in a confortable way.
In order to find out a specific slug inside the whole list, you have three useful options:
1. Filtering

a. Slug: introduce a keyword or phrase and b2evolution will search it among the titles of all the Items stored in a Collection.
b. Item ID: If you remember the Item ID of the Item that you are looking for, then type it in this field and as result you will obtain all the Slugs defined for this Item.
c. Filter list button: Clicking on this button you will activate the filter according the parameters defined on a and b.
d. Clear filters. Clean up the content of fields a and b and then click on Filter list button c.
2. Ordering

You are able to order the list according to its columns names. Clicking once on any of the column titles will stablish an ascendant order to the list taking as reference this field. Clicking again over the same column title will toggle the order to descendant. The available column titles on for this view are:
3. Paging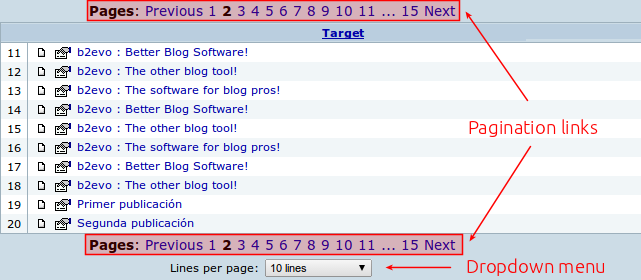 If the prior options are not enough to find out any slug on the list, then you also can browse the whole list, page by page. Above and below the slugs list you will find a pagination links that let you interact with the list as you desire. It is important to point out that you can use the drop down menu placed under the bottom pagination links, in order to set how many entries per page do you want to see in the list.