Photo Index Widget
Photo Index Widget
This widget automatically show pictures attached to the items of the blogs / collections of your site in a wide variety of ways. All you need to do is set the parameters below to make it behave as you need to.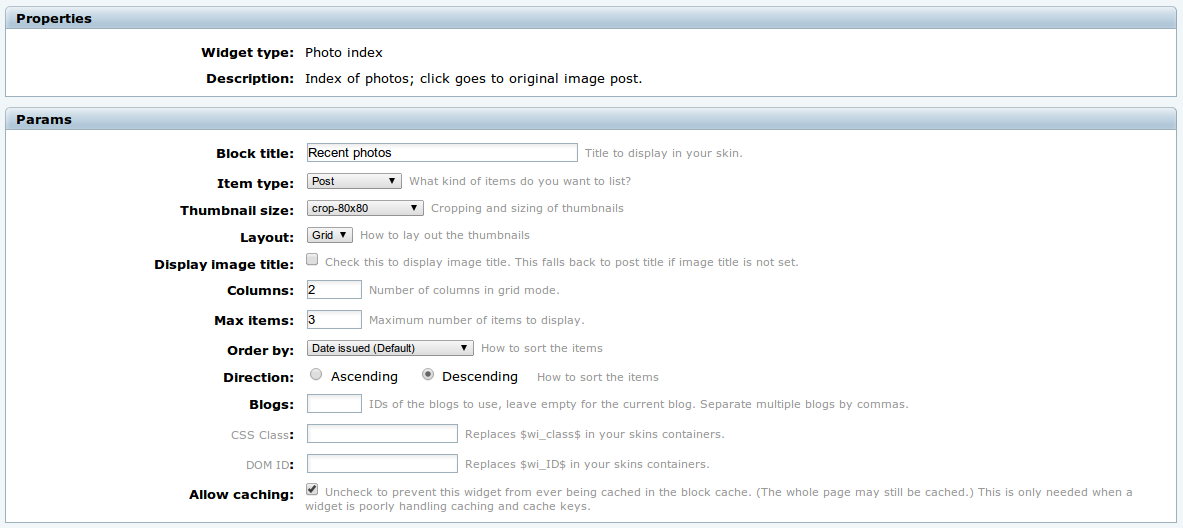 Params
Block title: Title to display in your skin.
Item type: What kind of items do you want to list? Only items of the selected type will be included in the list of pictures to be shown.
Thumbnail size: the thumbnail will be adjusted according the selected option. To know more about those options, please go to this page: Image Sizes.
Layout: How to lay out the thumbnails. There is basically two layouts: grid and list. The grid layout arranges the pictures in as many columns as defined in the Columns parameter below. The list layout displays the images in a vertical list, each one of them below of the previous one .
Display image title: When this is checked, the Long title field (for details, please see this: File properties) of the given file is displayed as its caption. If it is not defined, the item's title is displayed instead.
Columns: Display pictures next to each other up to this number.
Max items: Maximum number of items to display.
Order by: How to sort the items.
Direction: Set the ordering direction. The options are: 1) Lowest to highest (Ascending) or 2) Highest to lowest (Descending).
Blogs: IDs of the blogs to use, leave empty for the current blog. Separate multiple blogs by commas. If no pictures are found in those blogs, the widget will not be displayed at all.
Created by mgsolipa • Last edit by fplanque on May 02, 2015