Email capture / Quick registration Widget
When placed in the sidebar, the main area, or any Container you like, this widget will display a form to capture the User's email (and optionally additional fields). This will quickly create an account for the User and register him to one or more email lists and/or it will register him to notifications about the current collection.
At a minimum, the capture form will have:
A field named "Your email:" requiring an email address.
A submit button with configurable text. Default: "Sign up!"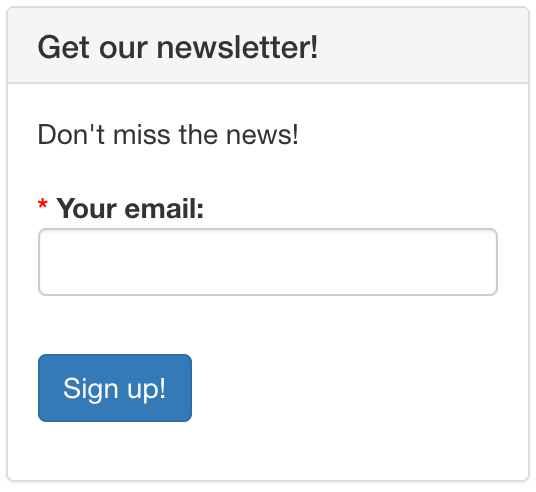 Optionally, you can also request first and/or last name: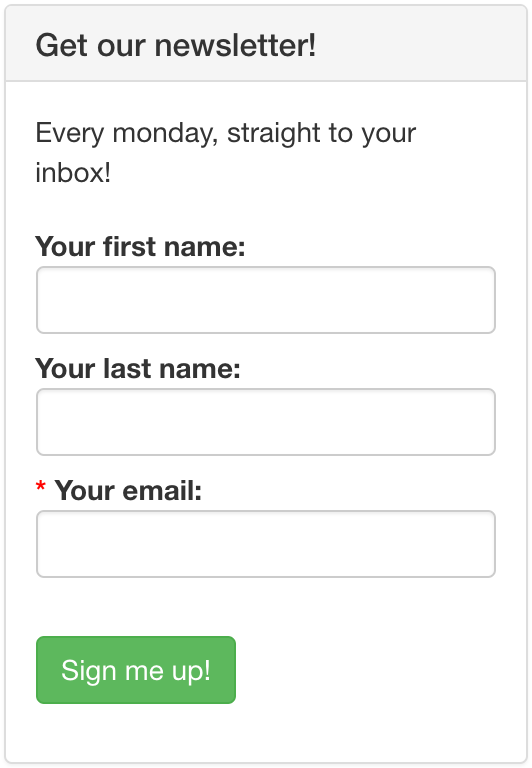 User account creation: When submitting the form, if there is no error, a user account will be created without a password (the User may later request a password using the "Lost password" option). If no first name has been provided, a username will be generated by taking out the abc.def part of an email like abc.def@provider.com (the valid chars depend on Login & Registration Security Panel ).
Asking for additional user details: After the email capture, you may or may not ask the user for more info, including a password. See: Options for All Registration Methods Panel.
Please note:
Quick registration must be enabled in Standard Registration Panel, otherwise the widget will display an error message.
If the user is already logged in, this widget will display nothing.
Alternative placement
This widget can also be called within any Post/Article/Page content by using the Emailcapture Short Tag.
Back-Office Widget settings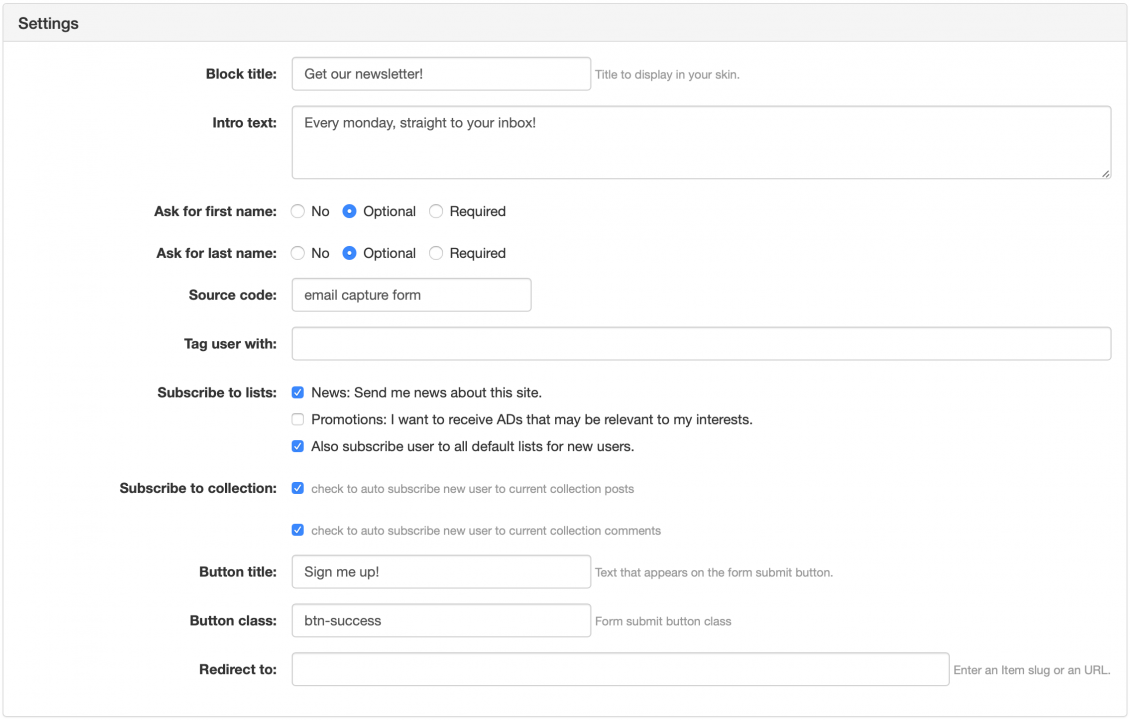 The widget has the following params:
Block title
Intro text: a small text explaining why people should provide their email/register here
Ask for first name
Ask for last name
Source code: default "email capture form". This is for later reference, it will be saved in the source field of the user account
Tag user with: Allows to set a User Tag on user accounts created through this form.
Subscribe to Lists:

here there will be one checkbox per list that is active on your system. You can select which email lists you want to auto-subscribe the user to.
[] Also subscribe user to all default lists for new users: this refers to default lists marked in the list of email lists

Subscribe to collection: This allows to auto-subscribe the user to notifications about the current collection:

[] check to auto subscribe new user to current collection posts
[] check to auto subscribe new user to current collection comments

Button title
Button class e-g btn-primary (any CSS class)
Redirect to: this is the page the user will be redirected to after being registered.
Container Widget Settings
You can control the display depending on the width of the container. 'form_display' => 'compact', is the default but the container can also set standard, nolabels, inline or grouped.
The best choice will depend on the expected width of the container.
Examples in a Sidebar

Examples in a wider area