Comment viewing options
Comment viewing options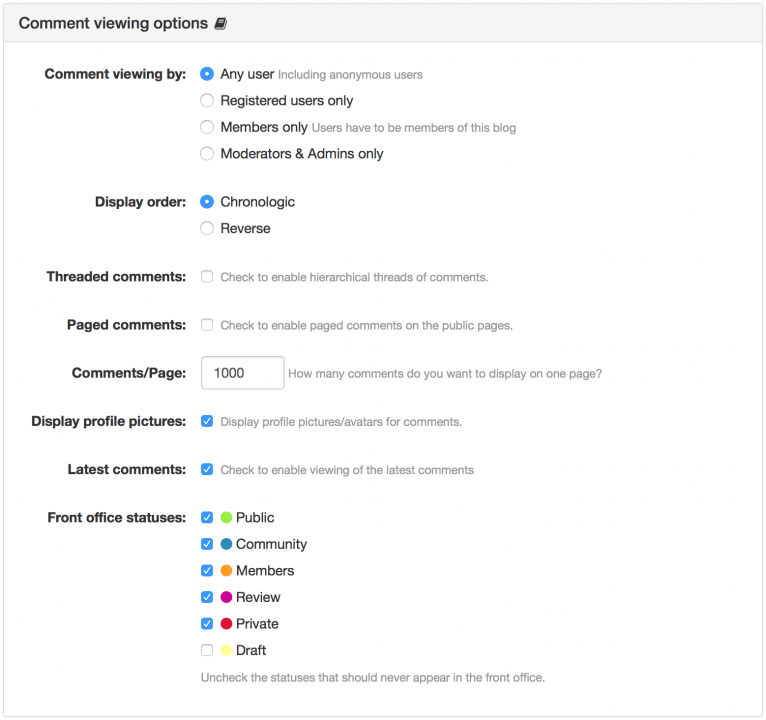 In this panel, you can define who is able to view the comments and how they will be shown.
Comment viewing by: Define which users are able to view comments at the front-office. Each option is more restrictive than the previous one (Any user is selected by default). Considering this:

Display order: define the order at which comments appear on your posts, either in chronological or reversed order. The Chronologic option (from first comment to last one) is selected by default.

Threaded comments: enable hierarchical threads of comments or not. This option is not checked by default. To know more about this feature, please visit Threaded comments.

Paged comments: define whether you allow public page commenting or not. This option is not checked by default.

Comments/Page: define the number of comments that you want to be displayed in one page. The default value for this option is 1000.

Display profile pictures: Define whether or not to display the user profile picture on each comment. This option is checked by default.

Latest comments: Enable/Disable the use of "disp=comments". When is enabled, you could display the latest comments of the collection by adding ?disp=comments to the base URL of the referred collection. When disabled, a standard 404 error will be displayed instead. This options is checked (enabled) by default.

Front office statuses: lets you to decide the required Visibility Status for a comment to be shown in the front office by checking each one of them on the list. By default, in all collections except those of Forums collection type , the statuses will be selected as shown in the screenshot above. In the case of Forums type, the Draft status will be checked by default as well. Deprecated and Recycled statuses are not part of the settings. Comments with these statuses are always available only from the back-office.
Created by mgsolipa • Last edit by winskie on Jun 04, 2019