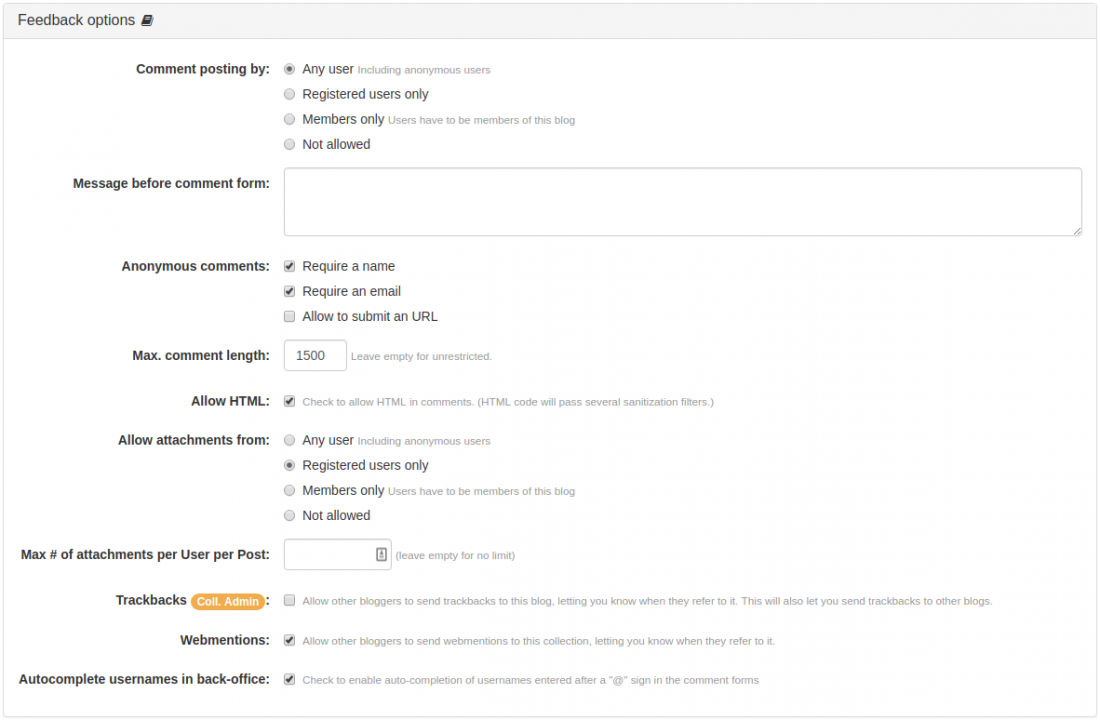 In this panel, you can select who can leave comments on your Items/Posts and what information they are allowed to post.
Comment posting by: can anonymous users post comments? Only logged in users? Only members of the collection ? The default selection for this option is Any user.
Message before comment form: this message will be displayed (typically in a blue box) on the comment form and can be used to give instructions to commenters, for example about the acceptable comments policies.
Anonymous comments: if the user who posts a comment is not logged in, what extra info is he required/allowed to provide about himself? Each checkbox creates an extra input field on the comment form.
Max. comment length: this lets you define the maximum allowed length for each comment. Leave this field empty for unrestricted.
Allow HTML: Whether or not to allow HTML code in comments. This option is checked by default and the HTML code will pass numerous sanitization filters prior to approval and display.
Allow attachments from: who is allowed to add attachments to their comments. By default, we do not allow anonymous users to do so to avoid image file spam.
Max # of attachments per User per Post: allows you to explicitly define the number of attachments that you are allowing users to post on comments, unless you have chosen the Not allowed option. Leave this option empty if you do not want to limit your users (default setting).
Trackbacks: should this collection accept Trackbacks. This option is not checked by default because it is heavily used by spammers.
Webmentions: should this collection accept Webmentions. This option is enabled by default (b2evo 6.11.0+) because b2evo double checks that the referring site actually has a link to the current post.
Autocomplete usernames in back-office: should usernames starting with @ be autocompleted in the back-office? For the front-office, see Skin Settings.