Voting options
Voting options
This section allows you to manage two specific features of the comments. 1) Let your users to rate the posts by adding stars, using a scale that goes from 1 to 5 when compose their comments. 2) Let the users to rate the published comments by defining them as helpful or not helpful.
Allow star ratings from: Define which users are able to rate using the stars scale. The options are almost the same given on Feedback options: Any user, Registered users only, Members only and Not allowed. The option "Any user" is selected by default.
Star rating question: Display a question / phrase before to show the stars at the comment form.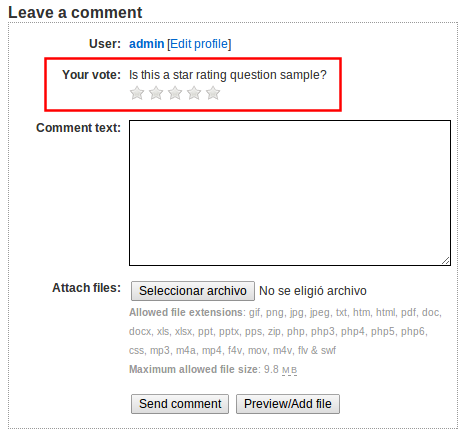 Allow helpful/not helpful: Display a pair of buttons to each comment, made by other users, that let to assign it a value: "Helpful" or "Not helpful". Each vote "Helpful" adds a 1 to the count of the comment, and each vote "Not helpful" decrease the count in 1. At any moment, the helpfulness index of each comment is given by this operation over all the votes received by that comment.

Created by mgsolipa • Last edit by fplanque on Sep 26, 2015