Creating an email campaign
Creating an email campaign
Step 1

Go to b2evo > Emails > Campaigns *
Click on Create new campaign
All the campaigns that have been previously created in the site are displayed in this table.
Step 2

Set a name for the campaign. This name will help you to identify this campaign in the future.
Click on the button Create campaign and select users
Step 3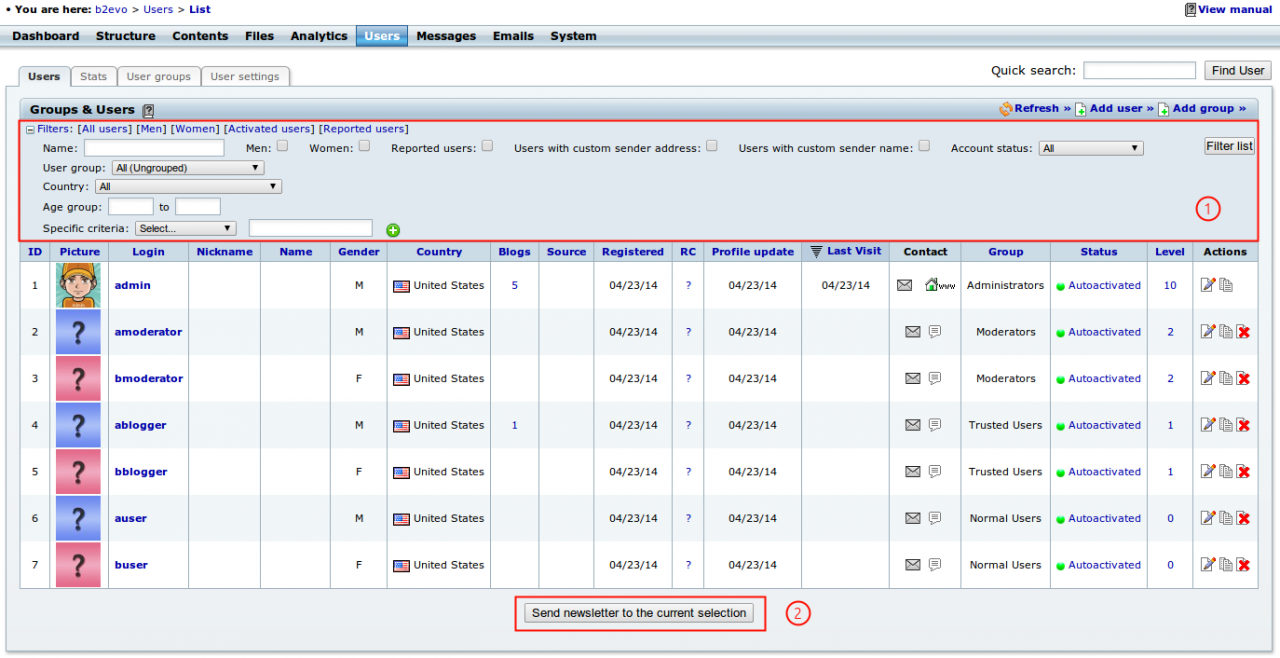 Use the filters to define the list of recipients. All the users listed below the filters section will receive the email sent on this campaign. You may change this list anytime that you need to.
Click on the button Send newsletter to the current selection. Don't worry, we are not done yet, so no messages will be sent on this step.
Step 4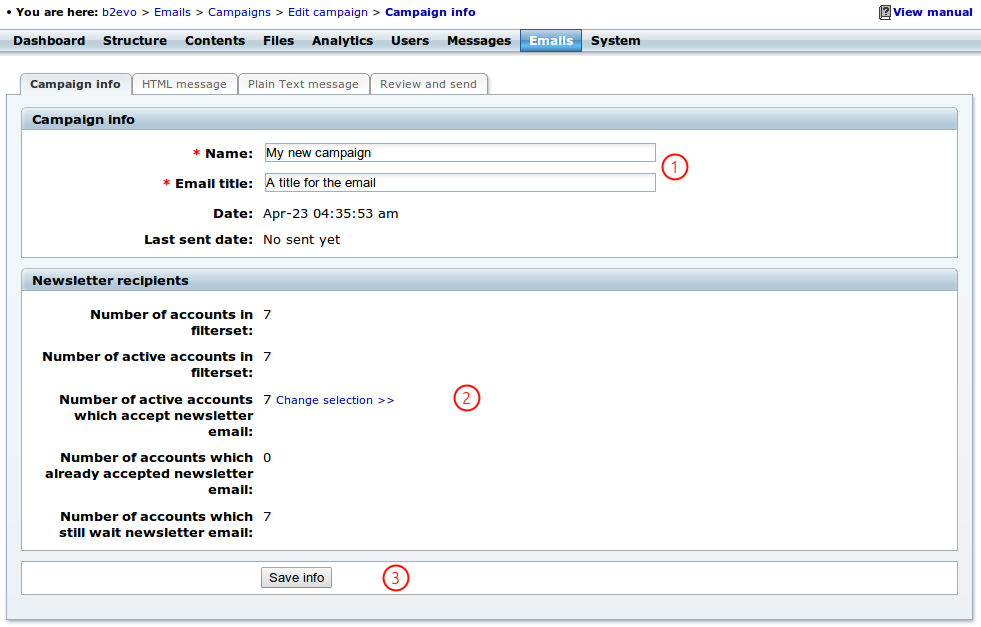 You may change the name of this campaign as you need. Also, a title for the email should be introduced. This title will be the subject of the email too.
The Newsletter recipients section gives you information about the list of users included in this campaign. You are able to make changes on this list, so by clicking the link Change selection >> you will be returned to step 3.
After everything is well configured, click the button Save info
Step 5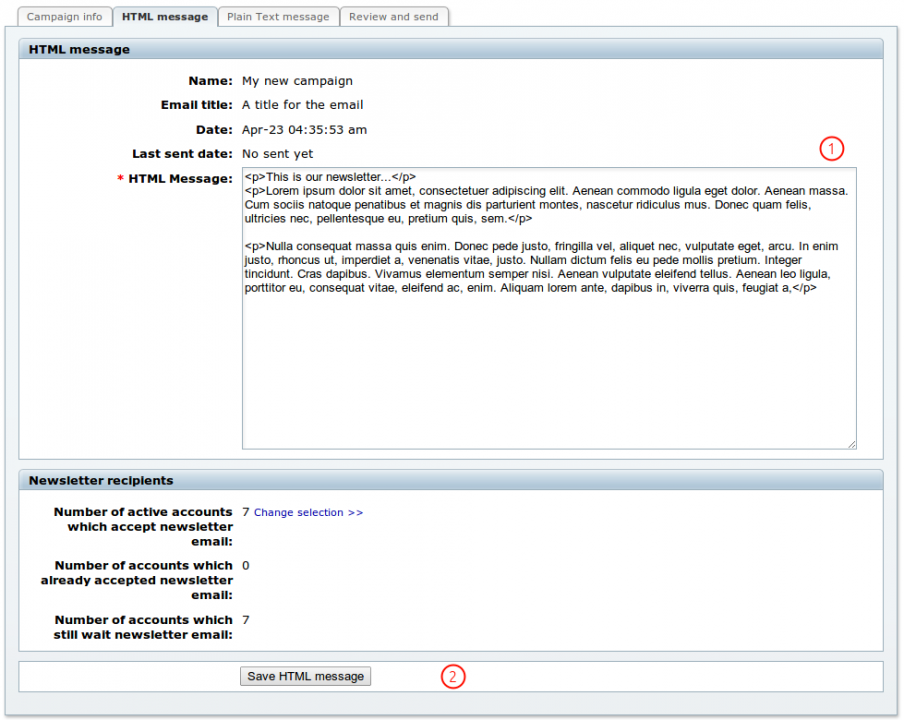 Compose the body of the email. Please note that this step is for HTML messages, so you could use syntax inherent to that language. Some users will accept this format of emails and you can make a better looking message by setting a right layout and style.
How to link to your Posts from your Newsletter
Step 6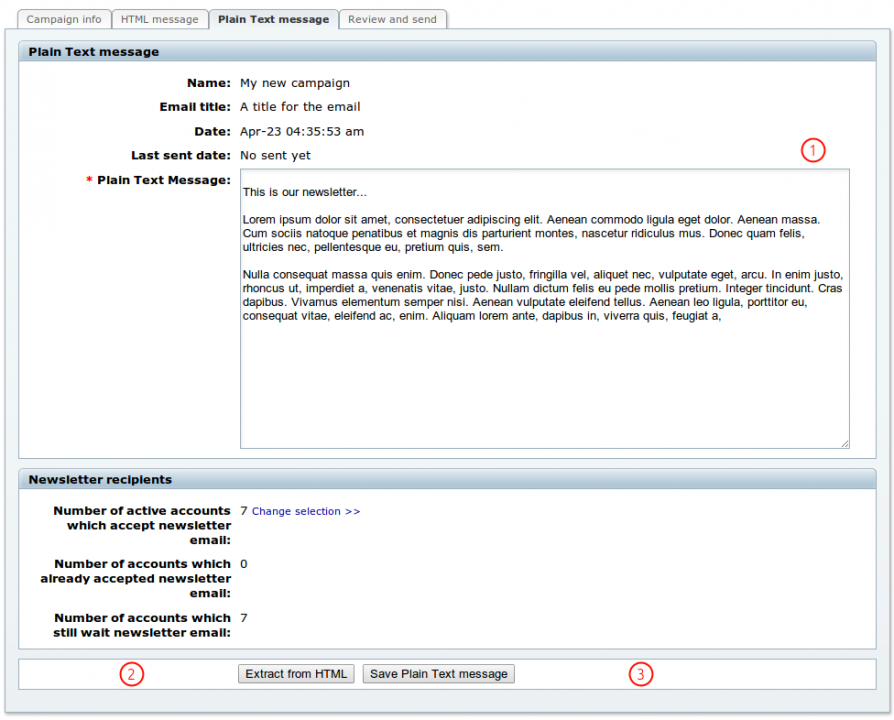 Contrary to the previous step, some users set their email preferences to receive messages as plain text. Also, their email clients maybe do not accept HTML emails, so this kind of messages will fallback and be displayed as plain text too.
You may directly type in the plain text version of your email in the textarea (see 1 in the image above), or extract this content from the HTML message by using the button Extract from HTML (see 2 in the image above). This action will get rid of all the HTML markup in the message defined before and will only keep the lines breaking to maintain the coherence with the paragraphs.
Once you have done, click on the button Save Plain Text message.
Step 7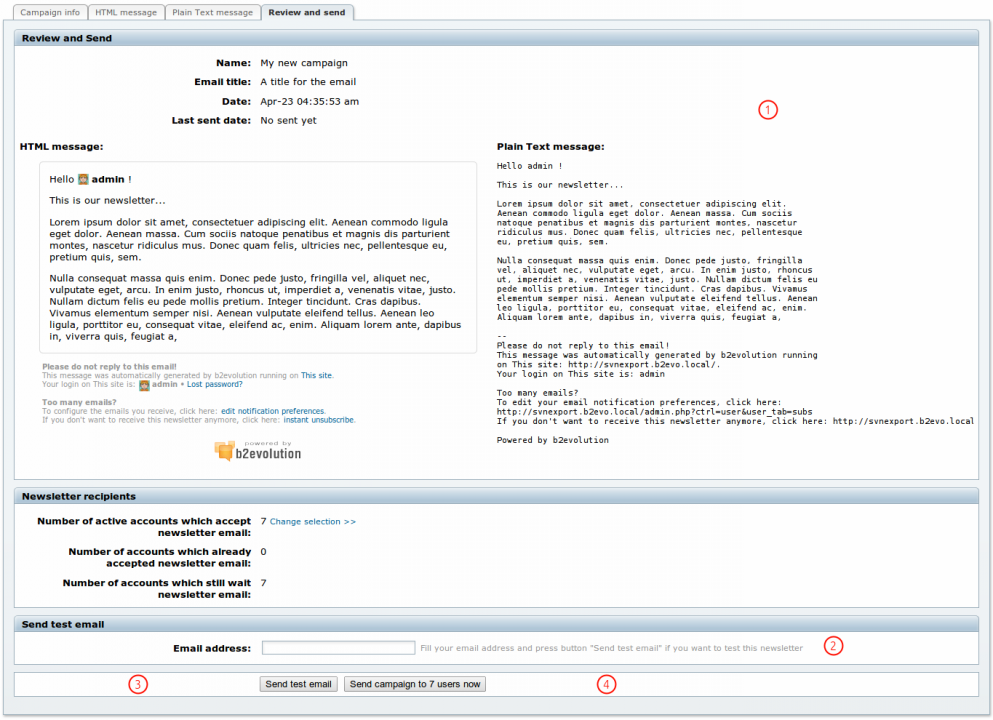 Get a preview of the email using both formats previously defined.
Maybe you would like to send a test message before to make the big sending, just to check that everything is correct. To make this, type the email in the field Email address (2) and click the button Send test mail (3).
Send test mail button.
Send the email to all the recipients. This is the real deal, after clicking Send campaign to N users now, your site will start to send the emails one by one. You will be notified with a list of the users and the result of each sending attempt.
Created by mgsolipa • Last edit by fplanque on Aug 30, 2016