Campaign info: List Recipients Panel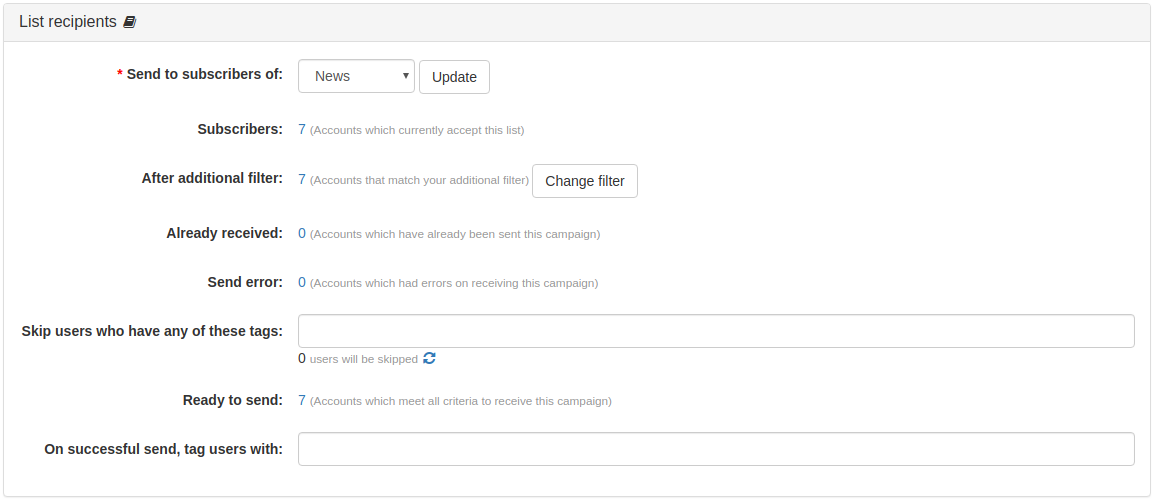 This panel allows you to manage the recipient of the email campaign and possibly assign user tags to recipients.
Send to subscribers of : each campaign must be sent to the subscribers of a specific newsletter
Currently selected recipients : this is the number of people who are currently subscribed to the selected newsletter

After additional filter : here you can apply an additional filter / segmentation to the subscribers of the newsletter.

IMPORTANT: The resulting list of the filter is static. New subscribers will not be automatically included. So if you prepare a campaign in advance and save it at a later date, you need to click "Change filter" to update it.

Already received : number of subscribers who have already received this campaign. This is useful when you re-send a campaign, for example to include new users.
Send error: number of accounts which had errors on receiving this campaign.
Skip users who have any of these tags: users that have any of the listed user tags will not receive the campaign.
Ready to send: number of users who haven't received the campaign yet AND are currently subscribed AND match the additional filter.
On successful send, tag users with: list of user tags that will be assigned to individual recipients if the the campaign was successfully sent to them.