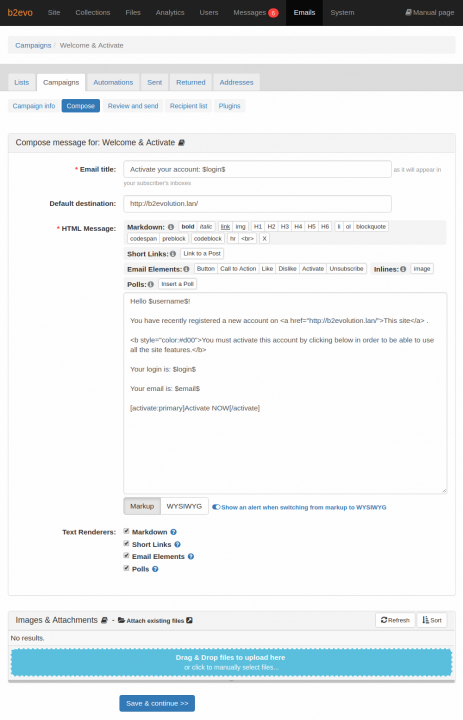 This is where you compose the email to be sent out.
Email title
This is what users will see in their inbox
Default destination
This destination URL can be used by various buttons that you can place into your email message. See below.
HTML Message
Body contents: What you type here will be the message in the body of the email. This will automatically be preceded by the standard email header for this list and followed by the standard email footer (see email templates). You will be able to see the complete layout at the Review stage.
HTML vs Plain Text: b2evolution will automatically generate a plain text version from the HTML message you create here. This will be used for users who don't want to or cannot receive HTML emails. You will be able to edit this at the Review stage.
Special short tags you can place into the body:
You can use special short tags to create "action buttons" such as: [like], [dislike], [button], [cta] (Call To Action), [activate].
These can also be used to create clickable images.
More info here: Email Elements Renderer Plugin.
Special variables you can place into the email title and body:
$login$ - Avatar + login
$username$ - Avatar + login
$firstname$ - First name
$lastname$ - Last name
$firstname_and_login$ - If first name is empty then only $login$ is displayed otherwise $firstname$ ($login$)
$firstname_or_login$ - If first name is empty then $login$ is displayed instead of $firstname$
$email$ - Email address
$user_ID$ - User ID
$unsubscribe_key$ - Key for unsubscribing urls
$reminder_key$ - Key for activation urls
$newsletter_ID$ - Email list ID