Automations for e-mail marketing & more...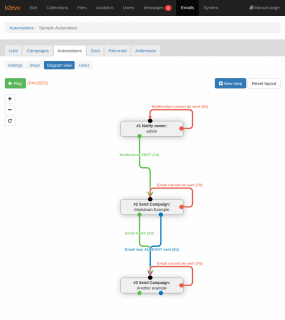 Automations allows the execution of a sequence of actions (steps) for users.
This is typically used to send a sequence of pre-defined Email Campaigns to users, in a specific order and with delays between those messages. (Of course, if a user unsubscribes, he typically auto-exits the automation).
Automations can do much more than just send email sequences. They are able to make "if then/else" decisions, for example based on User Tags or based on the last time a user was seen on the site.
The user tags can be set in various places of b2evolution, including when users click on specific Call to Action buttons in emails. This allows the users to narrow down their interests and it allows you to send them a more personalized series of emails.