User profile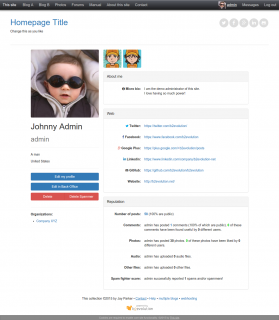 Your b2evolution site offers the possibility to save information about all the registered users. There are many options about what information can be included on it. This means that users can edit their name, age, contact data, interests, pictures, etc. All this information is summarized in the User Profile.
This way, administrators, collection owners, authors and users in general can share what they want with the rest of the community.
There are many ways to find a user profile. For example: a link to the user profile is often included in posts and comments as authoring information.
You can access your personal settings through two locations in the back office.

More »

Under the 'Identity' tab, you can edit your login and display name, as well as enter personal information like your location and age.

More »

In addition to being able upload a new profile picture through the Identity tab of your profile located on the main user screen, you can also navigate to the Profile Picture tab, as well.

More »