Changing your Profile
Changing your Profile
Through your user profile you will be able to edit your information, which includes your user name, uploading a profile picture, changing your password and modifying your preferences.
Accessing Your Profile
You can access your personal settings through two locations in the back office. The first is by hovering over your user name located to the right of the top menu, and then choosing 'Edit your profile…' in the drop down options (See Arrow 1). Clicking on this tab will send you directly to your profile settings.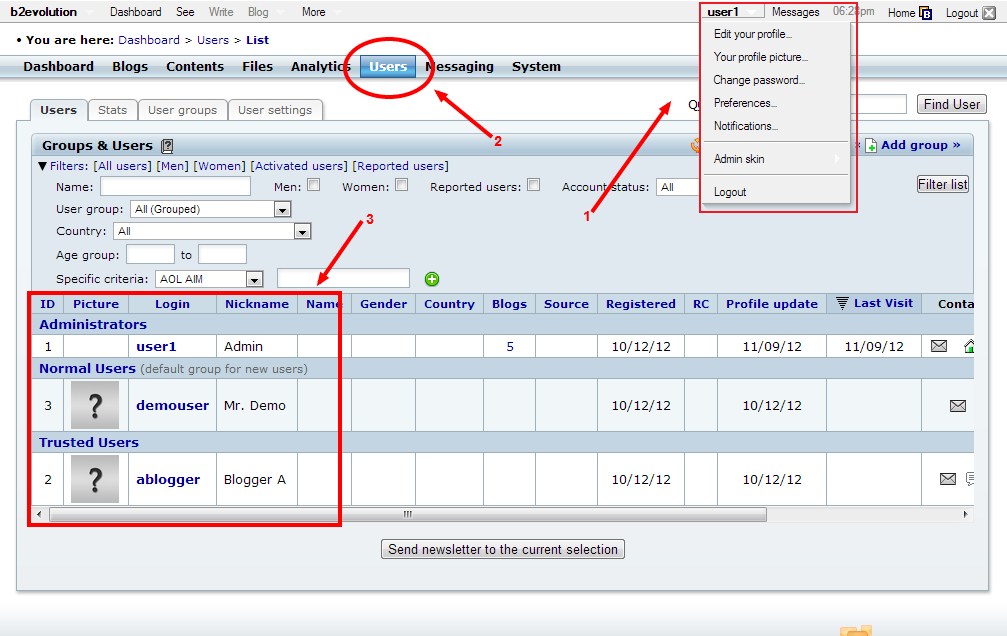 Alternatively, you can also edit your profile information by clicking on the 'Users' tab, which is located on the blue menu bar (See Arrow 2). Going this route will first direct you to a list of users, from which you can then choose the profile that you want to edit (See Arrow 3).
Identity
Under the 'Identity' tab, you can edit your login and display name, as well as enter personal information like your location and age. With the exception of your login, all the information under this section is optional (See Arrow 5). It's important to note that your user login can only contain letters, digits and the following characters: '_' - so, keep that in mind when choosing a new user name.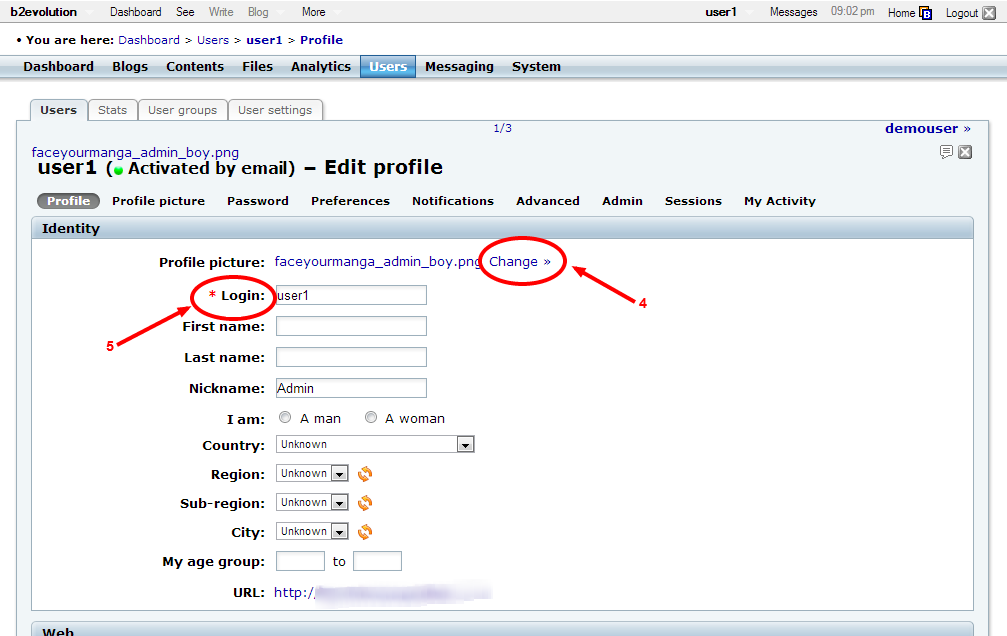 Following the 'Identity' tab, you will also find the option to include more information about yourself on your user profile, including your personal website, social networking profiles, your user role, and any additional information you feel is pertinent. If an orange arrow appears next to a line, then you have the option to visit the URL that you have entered to ensure it points to the correct location (See Arrow 6); the link will open in a new browser tab. You can add additional websites, social profiles, and roles by clicking on the green circle with the plus sign (See Arrow 7).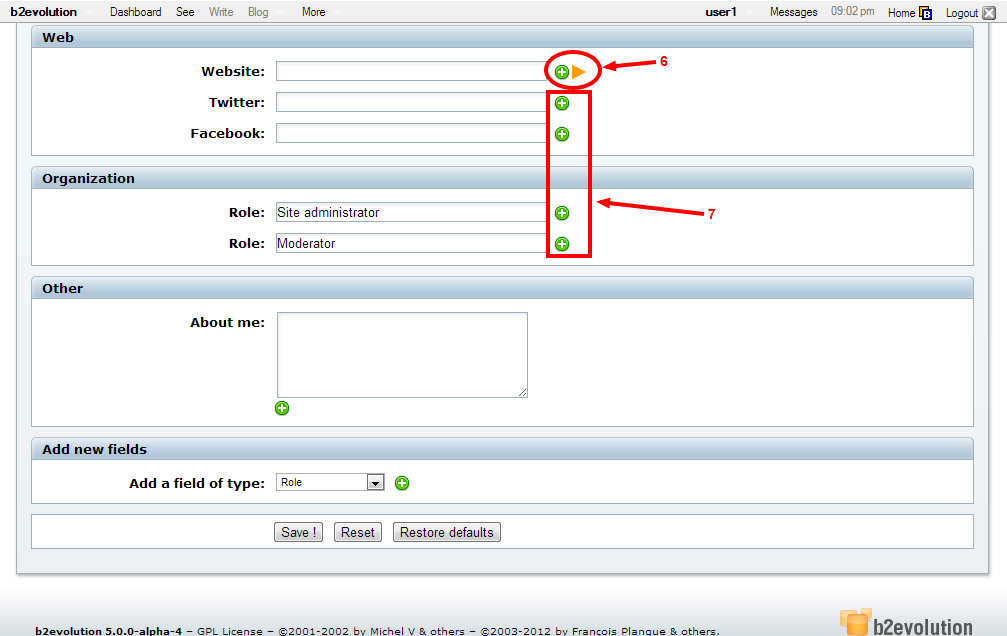 Profile Picture
In addition to being able upload a new profile picture through the 'Identity' tab of your profile located on the main user screen (See Arrow 4), you can also navigate to the 'Profile Picture' tab, as well (See Arrow 8).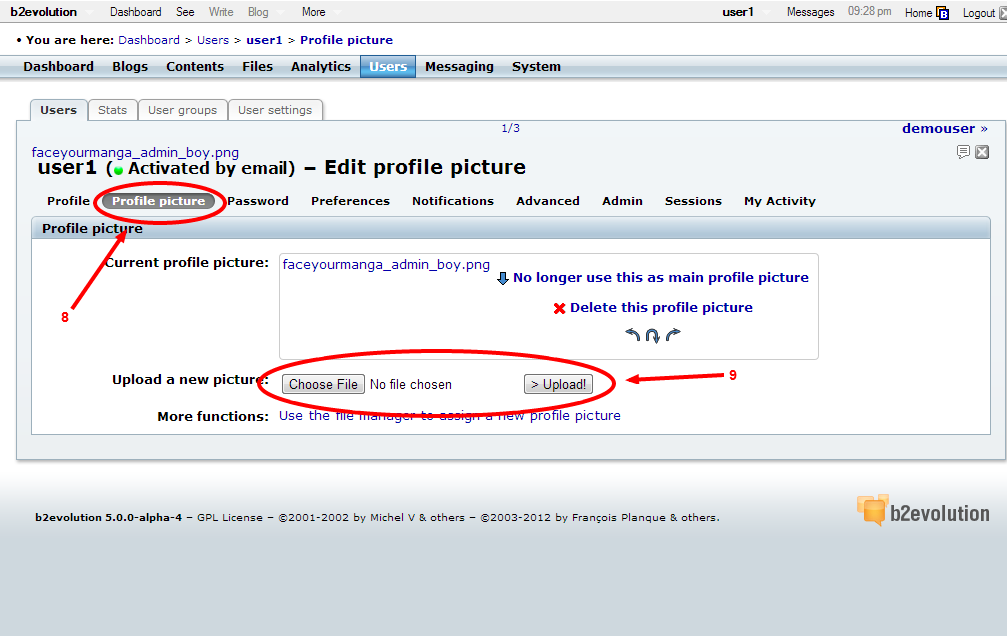 There are two ways to upload a profile picture: 1) you can upload it from your computer by clicking on the 'Choose File' button (See Arrow 9), or 2) you can select a previously uploaded picture from the file manager and assign it as your new profile image (See Arrow 10). Once you have found the image you want to use, click the link button to the left of the picture's name (See Arrow 11).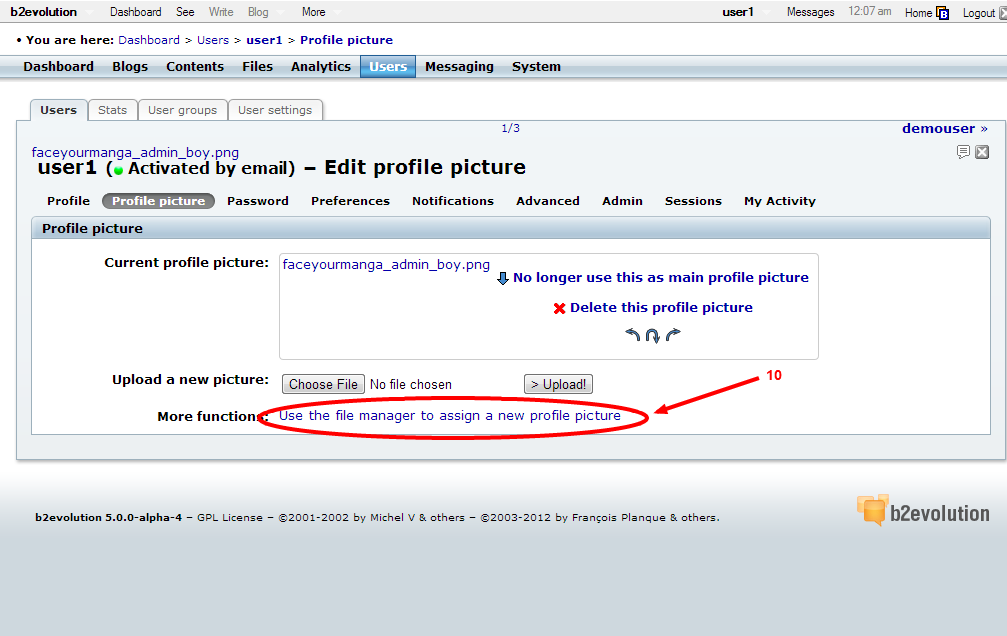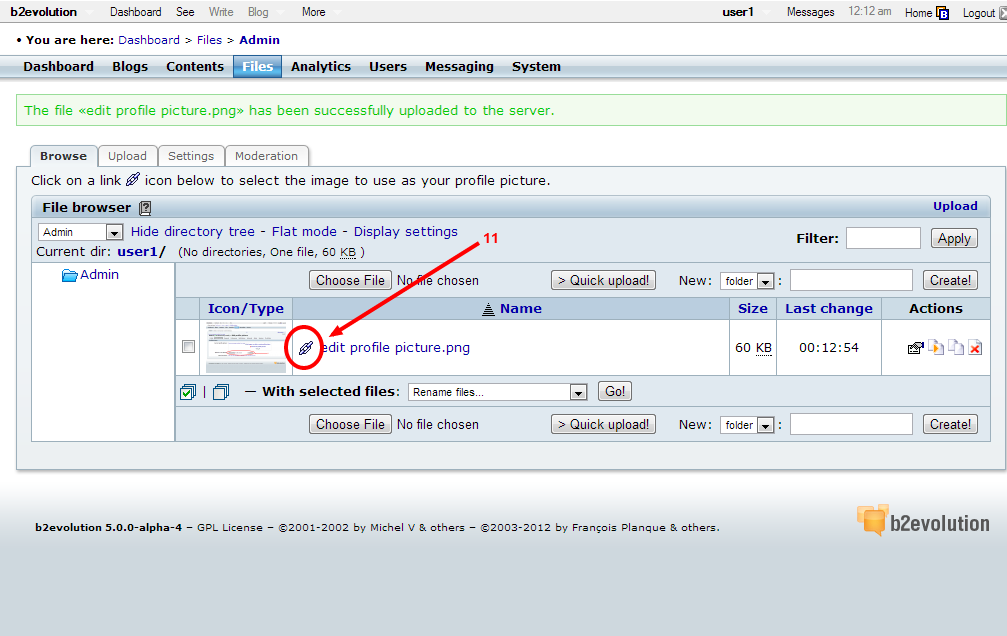 Password
You can change your password at any time through your user profile. Passwords must be a minimum of 5 characters long, and you can abandon your password change request as long as you haven't hit the 'Change Password' button (See Arrow 12).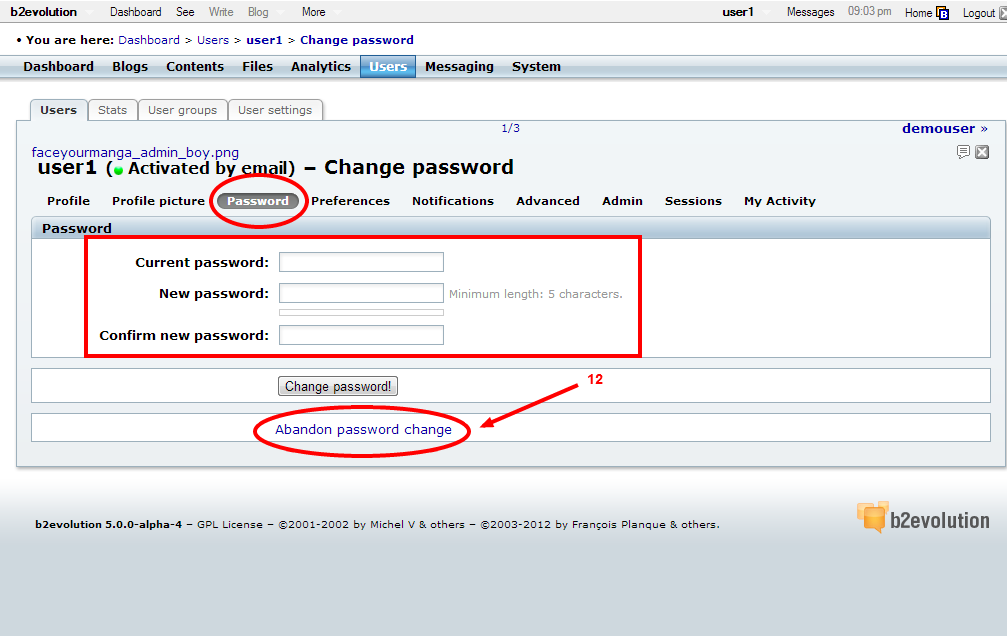 Preferences
Under the 'Preferences' tab, you are able to change the email address that correspondence is sent to, how other users are able to contact you, and the format that you would like receive emails in (See Arrow 13). If you do not wish other users to have access to your email address when they send you a message, it's important to check the box that says, "emails through a message form that will NOT reveal my email address." Additionally, you can also control how long you remain logged in and whether or not your status will be publicly displayed as online (See Arrow 14).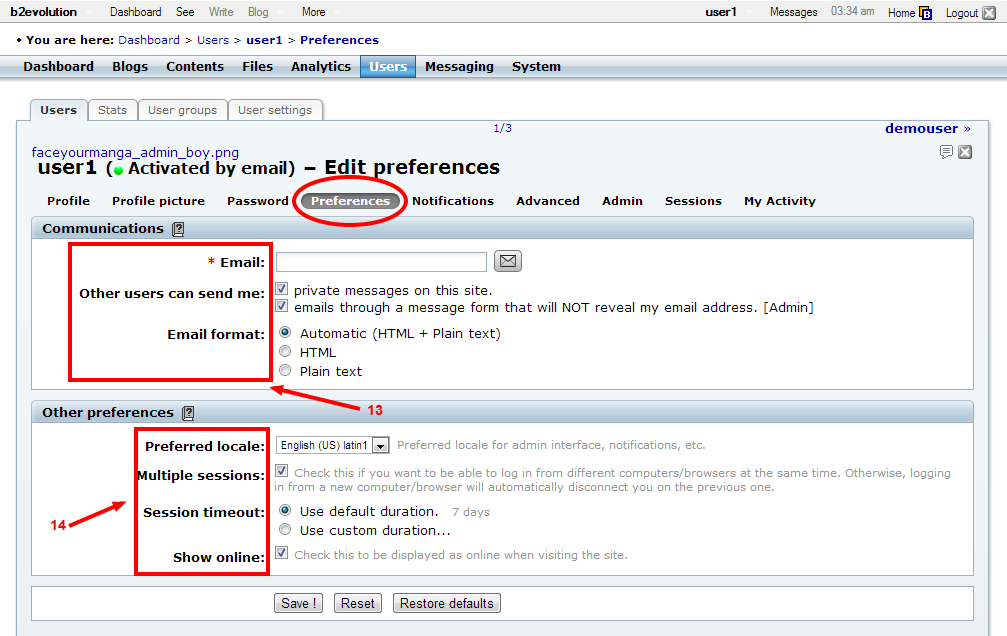 Notifications
Under this section you can choose the type and frequency of the notifications that you receive by email (See Arrow 15). You can also view the subscriptions that you currently have to any blogs or individual posts (See Arrow 16).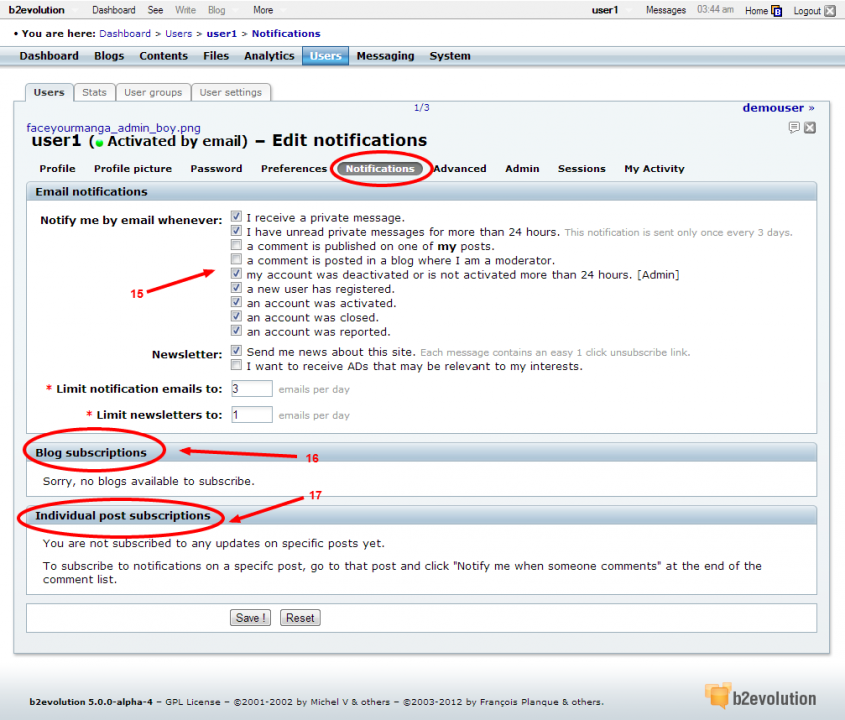 Advanced
Here, you have the option of customizing how the back office appears to you, which includes changing the admin skin. There are two skin choices: evo and chicago.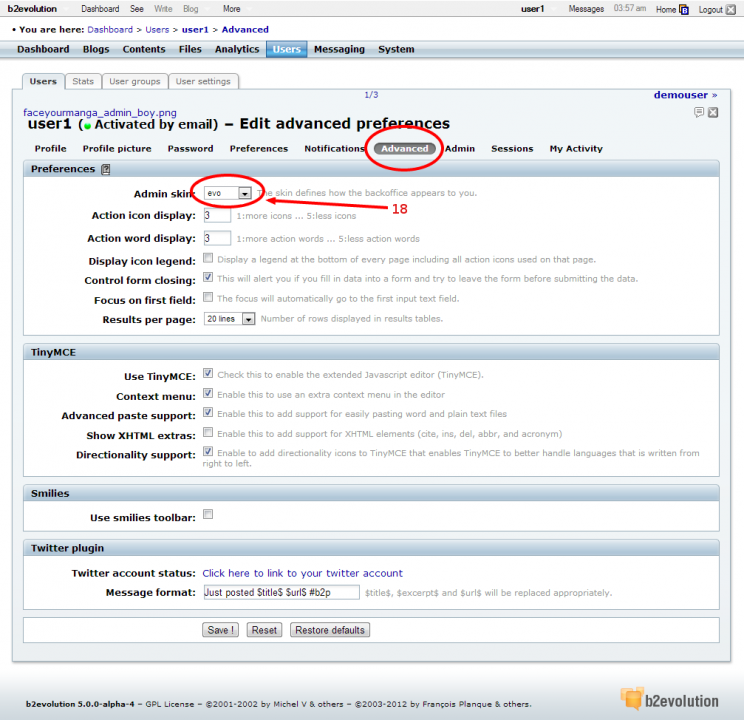 Admin
Under the 'Admin' tab, you will be able to see your current user level; the higher your level, the more editing permissions you have (See Arrow 19). This is also where you can change your email, see your registration information, and view additional information about your activity as a user.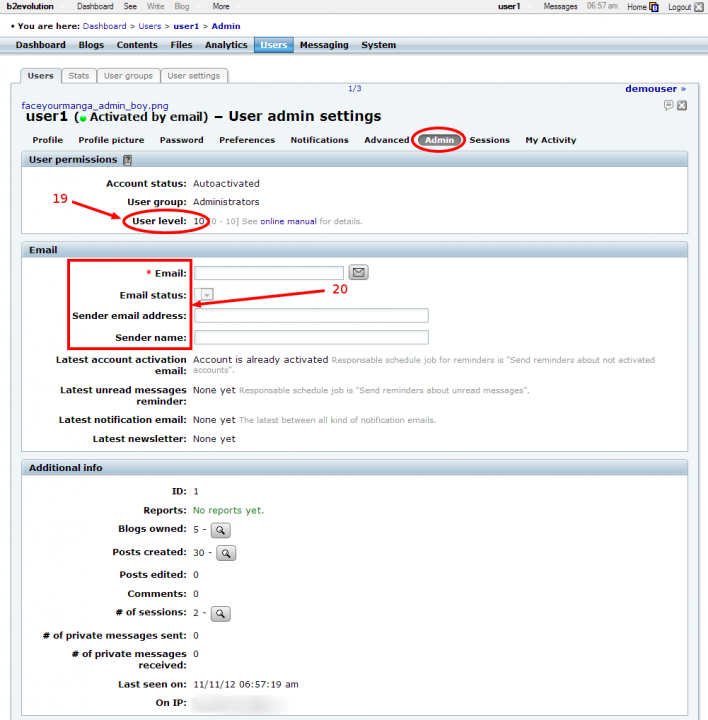 Sessions
Under 'Sessions' you have the ability to track all of the recent sessions that you have logged as a user through your profile. This includes the date and time that you were last logged in, how long the session lasted, and the remote IP associated with the session.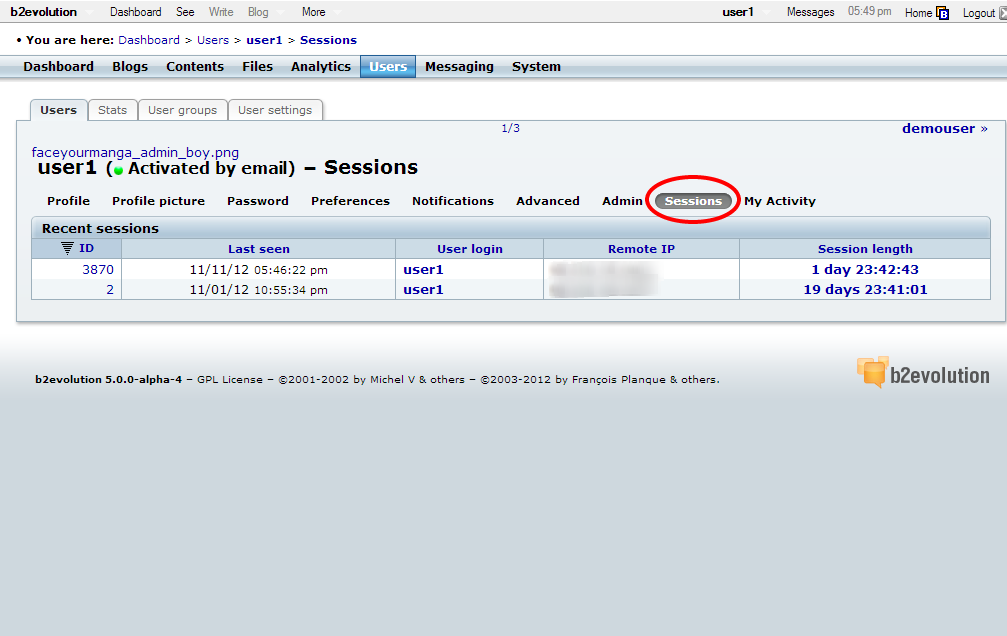 My Activity
Under the 'My Activity' tab, you can view all the posts and comments that you have made, as well as any blogs that you own. From this screen, you also have the option of editing the properties or deleting the posts and blogs that are displayed.
Created by jflowers • Last edit by fplanque on Oct 13, 2015