With the correct collection permissions, a user can edit the comments on a collection. To do this, navigate to Collection > [Collection name] > Contents > Comments. On any of the available comments view, click on the Edit link or button of the comment you would like to edit and you will be redirected to the comment edit form.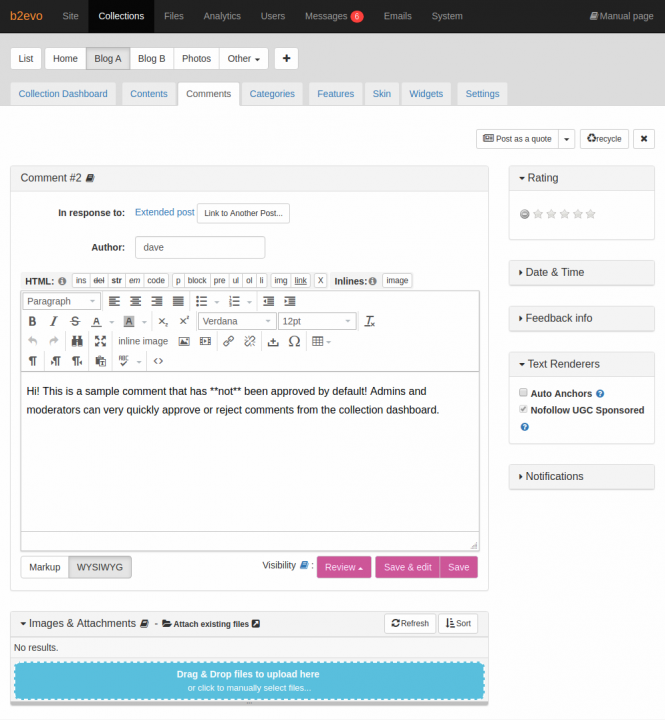 The comment edit form contains several parts and panels:
Comment Contents
The comment text can be edited in the provided text editor. You can use the available toolbars to help you format or insert short tags to the comment. Editing comment text can be done in either markup or WYSIWYG mode depending on the comment settings.
It is also possible to assign this comment to a different post by clicking on the Link to Another Post button. If you want to know more about this, please read: Moving Comments to Another Post.
Visibility
You can change the visibility of the comment by selecting one of the available options. To know more about how the visibility status works, please read: Post/Comment Visibility Statuses
Images & Attachments
Similar to a post, a comment can also have images and files attached to it; use the built-in File Manager to do this by clicking on 'Add/Link Files'.
Post as a quote / Post as original user
Use this button if you want to create an entire new post based on the current comment. The content of the new post will be exactly the same content of the comment and also, if there are replies to the comment, then they will be moved an assigned as comments of the new post. More information about this subject could be found here: Elevating a Comment into a Post.
Recycle
Click this button to move the comment to the Recycle bin. The comment can be restored anytime you need unless it is permanently deleted.
Rating
You can change the rating given by the author of comment in this panel. Rating uses a five star scale.
Date & Time
You can manually edit the comment date and time in this panel.
Feedback Info
This panel contains additional information about the comment such as the author's IP address and the spam karma.
Text Renderers
You can choose which Renderer Plugins will be applied to the comment content; the list of available plugins can be modified.
Notifications
This panel lets you control whether notifications should be sent again after you edit the comment.
Created by aradosev • Last edit by fplanque on Dec 02, 2019