Comments Awaiting Moderation Panel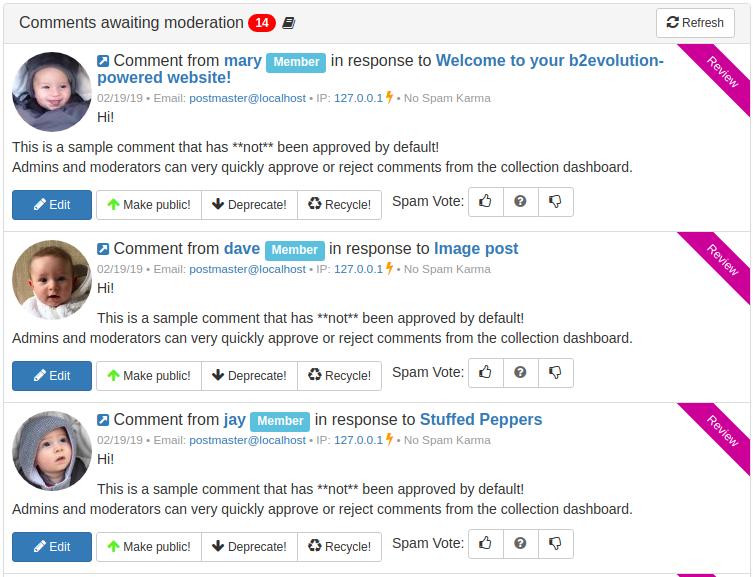 This collection dashboard panel will show up to five (5) comments awaiting moderation. Which comments are considered awaiting moderation depends on the "Require moderation" statuses setting found in the Comment Features and under the Comment Moderation panel.
For each of these comments, the user will be offered the option to raise its visibility status to the max (depending on his permissions) if he approves the comment, or to deprecate/recycle the comment if he considers it inappropriate/spam.
When a comment is moderated, it disappears and other additional comments awaiting moderation may appear (Automatic AJAX reload).
Notes:
Only the comments which status can be raised by the current Moderator User are shown. Otherwise, if the status of the first five (5) comments could not be changed, then the remaining comments would stay hidden forever.
When a user has only permission to deprecate/recycle a comment (and no permission to raise), we don't show it on the dashboard. Please let us know if this is a problem for you.
The dashboard will only show comments on posts that are themselves in a Visibility Status of Public, Community or Members. This means that if a posts is under review for example, then its comments won't be shown here until the post is moderated.
For more granularity in moderation, Moderators are invited to go to the comment management area of the back-office.
Created by
winskie
• Last edit by
fplanque
on 2020-02-06 16:36 • •