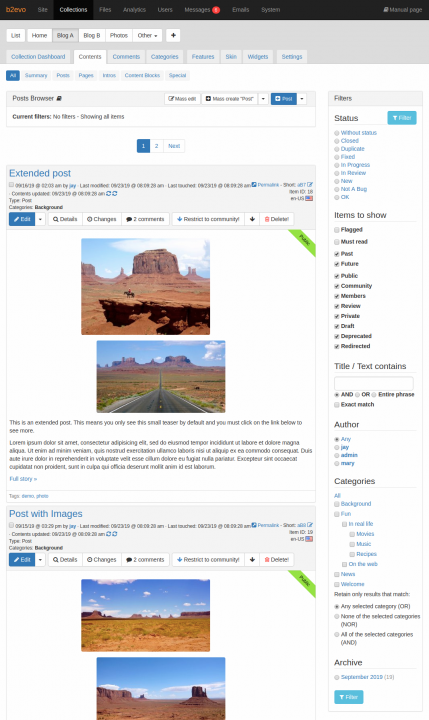 This sub-tab displays and help you manage all types of content from the currently selected collection.
Select a Collection
As with several of the Back-Office tabs, the first section on top is for choosing which collection you want to work with.
Content Area
The main column is where you'll find a list of all the content of the current collection, along with some additional information about each item. The list includes posts, pages, intros, content blocks and other special items. Several action buttons are available for each item for quick moderation.
Filtering Content
The sidebar contains several options for filtering the contents of the collection to help you find the item that you are looking for. The filters are also available to all the other content views.
Calendar and Archives
The Calendar and the Archives drill down by date. Filtering using the Calendar is useful if you know the date of the post, while Archives will help you find posts for a specific month.
Post Status
You can filter posts by their status (published, private, draft, etc).
Search for Specific Words
Type a search term to look for a post that contains the term.
Search by Category
Narrow your search by choosing one or multiple categories.
Search by Author
Find items from certain authors. Note that only members of the current Collection are listed here.
Note: If the collection has more than 20 members, a suggest box will be displayed instead of a list of users. You can type in a username in the suggest box.
Advanced Filtering
Combine several of the above filtering methods using the check boxes and radio buttons for a more advanced search.