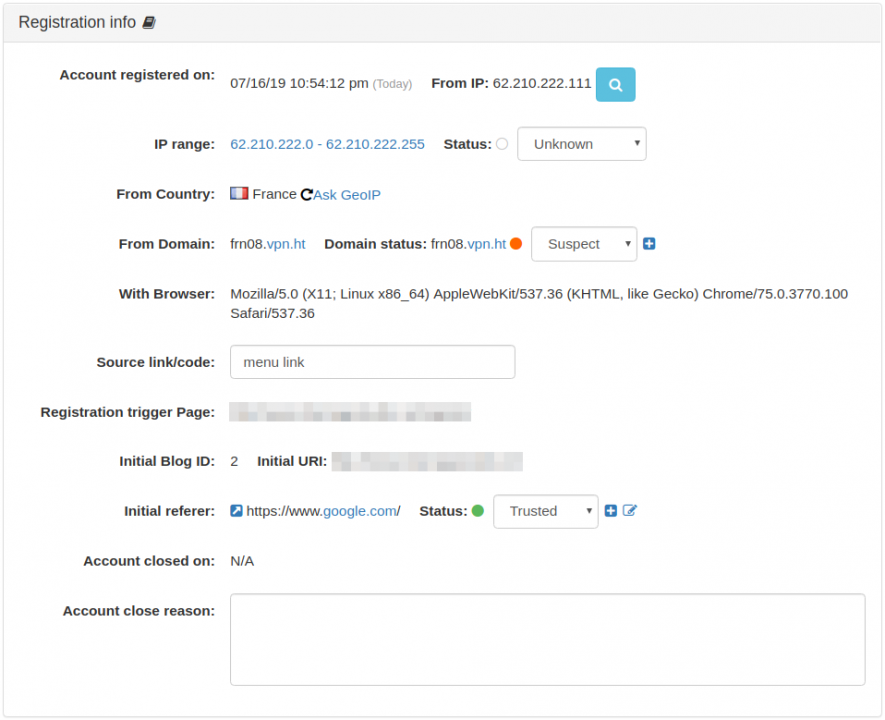 This panel will show you information about how the user registered (and potentially also how the account was closed).
Account registered on: displays when the account was created.
From IP: IP address of the user who created the account.
IP Range & Status: the IP address is part of a bigger range of IP addresses (C class) which has a status. See IP Ranges. The status of the range can be changed here if you think the IP belongs to a spammer… or to a VPN network, which might be used solely by spammers, depending on your target audience.
From Domain & Status: this is the reverse DNS lookup of the "From IP" address. You can have a Status for each domain. Note that b2evolution will also recognize just a part of a domain, for example vpn.ht in fr08.vpn.ht. b2evolution will use the longest possible match for the domain.
With Browser: displays the user agent of the browser used to create the account.
Source link/code: this will be filled if a ?source= param was given when calling the registration from. This can be useful to track subscriptions from marketing campaigns, or just to track which "register" link was used on a site. You can edit the "source" for further categorization.
Registration trigger Page: this is the URL of the page where a "register" link was clicked. (This is tracked through the referrer or the redirect_to param of the registration form).
Initial Blog ID, Initial URI & Initial referrer: this is the first page a user has visited in the session that lead him to register. This is useful for analyzing what lead someone to register.
Account closed on & Account close reason: if the account was closed, this will tell you when and if a reason was entered, it will appear here. You can edit the reason if you want to add notes.