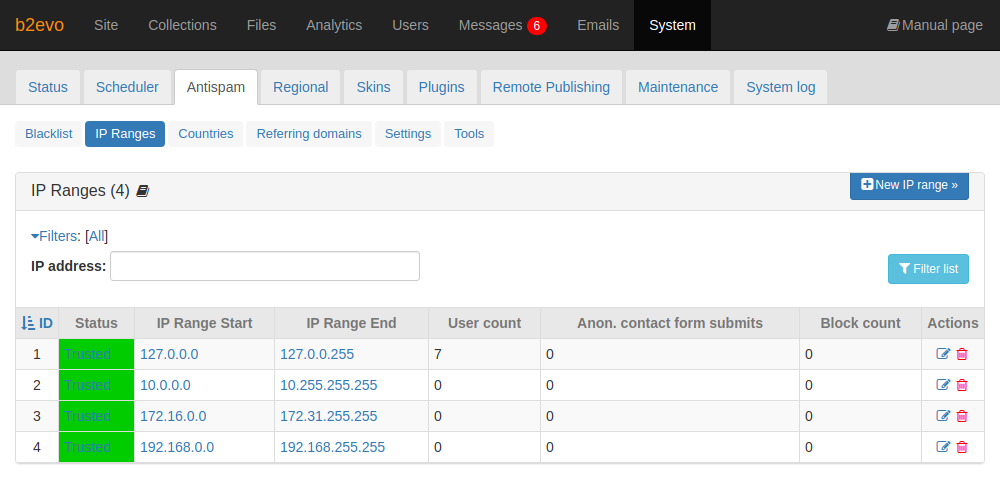 This tab lets you configure IP address ranges and specify whether they are trusted, suspect or blocked (they can also be unknown).
Each range shows:
The number of users created by visitors in that range
The number of anonymous contact forms submitted (contact emails sent) by visitors in that range
The number of times a user action has been blocked because the visitor was in a blocked range
Note
: You can see the IP range (and its status) where a user created his account from in the
Registration info
panel of the User Admin tab.
Unknown IP ranges
b2evolution will automatically create unknown ranges if several users are created from within the same C class of IP addresses.
Every time a user account is created, we search if other users have already been created from the same C class (same first 24 bits of the IP address).
If that is the case, we either create an entry in this table with aipr_user_count = 2 or update it to a higher value.
Blocked IP ranges
Several actions will be blocked if a request (HTTP request) comes from a blocked IP range.
See Blocking actions from spammers.
Developer Note:The blocking is done by function antispam_block_by_ip() through the antispam_block_request() function.
Suspect IP ranges
When a user creates an account from a suspect range, the user account can automatically be put into a special group, which may have restricted permissions.
See System > Antispam > Settings > Suspect Users
This option can also be checked for each collection at Analytics > [Collection] > IPs > IP Ranges.