Browsing posts pages (disp=posts)
Browsing posts pages (disp=posts)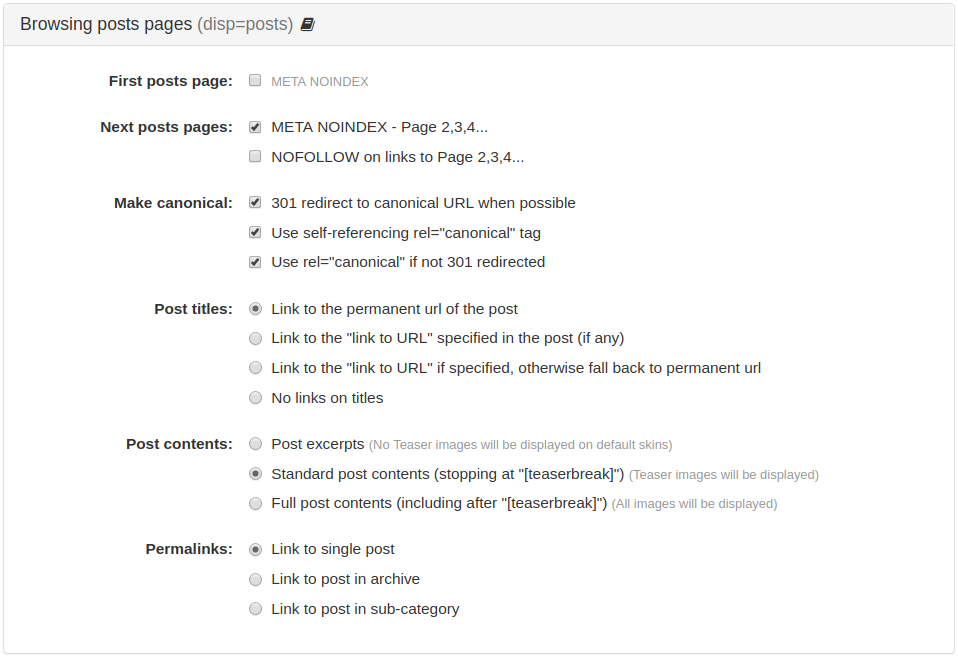 The following parameters could be set for the main page or post list of your site:
First posts page: Adds a <meta name="robots" content="NOINDEX, NOFOLLOW"> tag to the headline of the main page. The NOINDEX parameter aims to prevent search engines robots to index the page that contains it, and the NOFOLLOW aims to prevent those robots to follow any of the links contained in the page.
Next posts pages:

META NOINDEX - Page 2,3,4… It does exactly the same that point number 1 in this list, but starting from the second page of the list of posts.
NOFOLLOW on links to Page 2,3,4… Adds a rel="NOFOLLOW" parameter to the <a> tags used to go to the next pages at the posts list.

Make canonical:

301 redirect to canonical URL when possible
Use self-referencing rel="canonical" tag
Use rel="canonical" if not 301 redirected

Post titles: defines the behavior of the posts' titles at the list. The possible options are:

Link to the permanent url of the post
Link to the Link to URL parameter specified in the post (if any)
Link to the Link to URL if specified, otherwise fall back to permanent url
No links on titles

Post contents: defines what content will be shown after the title of the posts. You could decide one of these options:

Post excerpts
Standard post contents (stopping at [teaserbreak])
Full post contents (including after [teaserbreak])

Permalinks: to define where the permalinks in the post list should link.

Link to single post. Go to the content of the post.
Link to post in archive. Go to the list of items published in the same time frame. This time frame is set as post made in the same Month and Year.
Link to post in sub-category. Go to the list of all the posts that belong to the same category of the current. It is the same as to browsing or searching by categories.
Created by mgsolipa • Last edit by winskie on Jun 11, 2019