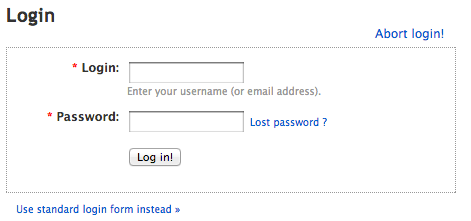 Forgot your password?
Don't panic, as long as you provided a valid email address upon the creation of your user during installation, you can provide your username on this page and a password reset link will be sent to your email.
How to recover a forgotten password
If you have lost your password, follow this procedure:
Go to the login screen. If you don't know where it is, try yourblogurl/admin.php or yourblogurl/index.php?disp=login
Click on the "Lost password" link on the lower right.
Enter your username. If you have forgotten your username, try "admin".
You should receive an email allowing you to log in. If you don't receive the email, CHECK YOUR SPAM MAIL folder for false positives. If you don't find it, check all your email accounts.
If email recovery doesn't work
If nothing helps, you can find out your username, your email address or even reset your password by editing the database with phpMyAdmin. Of course this requires full access to your webserver. See this forum thread for details.
If you do not understand those instructions, please contact your hosting provider's tech support and ask them to do this operation for you.
There is no additional magic trick that can be done to recover a lost password. You have to go with the instructions above.