Plugins Administration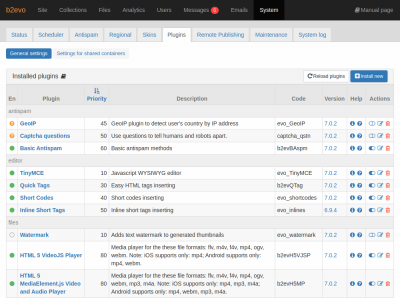 This section describes how to administer plugins.
Plugins add functionality to your b2evolution installation. If you are looking out for a specific set of features or services to be added to your site, then you might want to check already available plugins which offer you this service.
For details about specific plugins, please refer to the Developer Reference > Plugins section.
Plugins allow you to extend b2evolution with features that are not included in the the core. Plugins provide additional functionality by taping into hooks that are provided by the b2evolution core.

More »

This screen displays a list of installed plugins in your site. Plugins can extend the functionality of b2evolution.

More »

Apply rendering defines if and when a Renderer Plugin should apply its rendering method.

More »

This screen displays a list of plugins that are available for installation along with plugins that are already installed.

More »

This edit form allows you to change the plugin's properties.

More »