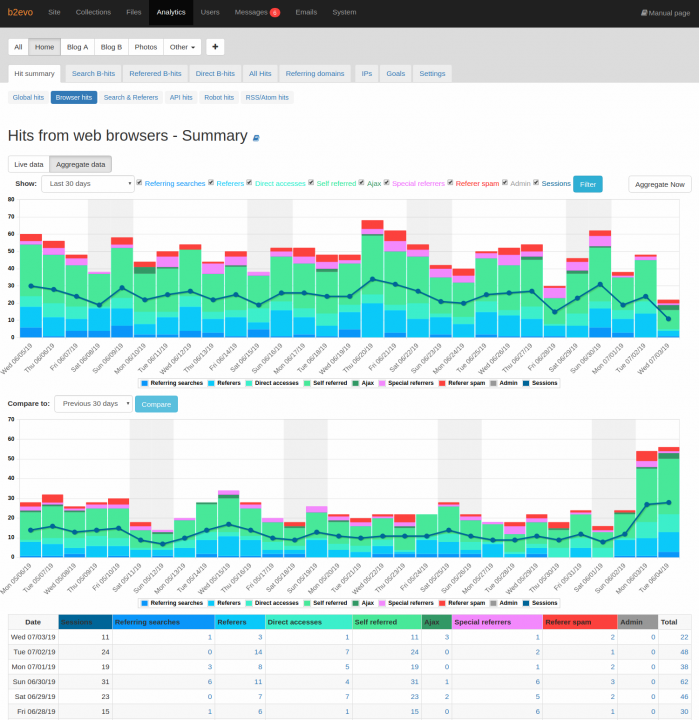 For each collection, you can get a graph of browser hits broken down by refered searches (from search engines), other referers, direct accesses/bookmarks, self refered (site navigation), special referers, referer spam and admin interface hits if you choose to log them.
This page uses a common summarizing layout that displays a bar graph at the top and a table below. However, in this case, it includes only data taken from hits identified as made using a web browser (as opposed to an indexing robot/spider or an XML feed reader).
The results are categorized according the following criteria:
Refering searches: Hits coming from search engines such as Google, Yahoo, Microsoft Live, Ask or more.
Referers: Hits coming from other sites linking to your collection.
Direct accesses: Hits from people who typed in your URL or have it bookmarked.
Self referred: Hits from people who are following an internal link on your site/collection.
Ajax: any asynchronous request received via XMLHttpRequest. Consider that this number may not match with the Ajax value displayed in the Global Hits Summary, because hits made by Robots and/or Crawlers have been trimmed from this results.
Special referers: Hits from webmails, caches, redirectors, etc.
Referer spam: Hits coming from sites identified as spam in your blacklist.
Admin: Hits within the Admin interface (also includes previews).