Collection Skin Settings
Collection Skin Settings
This sub-tabs shows the skins that will be used by b2evolution to display your collection on a desktop browser / a mobile phone / a tablet device.
These are the skins that b2evolution will use by default, that is: unless a different skin has been requested by the user or configured in a stub file.
This screen will also let you change settings specific to these skins.
Standard Skin
This sub-tab displays the current skin in use when displaying content on a standard desktop browser. This also displays contains settings to customize the skin to your liking.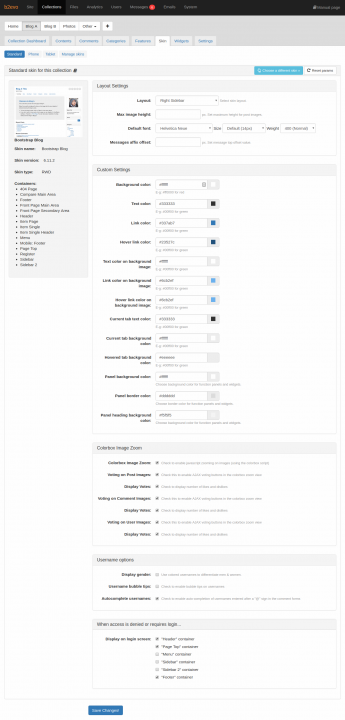 A few common settings:
Layout Settings: this panel contains options that control the general layout and display of the skin.
Colorbox Image Zoom: this panel contains options for enabling the use of the colorbox script for Javascript zooming, allow voting on images used in the post, comments, or user images. You can also opt to display these votes in this panel.
Username Options: this panel contains options to allow use of colored usernames to differentiate male from female users, enable bubble tips on usernames, and use autocomplete of usernames.
When access is denied or requires login…: this panel contains options to display specific containers on the login screen.
Some skins will have additional settings that you can change.
If you click the Choose a different skin button, you will be taken to a gallery of built-in skins that you can use to pick a different skin.
There is also a Reset params button which will reset the skin parameters to the default settings. This button can be helpful if you made some changes, didn't like what you saw and want to revert to the factory settings.
Phone and Tablet Skins

The phone and tablet skins used by default are the same as the standard skin. If you want to use a different skin for users who visit your site with a mobile phone and/or a tablet, go to the appropriate sub-tab and click on the Choose a different skin button and you will be taken to a gallery of mobile phone or tablet skins that you can use.
Created by mayhawaii • Last edit by winskie on Jun 05, 2019