Advanced Upload Tab
There are several ways to upload files into b2evolution.
The easiest one is to just drag & drop the files you want to upload into the File Manager.
Newer versions of b2evolution (v6.0.1+) also let you drag and drop directly into the post and/or comment edit screen.
There is also an Advanced Upload screen you can use in special cases.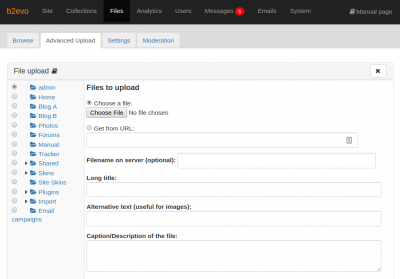 Most of the time you won't need to use this screen to upload! Instead, use the drag & drop area from the File Manager main screen. This screen lets you upload multiple files by changing the name and setting properties during the upload. It…

More »