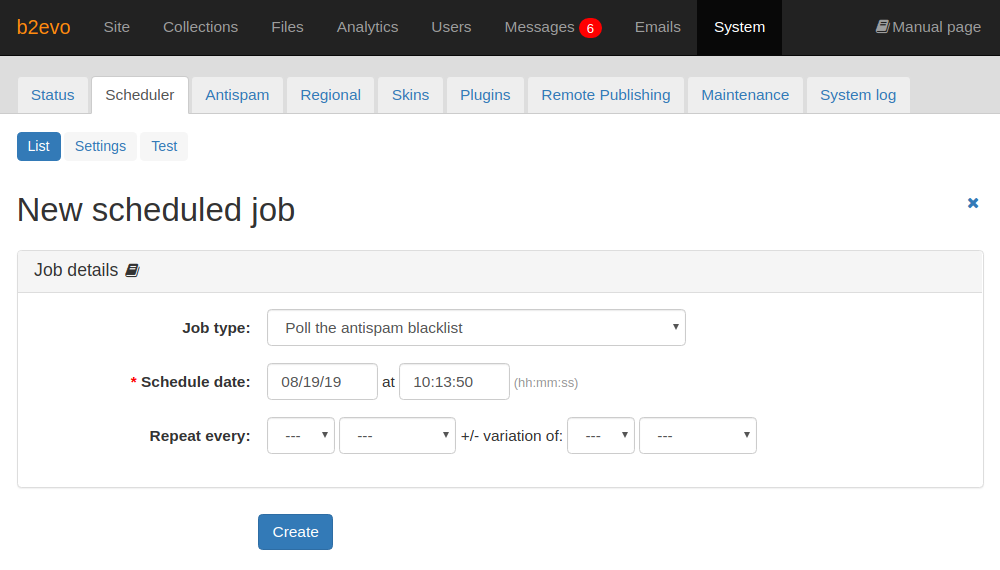 This form lets you create/edit a Scheduled Job.
First you have to choose a job type. b2evolution comes with several embedded jobs you can schedule. See Scheduled Jobs Reference.
Available in an upcoming release It is planned to have plugins provide some additional jobs.
Once you have selected which job type you want to schedule, choose a time and date for the job to run.
Warning
: for the job to actually run at the given time, you need to properly set up the
Scheduler
.
Finally and optionally, you can choose to automatically repeat the job at any given frequency, the minimum being 1 minute which is already quite low. You may not want to run jobs too often in order not to generate too much unnecessary server load.
Note: the antispam blacklist polling job can only be scheduled to run once a day. (No matter what repeat delay you set, it will actually run randomly every 12 to 24 hours which ensures that not everybody polls the antispam server at the same time. Please respect this and save our server from melting down! ;)