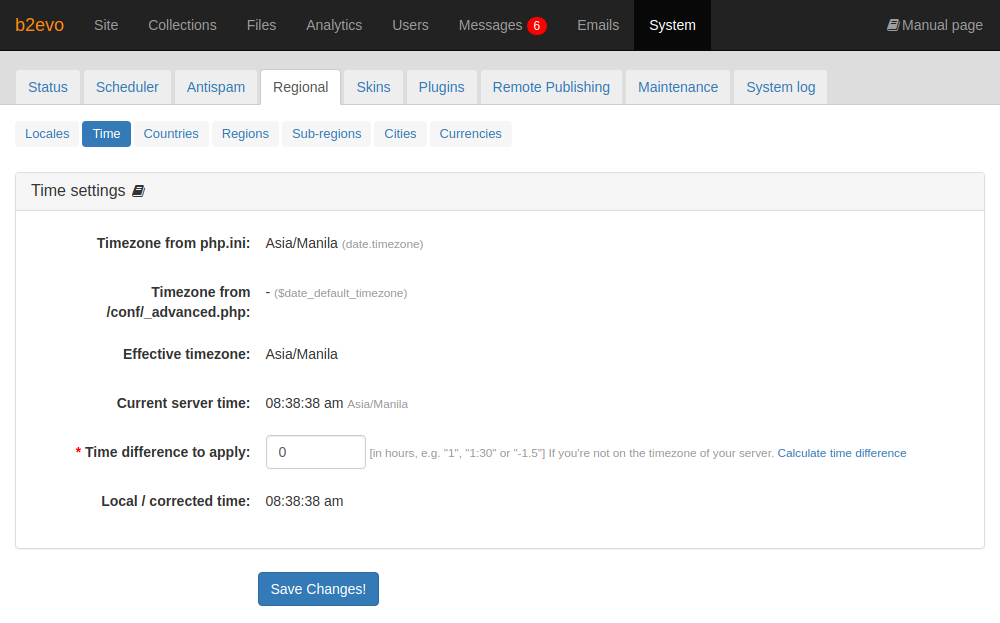 This tab allows to set the timezone difference between your server and your local time.
By setting a timezone offset, b2evolution can display times in your local timezone rather than in the server timezone.
Timezone from php.ini: This is the timezone set in your web server's php.ini file file.
Timezone from /conf/_advanced.php: This is the timezone you may have set in b2evolution's _advanced.php file, in case the php.ini timezone was set to a wrong value. See: Timezone control variables
Effective timezone: This is the effective timezone currently in use, depending on the two previous settings.
Current server time: This is the current time from your server.

Time difference to apply: This is the correction to apply, in hours, between the server timezone and your current timezone. This can be an a positive or negative number of hours. Half hours are also accepted.

Note: If you click on "Calculate the time difference", b2evolution will try to automatically find how many hours of difference there are between your webserver and your local computer. Don't forget to click "Save Changes!" after you calculate the time difference.

Local / corrected time: This is the "local time", which is calculated from the server time +/- the correction to apply, as defined in the field above.