Post by Email - General Settings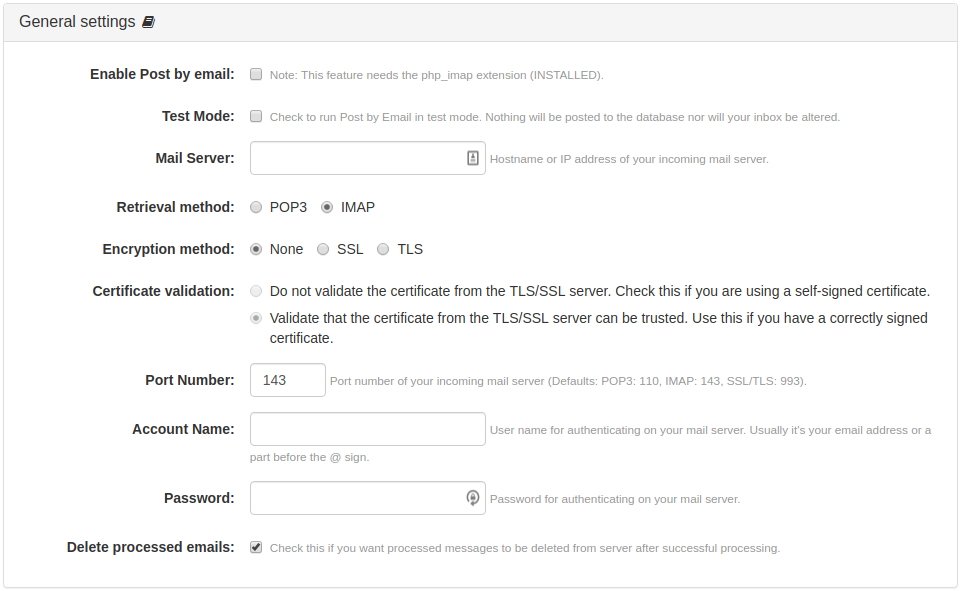 This panel is part of the form displayed at: Post by email. This contains general settings for using the post by email feature of b2evolution.
The parameters below will let your b2evolution site to connect with your email account in order to look for potential emails to be published.
Enable Post by email: make this feature available. No matter if the Create posts by email scheduled job is properly configured, this parameter is the main switch that let you to turn on or off the feature as you prefer.
Test model: let you test that the access and other parameters are well configured. No changes will be committed neither to your database nor to your email inbox.
Mail server: The URL or IP address of your incoming server. Note: there is no a general rule about how this should be configured, so you should receive this information directly from your email provider. i-e: imap.gmail.com
Retrieval method: you could choose between POP or IMAP as the retrieve protocol. Which one of them to choose will depend on the access support that your email provider offers to you.
Encryption method: you could choose between SSL or TLS as the encryption method for the connection. Select None if no encryption is required. Which one of them to choose will depend on the email provider.
Certificate validation: choose whether you need to validate the certificate from the SSL/TLS server. The choice will depend on the type of certificate you are using.
Port number: the port used by your email provider to manage incoming connections for the selected protocol.
Account Name: basically your email address, but it could also be a part of that address.
Password: the password to authenticate on the email server.
Delete processed emails: You could delete all the processed emails after publishing them in order to avoid duplicated posts. On production servers (live sites), this parameter should be checked.
Tip: It would be a good idea to use an exclusive email address for managing remote posting. This way, you could get more control over the whole process.