Posted by

fplanque

on Jul 09, 2009 in Reviews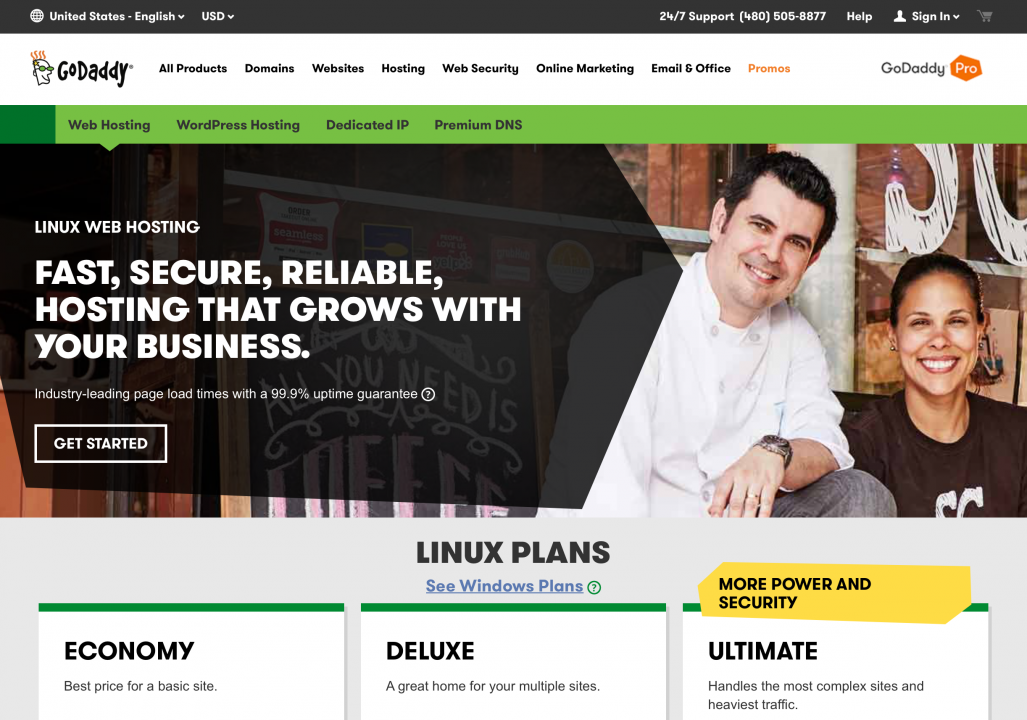 General
GoDaddy is an independently owned and operated web services company based in Scottsdale, Arizona. Founded in 1997, they are the world?s largest domain registrar with more than 6.5 million customers worldwide.
Go Daddy offers 24/7 round the clock call center operations with no outsourcing or off-shoring.  They operate 4 physically dispersed data centers, which better equips them to deal with natural disasters, potential terrorist attacks, etc.
Among the many awards and honors listed on their website, GoDaddy received Domainer?s Choice Award for Best Hosting Company 2008.
User Experience
GD offers an extensive suite of account and site management interfaces, all developed in house.  By developing their own interfaces and applications, they can better meet the particular requirements of their customer base and rapidly respond to evolving needs.
GoDaddy's Hosting Control Center presents a very nice and clean user interface. It can sometimes be a little slow though. Painful disconnects on inactivity (when leaving the control center open in a spearate tab for example) require a cumbersome procedure to log in again.
FTP only accepts one single concurrent connection. This makes uploads and site updates much slower than they need to be.
Changes to .htaccess are cached for as long as 30 minutes. That makes testing and troubleshooting .htaccess configurations very difficult.
Technical Specs
GoDaddy's shared hosting products currently support:
Languages

Linux: PHP 5.2.8, PHP 4.4.9, Python, ColdFusion MX 7.0.2, Ruby, Ruby on Rails, Perl, Java, FrontPage Server Extensions
Windows: ColdFusion MX 7.0.2, ASP.net v1.0/2.0/3.5/AJAX, PHP 5.2.5, FrontPage Server Extensions

Databases: MySQL 5.0.67/4.1.22, MS SQL, MS Access
Pre-installed applications: MS IE Web Controls, WSE 2.0, ASPUpload 3.0, ASP JPEG 1.4, GUIDMaker, ASPCrypt
mbstring enabled in both Windows and Linux
Linux-shared-hosting:  Dual Quad-core Xeon, 8GB RAM
Windows-shared-hosting (IIS6):  Dual Quad-core Xeon, 8GB RAM
Windows-shared-hosting (IIS7):  Dual Quad-core Xeon, 16GB RAM
Windows-shared-hosting-grid(IIS7):  Dual Quad-core Xeon, 32GB RAM
Customer Satisfaction
GoDaddy offers 24/7, 365 days/year phone support, as well as a comprehensive, searchable Help Center. Email support also available.
Security
Go Daddy owns, operates, and supports their own data centers. Routers, firewalls, and servers running your site are all best-of-breed, and monitored round the clock. That means all your data is secured as well as the physical systems and structures supporting it.
11 comments
MySQL databases is not good…
Despite boasting a host of great features, GoDaddy is not for anyone who needs support of any kind. Their support ticket system is very slow and rarely can you resolve an issue in a single contact. Calling is worse; the reps are rude, surly and dumb! Never once could they answer my question with a knowledgeable response
I loved their Fantastico suite with one click activation of WP, Drupal, Serendipity and and a wide variety of other cool appss. But it did not make up for their terrible-and I mean terrible-customer service. Avoid them unless you are REALLY independent.
i love using go daddy. i find the support excellent and its FREE- 24 x 7. I show dogs and am changing my website weekly and it is easy with the template options they give you. the prices are competitive and services excellent. Alot of people in my networking circles use this service and it doesn't drain their money like other providers.
GoDaddy has AMAZING phone support. I never once had a problem with them. They are all English speaking Americans and that is something I really loved about them. But their servers have a lot of issues with security, htaccess files, FTP uploading/downloading, DB and Subdomain setup times, overall server speed, etc. I also had a problem with multiple domain hosting because they make you store secondary and subdomain files with the file structure of the primary domain. This is a HUGE security and organization problem.
But as a company they are pretty fantastic and gave me no hassle whatsoever in refunding my money when I decided to leave 5 months in.
My first time and the support team excellent, I mmake my question one nigth before by mail and the suuport answwer me very fast and in the morning I bougth my host and all was set up very quickly and very nice people thanks LUIS S
NO!Godaddy is the worse website hosting and their customer support are not friendly at all,I'd never get my answer from them!I didn't even get all my money back,i felt like i was ripped off by them.I was told to get all my money refund in 14 days.But they told me the different things when i called the billing department again in the same day.I have a clear mind and good memory,but i was trying to ask them the same question "can i get all my money back for all the product i bought,and the guy from the billing department said that "Yes,you can absolutely get all your money back for all the product you bought in 14 days."Then i found out that their customer service were so not caring and friendly at all and i never get my answer,so i called them back for the refund on the 6 days from the purchased day,but i was told that"you can't get all your money back ,the 2 of the 4 product are not give you get the refund in 14 days,you only can get the refund for these 2 product within 5 days".I was absolutely asking them if i could get my money back for these two product and he said absolutely YES.I am still so angry about that as i was totally get ripped off.I am a quiet and caring person,but this time i can't be quiet anymore.I was still so angry not only got ripped off ,but because they are so unfriendly and not caring customer service!They were just too proud of themself.I had never had a bad experience like that before and i think would never forget it in my life.
AVOID GODADDY!!
This has to be the worst web host I've ever seen. They make it extremely difficult to figure out how to upload any files but after I finally managed to get that to work it says the site is under review for several hours. When I tried to sign into the forum it wouldn't let me sign in so I had to create a new username in order to sign in because their login procedure wouldn't work. If they can't get their own site working properly how can they host anyone else?
99.9% guaranteed uptime is a joke… all my websites have been down for 3 days.. many support tickets sent. no replies… i have lost a lot of money…
Godaddy is the worst of the worst! Stay far far away of this company!
My website was a joomla website about cheapest products of a market. Nothing illegal or for adult. Nothing wrong with my content. This is what happened with this very bad hosting company Godaddy:
1) You buy a web hosting.
2) You spend time to set it up
3) You start to promote it
4) They put down your website without any reason
5) They don't inform you at all
6) You cannot login in cpanel anymore
7) You cannot fix anything
8)They don't have livechat support
9) You send a mail and you wait…wait….wait….
Tell me what worst could happen to a webmaster!
Avoid Godaddy!

I have hosted 2 websites on godaddy. It very good and user friendly cpanel. I like the support they provides. Only drawback is they charges more at the time of renewal plans.