Posted by

fplanque

on Mar 24, 2017 in Reviews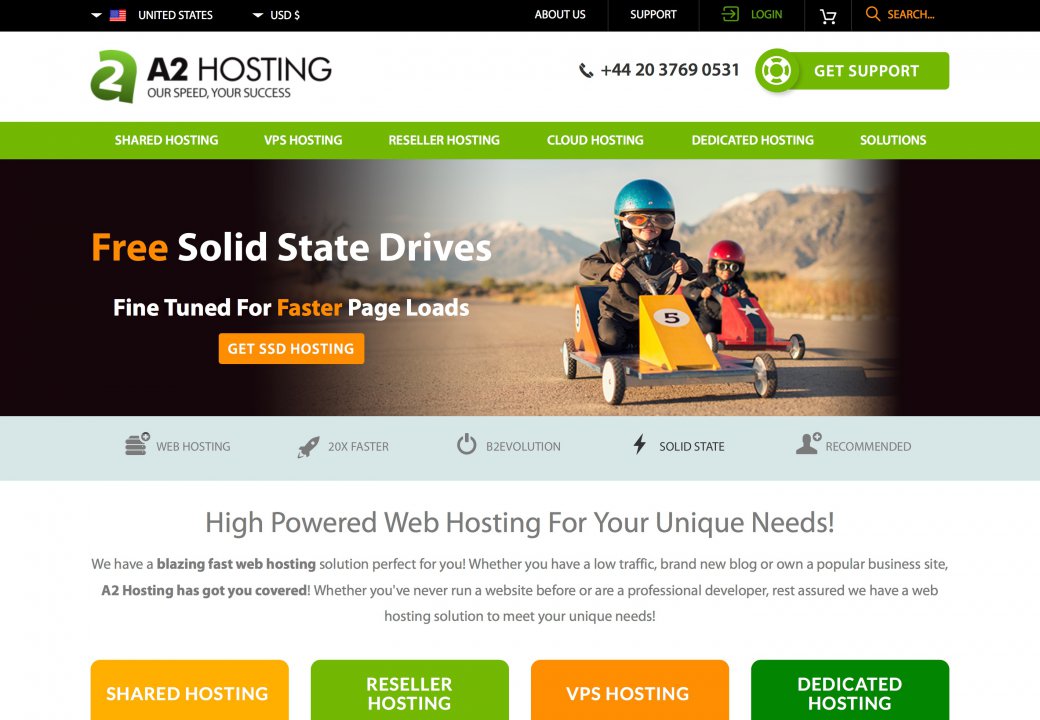 A2 Hosting was founded in August 2001 under the original name of Iniquinet. It was later renamed to A2 Hosting. A2 is a tribute to the company's home town of Ann Arbor, MI. The company is focus on providing excellence in technology (including speed). They were one of the first web hosting companies to offer PHP 5 in July 2004 and MySQL 5 in April 2006. They were also among the first to introduce SSD drives in a hosting offer (January 2013).
In addition to hosting in the US, A2 Hosting now also has datacenters in Amsterdam and Singapore.
Types of hosting offered
[stars:5] We especially like the b2evolution hosting offer which consists of high speed shared hosting with automated installation of b2evolution upon signup, at an attractive price.
A2 Hosting has product offerings across the whole spectrum, from shared hosting, to reseller hosting, to VPS, to Cloud hosting to dedicated servers. They also offer more specialized hosting such as WordPress Hosting and Windows Hosting.
Having this whole range of hosting solutions available is interesting if you sign up for a long term contract because you know you will be able to upgrade to a higher capacity or higher performance plan if needed. Some other hosting companies are much more limited in upgrade options.
Performance
[stars:5] With more than 10 years of experience, using SSD drives and additional fine tuning of their software and hardware by their inhouse experts, A2 Hosting offers some of the fastest shared, reseller and VPS hosting solutions on the market called SwiftServers and Turbo Servers.
Turbo Servers are up to 20X faster than some of the competing hosting offers. This is compared to the low end of course. But even a 2X increase on another host makes a world of a difference to your users!
Additionally, you can choose your datacenter ( USA / Europe / Asia ) in order to get your website hosted closer to your customers, which reduces latency in web requests and responses and leads to faster display of your web pages.
Green / Environment focus
[stars:5] 100% Carbon Neutral. A2Hosting is a partner of Carbonfund.org. Their FutureServe Green Host package focuses on protecting the environment for future generations. In addition to carbon neutrality, A2 Hosting develops their own green policies like telecommuting for their employees and reusing older hardware. More info »
Customer Support
[stars:4.5] A2Hosting offers 24/7/365 support. You can speak to a real person at any time. Their support technicians are knowledgeable and patient.
Reliability & Uptime
[stars:5] A2 Hosting claims 99.9% uptime. Our own testing showed picked up no downtime at all.
Technology
[stars:5] A2 Hosting is completely up to date on the required technologies.
At the time of writing (March 2017):
SSH & rsync are Free and available out of the box. No need to even turn it on.
Security
[stars:5] In addition to providing a secure hosting platform, A2 Hosting also offers Free SSL certificates on Shared Hosting, Reseller Hosting, Managed VPS and Managed Servers.
This means that when you purchase your domain through A2 Hosting, you get zero-configuration https support for your website!
Conclusion
[stars:5] A2 Hosting is among the very top in terms of performance and technology. The price is reasonable and support is good. All in all a very good hosting solution. Even more so if you are a technology enthusiast! (as we are ;)