Posted by

fplanque

on May 05, 2010 in Reviews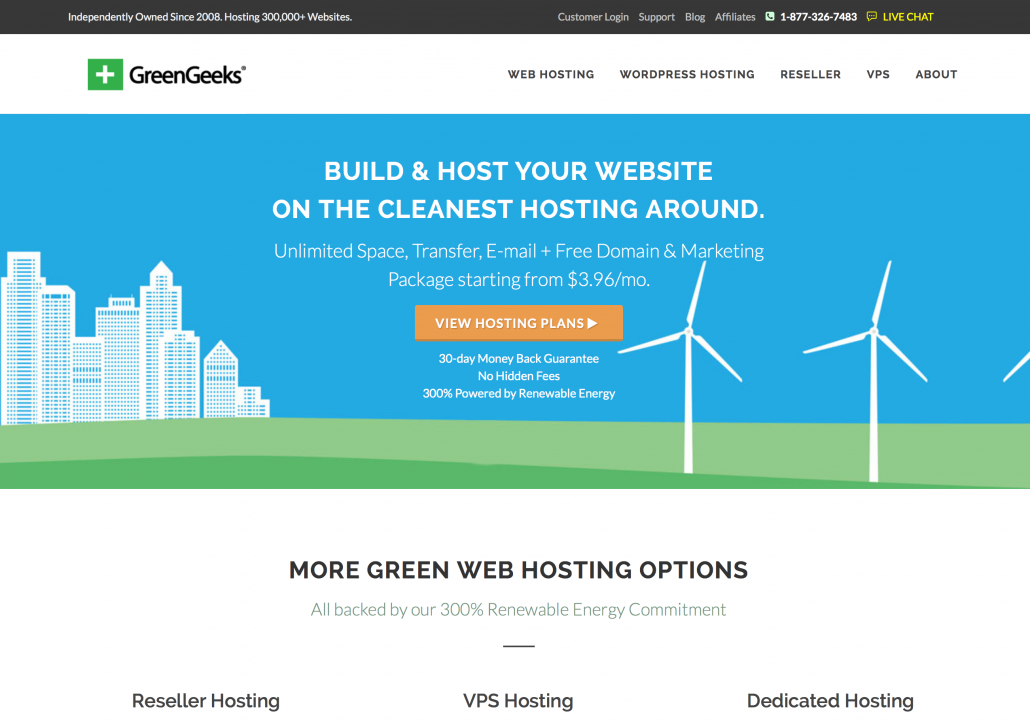 Company
GreenGeeks is one of a select few web hosting services that focuses on clean energy hosting. This is the way it has been since the founding of the company by CEO Trey Gardner, who has over 10 years experience in the industry.
CEO: Trey Gardner
Office locations: California
Focus: 300% Wind Powered
GreenGeeks also used to operate a second brand called SiteCloud. SiteCloud has now been merged into GreenGeeks.
Green / Environment focus
GreenGeeks web hosting service contributes less to global warming than other companies by using wind power that generates 3 times more the amount of energy than what their servers use. This makes them more environment friendly than virtually any other hosting company, even among the green ones.
Features
GreenGeeks provides all of the features needed to run a small to medium size website including an unlimited package, control panel, web site builders and scripts and tutorials.
Energy Efficient Infrastructure
300% Wind Powered Green Hosting
100% Carbon Neutral Friendly
Unlimited Web Space
Unlimited Data Transfer
Unlimited E-mail Accounts
Unlimited MySQL Databases
FREE Domain for Life!
FREE Site Builder & Templates
FREE Marketing Credits
FREE Site Migration
Automated Nightly Backups
30 Day Money Back Guarantee
Super Fast & FREE Setup!
Control Panel
cPanel, which is provided to users, is the most well-liked and user-friendly control panel presented for web hosting. CPanel includes tutorials with step by step guides.
Control panel: cPanel 11 - Up to date
Easy web application installer
cPanel also includes the Fantastico script library which has a 1-click installation for all of the scripts in the Fantastico library. B2evolution, Drupal, Wordpress and Joomla are also supported
Application installer: Fantastico Deluxe - Up to date
Site builder
For those users who are novices, RV Site Builder and SoHo Launch are available to create a website and launch it quickly. After building the site, Joomla, b2evolution, Wordpress and Drupal allow users to create a more interactive and advanced site.
Eco-Unlimited Plan
Selecting the unlimited eco site plan provides users with unlimited amount of disk space for files, bandwidth, emails, databases and domains. Each domain, that a user creates, is treated in the same manner as the primary domain.
Performance, Uptime & Equipment
One of the most frustrating occurrences for anyone with a website is server failure.  That is why GreenGeeks uses state of the art equipment housed in a facility with pre-fire detection and suppression system. Nightly backups are also performed in case of server failure. Standby servers are also available for this situation to allow user websites to continue running.
99.9% Uptime Guarantee
Nightly backups
Customer Support
Customer service and tech support are available 24/7 through email or phone support from 9 am to midnight EST. Technical support is based in North America.
Quality customer support is essential to the success of any business. GreenGeeks focuses on providing excellent customer service. Also ensuring fast service to resolve or correct any issues is a goal.
Customer Satisfaction & Guarantees
GreenGeeks offers a 30-day money back guarantee along with a 99.9% uptime guarantee.
Money back guarantee: 30 days
Uptime Guarantee: 99.9%
Conclusion
As always, it is important to keep in mind that as with any business, there may be some problems.  It is no different with GreenGeeks.  Customer support and technical difficulties might occur.  A lack of understanding between technicians and customers may also arise.
One of the issues may come with not being able to access the user website.  However, this can also be caused by an ISP firewall.  Other issues such as cancellation may develop.  One of the complaints is that if the user website can not be accessed then it is hard to cancel the account.
Regardless of the issues that may arise, GreenGeeks offers a more user and environmentally friendly experience than many of their competitors.