Default User Group Settings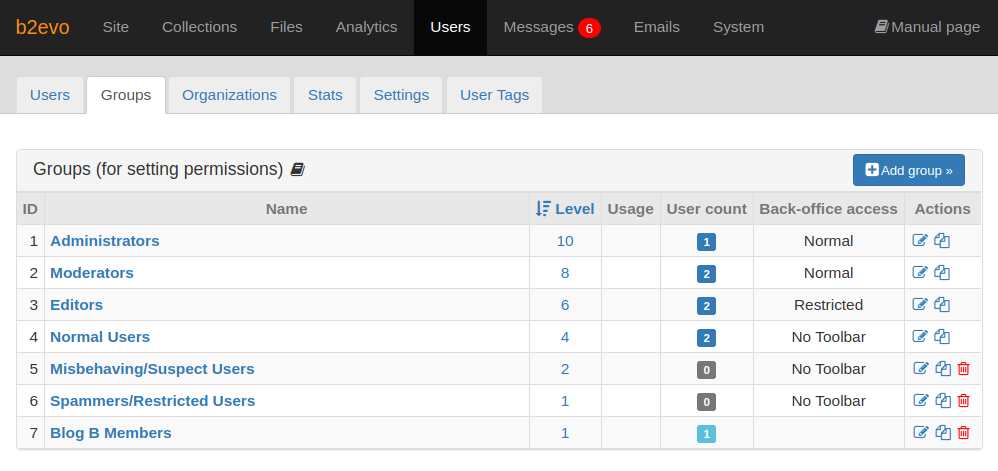 What are the default User Group settings?
The default user groups include the following:
Primary

Administrators: Users in this group have full access to the entire Back Office installation.
Moderators: They can view the "Login" link from the main page of their collection, they can also view (but not modify) all the collections on the site, the Stats Tab, the User Groups Tab, and the Settings Tab. They have full access to the Antispam Tab and they can add/upload files to the File Manager. They also have their specific collection permissions.
Editors: They have restricted Back Office access and can only access collections where they have specific collection permissions.
Normal Users: The default group for new users. They have no access to the Back Office other than what is given to them by specific collection permissions.
Misbehaving/Suspect Users: Users in this group have severely restricted permissions, which includes no toolbar access, strong security filters, and the inability to access stats and files. They are allowed to read and send messages to users that are on their contact list.
Spammers/Restricted Users: This user group also has severely restricted permissions. By default, they can send private messages to their contact list.

Secondary

Blog B Members: This secondary user group has access to the member only demo collection Blog B.
The default permissions for each group can be modified on the User Groups Tab by clicking on the group name. New groups can also be created by clicking on the Add group button.