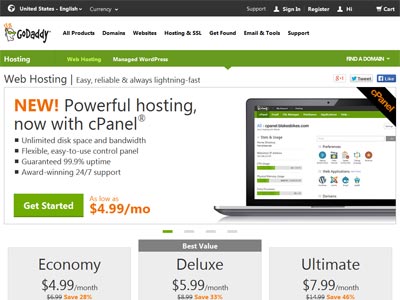 General
GoDaddy is an independently owned and operated web services company based in Scottsdale, Arizona. Founded in 1997, they are the world?s largest domain registrar with more than 6.5 million customers worldwide.
Go Daddy offers 24/7 round the clock call center operations with no outsourcing or off-shoring.  They operate 4 physically dispersed data centers, which better equips them to deal with natural disasters, potential terrorist attacks, etc.
Among the many awards and honors listed on their website, GoDaddy received Domainer?s Choice Award for Best Hosting Company 2008.
User Experience
GD offers an extensive suite of account and site management interfaces, all developed in house.  By developing their own interfaces and applications, they can better meet the particular requirements of their customer base and rapidly respond to evolving needs.
GoDaddy's Hosting Control Center presents a very nice and clean user interface. It can sometimes be a little slow though. Painful disconnects on inactivity (when leaving the control center open in a spearate tab for example) require a cumbersome procedure to log in again.
FTP only accepts one single concurrent connection. This makes uploads and site updates much slower than they need to be.
Changes to .htaccess are cached for as long as 30 minutes. That makes testing and troubleshooting .htaccess configurations very difficult.
Technical Specs
GoDaddy's shared hosting products currently support:
Languages

Linux: PHP 5.2.8, PHP 4.4.9, Python, ColdFusion MX 7.0.2, Ruby, Ruby on Rails, Perl, Java, FrontPage Server Extensions
Windows: ColdFusion MX 7.0.2, ASP.net v1.0/2.0/3.5/AJAX, PHP 5.2.5, FrontPage Server Extensions

Databases: MySQL 5.0.67/4.1.22, MS SQL, MS Access
Pre-installed applications: MS IE Web Controls, WSE 2.0, ASPUpload 3.0, ASP JPEG 1.4, GUIDMaker, ASPCrypt
mbstring enabled in both Windows and Linux
Linux-shared-hosting:  Dual Quad-core Xeon, 8GB RAM
Windows-shared-hosting (IIS6):  Dual Quad-core Xeon, 8GB RAM
Windows-shared-hosting (IIS7):  Dual Quad-core Xeon, 16GB RAM
Windows-shared-hosting-grid(IIS7):  Dual Quad-core Xeon, 32GB RAM
Customer Satisfaction
GoDaddy offers 24/7, 365 days/year phone support, as well as a comprehensive, searchable Help Center. Email support also available.
Security
Go Daddy owns, operates, and supports their own data centers. Routers, firewalls, and servers running your site are all best-of-breed, and monitored round the clock. That means all your data is secured as well as the physical systems and structures supporting it.