Yahoo! Web Hosting Review
Posted by

fplanque

on May 12, 2010 in Reviews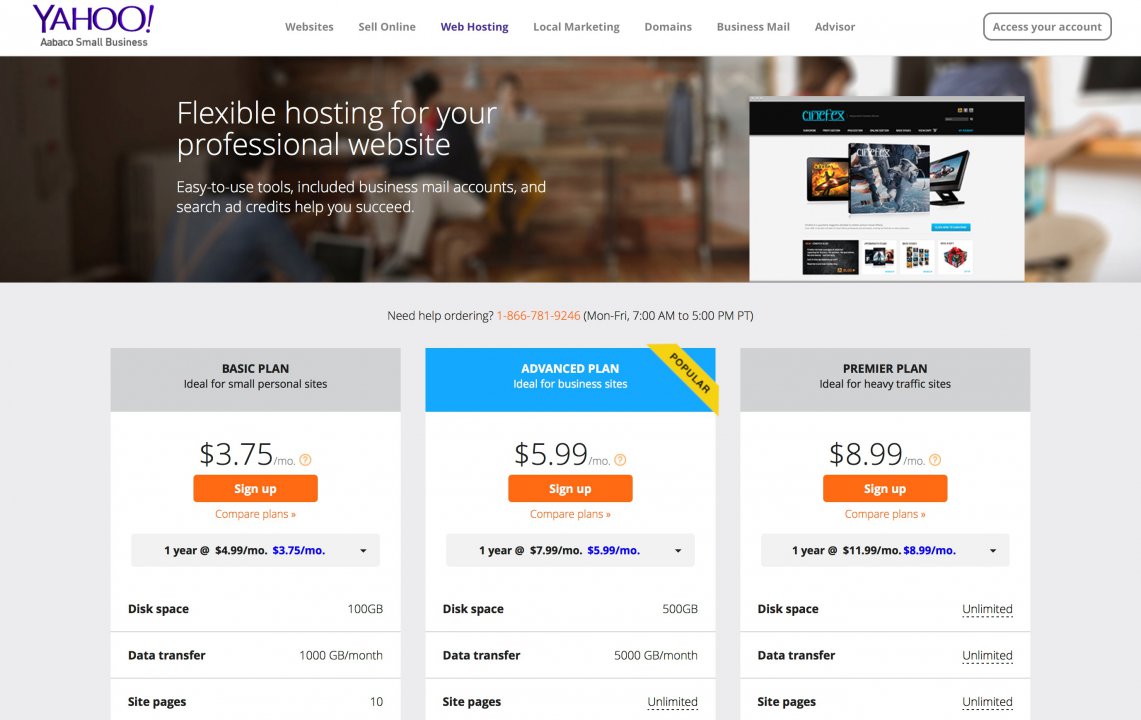 General
Yahoo! is a large corporation headquartered in Sunnyvale, California. Yahoo is mainly known for its search engine as well as email services along with web hosting. As of 2010, the corporation laid claim to the largest share of online advertising in the world.
Year Founded: 1994
Incorporated: March 1, 1995
Founder: Jerry Yang and David Filo - Electrical Engineering Graduates, Stanford
CEO: Carol Bartz
Office Location: Sunnyvale, CA
Sister Companies: del.ico.us, Flickr, Fire Eagle, FoxyTunes, Upcoming, Wretch
Features
Yahoo web hosting offers unlimited email storage, disk space and data transfer. Yahoo offers everything a user could need from insightful web tools, simple management and performance reports to 24 hour customer service support.
Free domain name
24-hour toll-free customer support
Unlimited Disk space
Unlimited Data transfer
Email addresses
1,000 Easy-to-use site design tools
Support for third-party design tools
Photo, audio, and video galleries
Advanced scripting and database tools
User-friendly control panel
Exclusive online marketing discounts Included
$100 Yahoo Credit
$50 Google Adwords Credit
Site Builder
Online site builder provided by Yahoo provides a checklist for building the site.  Simple entry for text and photos is also included.
Technical Specs
PHP 4.3.11
Perl 5.8.7 and support for the standard library plus 12 additional modules
MySQL 4.1, with unlimited databases
Support for most FTP software
Support for Flash, Shockwave, videos, and more
Blogging options include b2evolution, WordPress and Movable Type
Web site enhancements, like guestbooks, PayPal payment, Yahoo! Maps, and site searchOnly include this if the information is available to you.
Performance
Performance tests on Yahoo! Web Hosting returned average results.
Customer Support
Yahoo offers several varieties of customer support.  For starters, online guides for getting started, video tutorials and a comprehensive help center are available.  If further assistance is needed, Yahoo offers 24-hour toll-free phone support.
Customer Satisfaction & Guarantees
Yahoo does offer a 30-Day Money Back Guarantee for new signups or for those who upgrade their existing services from other web hosting products. A complete refund of the fee is guaranteed if a user is not satisfied.
However, domain names that are registered through Yahoo may be assessed a $7.00 yearly registration fee. Unfortunately this fee is not refundable and cannot be cancelled.  To make up for this however; the domain name can be transferred to another provider after 60 days.
Guarantees
30 Day Money Back Guarantee
99.9% Uptime Guarantee
Conclusion
Deciding on a web hosting service can seem daunting and overwhelming.  Yahoo Web Hosting offer the advantage of a highly reputable brand you can trust. Beyond this, Yahoo offers all the tools required for successful hosting of personal and small business web sites. Check out their offer today!