Posted by

fplanque

on Jun 23, 2010 in Reviews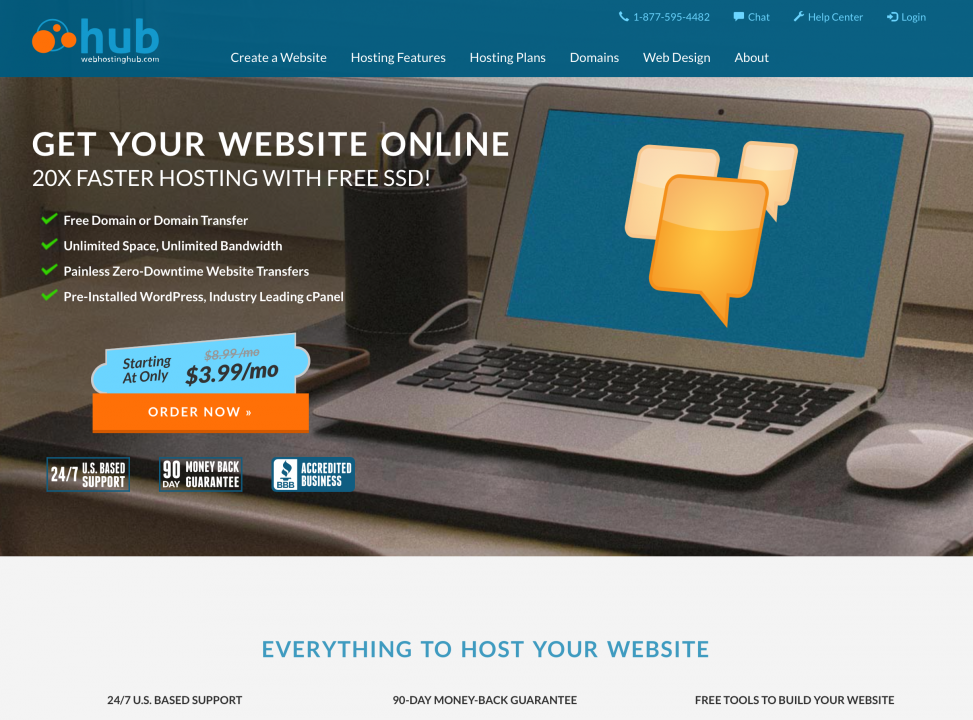 General
WebHostingHub is a top hosting company in the budget category.  They are completely US based with technical support, sales, and customer service done from their office in Virginia. In addition, they have two data centers, one in Ashburn, VA and one on the West Coast in Los Angeles, CA.

All of their equipment is very modern, some of the largest and fastest machines of any hosting company we reviewed. Our tests showed exceptional response times and top uptimes.
Technical specs
Linux-based platform (This is good for security. Don't worry, the fact that your own OS is Windows or Mac OS X is *not* an issue)
MySQL - Up to date
PHP - Up to date
UTF-8 and mbstring: supported
Dual Quad Core Xeon Servers
RAID 5 Drive Protection
MySQL Caching for exceptional database speed
Overall, the platform is new, modern, and really fast.
Performance
A ping test from our servers on the East Coast, USA gave an average of 29 ms, which is really fast. The ping test measures the amount of time for the packets to go from the testing monitoring location to the host tested (the lower the number, the faster - you typically want a number below 100 ms).
We were able to perform 10 simultaneous FTP transfers, which makes uploads very fast.
Control panel: cPanel - Up to date
Application installer: Fantastico Deluxe - Up to date
Security
Web Hosting Hub is running mod_suPHP - strong isolation between user accounts.
SFTP is also available for Secure FTP file transfers.
Overall security is excellent.
Customer Support
Web Hosting Hub offers 24/7 support via email, chat, and phone from a US staff. Unlike many of the other hosting companies out there, they do not outsource at all.  They also have a really complete video tutorial system for common questions and answers.
Customer Satisfaction & Guarantees
Web Hosting Hub has one of the best teams out there. Their people are friendly and expert, look for this company to impress you every step of the way.
No matter what, they offer a 90 Day Money Back guarantee so you can try them out with no risk.
Conclusion
Web Hosting Hub ranked high for us on ease of use and technical support. Combined together, they can help to get your site up and running fast. With the highest level of service on a budget hosting plan, we recommend Web Hosting Hub for the budget minded shopper that needs quality as well.