Posted by

fplanque

on Jan 29, 2008 in Reviews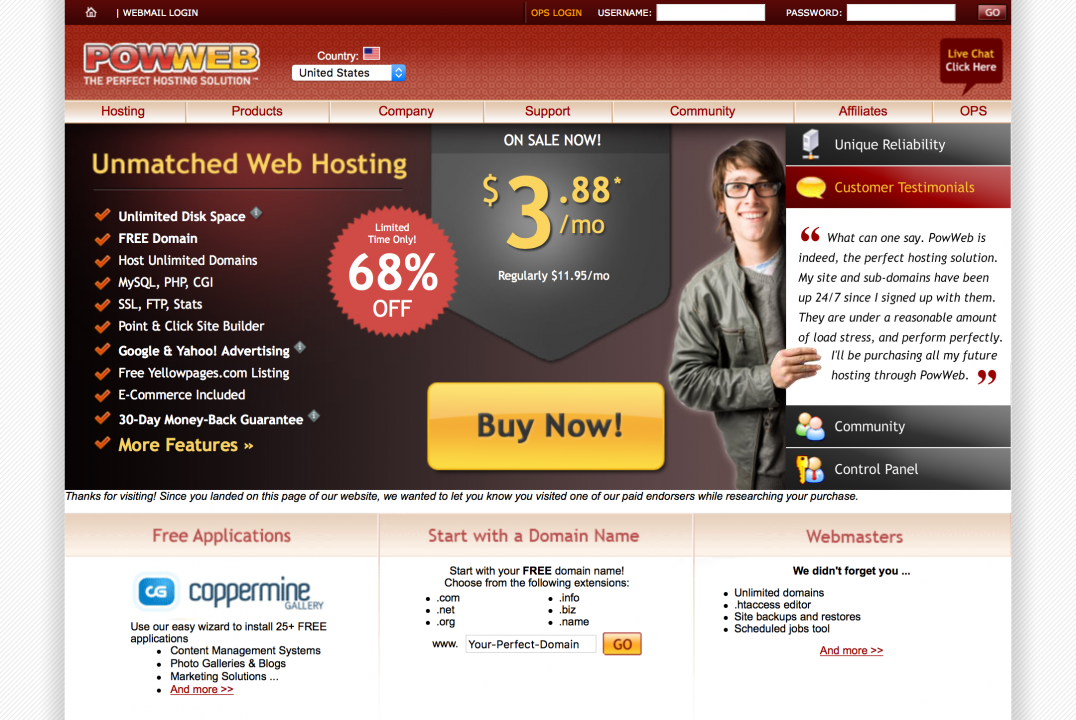 General
Powweb was founded in 1999 and has been a pioneer in "low cost" web hosting.
One major characteristic of Powweb today is that they have built and maintain their own infrastructure and operations software. They do not rely on third party software integration like many others do.
Created: 1999

Parent company: Endurance
User experience
Our Powweb test site showed acceptable response times for static pages. However, dynamic pages including MySQL queries were slow. Too slow…
Powweb offer their inhouse built control panel called PowWebOps which seems complete and functional. It is actually a refreshing alternative to cPanel.
b2evolution and other applications can be easily installed through the "Install Central" service.
Creating and managing MySQL databases is easier than with cPanel 10 or 11.
Technical specs
PHP version: 4.4.7 – Up to date but we would like to see PHP 5 by default.

PHP security: Medium (register_globals is on)

MySQL version: 5.0.45

GD library: 2.0.28 – Good.

Perl version: 5.8.8
PHP errors are not shown by default. You have to go see the "CGI Error Logs" in the PowWebOps. This makes troubleshooting a tedious task. Also, this cannot be considered to be the result of a very proactive a security decision, since Powweb left register_globals on, which is a far bigger issue as far as PHP security is concerned.
We also noted that some common environment variables that are commonly used on all hosting platforms are not available on Powweb which may cause compatibility issues with recent scripts.
Conclusion
Because of the limited technical specs, we only recommend PowWeb for very small and simple websites where a low cost price hosting is more important than technical perfection.
5 comments
They might have good services,good prices, except support, they will let you wait 1 hour at least during online chat.try it yourself!
I've used powweb for many years, first sites hosted were around 2001 where you got around 150MB space which at the time was a lot.
A few hickups to start with but in general and over the time I've had sites with them, there has been no problems and up time has been excellent.
The referal/affiliate programs are good too, I've had some years of hosting paid by people signing up through my links.
If I've had an issue, support have responded fast and I'm based in UK so my working hours quite different to USA etc.
All in all, had a good time with that host. One of the 3 main ones I use to host my sites.
- John
Best if your running a simple forum or a web blog or something like that. but you don't want to use pow web for any type of media or e-commerce site. The MySQL DB's run slower then syrup in winter and the max query limit per hour is terrible and can be hit quite often. I would suggest this service only if you just like to fool around on the net as it is cheap and provides features you would need to have to do mostly anything. but if your trying to do some serious business here move along and look for someone else.
There service is extremely poor with staff that don't understand your requests. They keep you going in circles repeating the same thing with apologies over and over again without resolving your issue. They have a complete lack of communication. They even messed up with my domain privacy for which I had paid for a year but cancelled for the following year. Their staff just cancelled it altogether for this year as well. Well anyway, not recommend them at all. Their support and customer service is appauling. These people are robots (maybe they are), they totally don't understand and just go on babbling their own heart-learnt scripts.
Very very poor service.
I have been a user of powweb for about 4 years now.
Low prices, fast sites and unlimited storage.