Posted by

fplanque

on Oct 01, 2012 in Reviews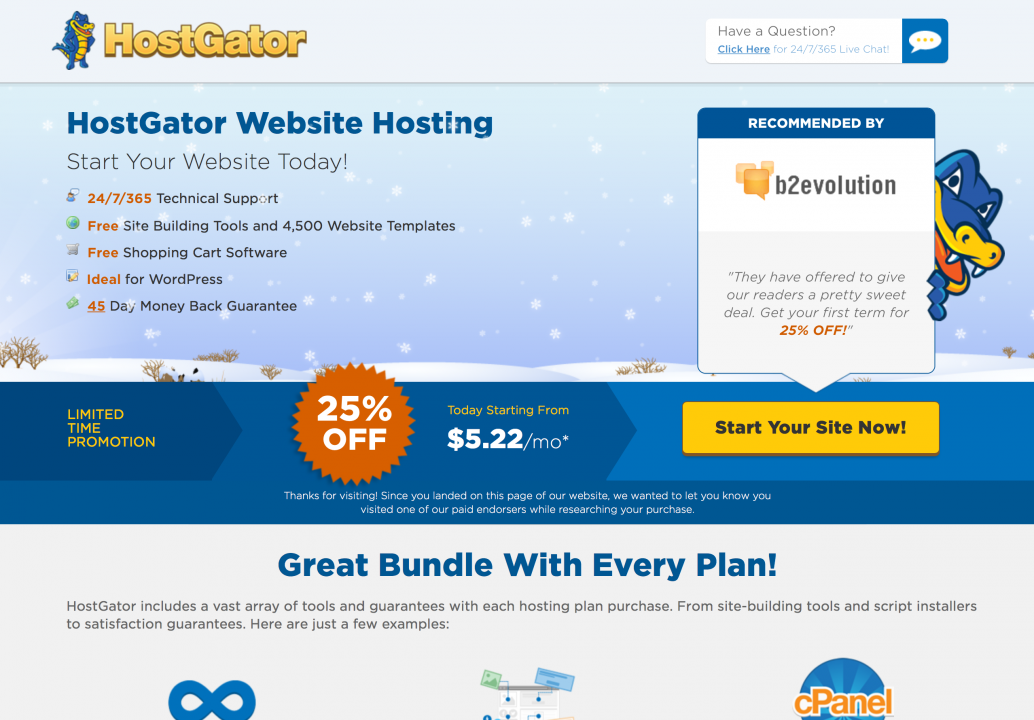 General
HostGator is an independent hosting company created by Brent Oxley in 2002. They are based in Houston, TX which is a good central point for serving all of the US with minimum access times (latency). Today they are one of the world's 10 largest hosting companies, but despite the growth, Brent still takes personal involvement in customer satisfaction and will often handle concerns personally.
Customers: 250,000 +
Hosted domains: 3,500,000 +
Created: 2002
CEO: Brent Oxley
Based in: Houston, TX.
HostGator's offering covers several web hosting product families, which is an advantage if you ever want to upgrade to a more complex hosting solution:
Green hosting / Environmental considerations
HostGator is powered by 130% wind energy – by purchasing more certified Renewable Energy Credits (REC's) than they actually consume – which makes them a Green hosting company. They also strive to use the most energy efficient servers possible. See details »
Standard / Shared web hosting
The standard web hosting offer is shared hosting, which means you share a server with other clients.
Technical specs
HostGator's shared hosting runs on Dell PowerEdge servers and have a robust and reliable network which has proven itself to handle any type of web site – from blogs, eCommerce stores, and even fortune 500 companies.
We have verified that the essential software (PHP version, MySQL version and GD library) were up to date.
Control panel: cPanel
Easy software installer: Fantastico Deluxe - Up to date
We were able to perform up to 6 simultaneous FTP uploads which makes sites updates fast and easy. However Secure FTP (SFTP) was not available which can be a negative if you are uploading sensitive data to your website. (It's a non-issue if your site is 100% public content).
Unlimited MySQL Databases with phpMyAdmin Access
Programming Languageq: CGI, Fast CGI, PHP 5, Ruby on Rails, Perl, Python, SSI
Programming Modules: Curl, CPAN, GD Library, ImageMagick
System Management: SSH Access and Cron Job Scheduling
FrontPage Extensions
Performance
With shared hosting, it's important that the servers are not overloaded with other clients, or else your site will suffer from degraded performance due to other sites hosted next to you.
To evaluate this we have set up a test site for Host Gator. We were satisfied with the response times and uptimes observed on this test account.
Security
With shared hosting, it is especially important that your webspace is isolated from the other clients' web space on the same server. Otherwise it would be possible for a hacker to open/compromise an account on a server and then easily access your own web space.
To prevent this, HostGator is running mod_suPHP which is the best for providing strong isolation between user accounts. Perfect!
Shared Hosting Plans
Hostgator offers different web-hosting plans depending on your needs. Current package plans are Hatchling, Baby & Business.
The Hatchling plan is geared for individuals who only need hosting for one domain.
If you plan on expanding or already own multiple websites, the Baby plan will be better suited for you.
If you're starting a business, then you should definitely consider the Business plan, which in addition to hosting, will provide you with your own Toll Free phone number! HostGator has partnered with Voipo to offer this service to their new clients. 100 minutes are included by default per month.
Each of these plans offer a package that is reasonable enough for your web hosting needs. All these plans come with unlimited disk space and bandwidth. In addition, Hostgator also offers unlimited MySQL databases and POP3 email accounts.
Pricing
Month to month contract: HostGator is one of the very few hosts allowing you to pay monthly without being tied in into a long term contact.
You will get 25% OFF by using the coupon code "b2evolution25″. This puts the monthly price at $3.71/month!
VPS hosting
Virtual Private Servers are the next level in HostGator's hosting offering.
You can think of a VPS as being like shared hosting BUT with guaranteed resources (CPU, RAM, Disk & Bandwidth) allocated to it as well as OS level isolation from one client account to the next (which means you get full root access on your own virtual server).
The pricing of VPS hosting depends on how much of these resources you want to be allocated to you. For example with 0.57 GHz of CPU, 384 MB of RAM, 10 GB of of Disk Space and 250 GB of monthly bandwith, you will pay $19.95 per month.
VPS technology allows you to increase your resources as your needs (and your traffic) grow. The next level will cost you $29.95 per month and you can go all the way up to 5.94 GHz of CPU, 4GB of RAM, 231 GB of Disk Space and 3150 GB of monthly bandwidth before you need to switch to a dedicated server.
You can also choose between having 2 or 4 private IP addresses. Having private IP addresses for your web sites is essential for Search Engine Oprtimization (SEO), so your sites don't get a bad reputation from neighbor sites (other clients) that may share an IP with you in a shared hosting environment.
VPS hosting includes unlimied domains & sub-domains, unlimited email accounts and unlimited MySQL Databases. It's your (virtual) server! You have full root access. You can put as much on it as your resources allocation permits.
HostGator will also provide you with free Site Builder Software, private Name Servers, 24/7/365 Award-Winning Support and, if you want to, they will fully manage your installation (with cPanel/Plesk) so you don't have to worry about OS upgrades.
Dedicated Hosting
With dedicated hosting, there is one physical server dedicated 100% to you allowing for even higher technical specs than VPS, like a Quad core Xeon processor just for your site and 8 GB of RAM for example.
Dedicated Hosting give you the ultimate quality & control when hosting your web site.
Linux Dedicated Servers
HostGator offers 4 levels of Linux Dedicated Servers (Basic, Standard, Elite & Pro) starting at $139 for the first month and $175 recurring.
Offers differ by their technical specs and you will chose depending on the needs of your site. If you are just starting out and want a dedicated server just for the control it gives you, the smallest version will be more than enough. You can upgrade later.
HostGator's dedicated server offering is fully managed which means you can rely on them for keeping your system up to date and secure. Thechnical support is also here to help you, should you break something while fiddling around in your operating system.
The servers all come with 10 TB (10,000 GB) of monthly bandwith and 5 IP addresses which is very generous compared to industry standards.
The 5 IP addresses will let you run 5 different web sites on 5 different addresses in order to make them look clearly independent from each other. (If you run more sites, you cna of course share an IP for multiple sites, just like shared hosting works.)
Windows Dedicated Servers
HostGator offers 4 levels of Windows Dedicated Servers but we won't get into these in detail as we consider there is no reason to use Windows Hosting (even if you use Windows at home) outside of very specific cases which do not concern us with b2evolution.
Customer support
If there is one thing Hostgator is known for, it is their customer support. Most of their clients can attest to the efficience of Hostgator's support services. If you have a question or need help regarding their hosting services, they are able to respond fast, sometimes in just 10 minutes, and provide thorough and reliable answers.  Their customer support is very easy to reach either by email, online chat or telephone.
Customer satisfaction & Guarantees
Hostgator is known for their guaranteed 99.9% up-time. Their servers are fast and efficient. Their clients barely notice any downtime at all. Potential customers and current clients would also be pleased to know that Hostgator manages their own data center. This means that they are in control of their servers and could efficiently manage their system.
Hostgator is so confident about their services that they offer a 45-day money back guarantee on all their web hosting plans, should you not be satisfied with their services. The company founder himself, back-ups this guarantee.
Another distinctive feature that makes clients choose HostGator is being able to pay monthly.
Overall, customers feedback shows they are generally satisfied with HostGator.
Money back guarantee: 45 days
Uptime Guarantee: 99.9%
Conclusion
Hostgator may be slightly more expensive than some of their competitors, and they may not offer as many free add-ons or additional features as some others do. However, do you really need those?
On the other hand, HostGator provides top-notch service in terms of server up-time and lets you pay monthly with no long term contract. Add to this guaranteed 99.9% up-time and world class customer support. All this definitely makes Hostgator a serious option to consider when looking for a new web-hosting provider.