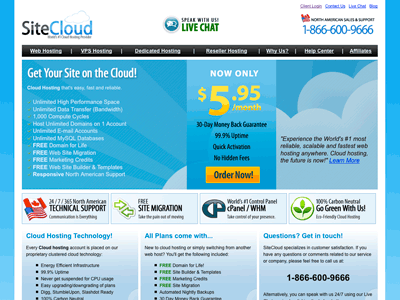 General
SiteCloud is the first load balanced cloud hosting provider that features the popular cPanel control panel. What differentiates SiteCloud from other CPanel web hosts is that they load balance their infrastructure versus placing all the customers and services on a single server.
Based out of Santa Monica, CA, SiteCloud is owned and operated by industry veteran Trey Gardner.
User experience
Our SiteCloud test site showed excellent response times.
For the admin interface, SiteCloud offers the latest version of the well known and appreciated CPanel software.
Support
SiteCloud offers 100% North American service 24/7/365 via telephone, live chat and e-mail tickets. The support is friendly and quick to answer to issues. They also maintain a vast knowledge base for quick and easy access to common questions and answers.
Customer Satisfaction
You can expect first class experience with SiteCloud's sales, support and billing teams.
SiteCloud also provides an unconditional 30 day money back guarantee. This means, if you're not 100% happy with the service that they provide you, you'll get a complete refund.
Technical Specs
This is where SiteCloud shines.
Most web hosts assign each client to a specific shared web server. When any client site on a specific server gets popular, it slows down all the other sites on that server and the web hosts generally ends up disabling the "offending" site -- the one that got too popular -- because it uses, says, more than 10% of the CPU.
SiteCloud's infrastructure, on contrary, is load balanced and pooled together to ensure that any client site can be served off any server in the server farm. This ensures there are always resources available to serve your web site fast and consistently despite the load being put on the system, either by your own or by someone else's popular site.
The platform is proprietary to SiteCloud and is unique on the market.
Linux Based Platform (It does not matter if you're running Windows or Mac OS X on your own computer)
Latest Stable Version of MySQL 5
Latest Stable Version of PHP 5
Security
SiteCloud runs FastCGI along with mod_security to ensure isolution between user accounts. You'll also have access to secure FTP (SFTP) and SSH.
The overall security at SiteCloud is excellent.
Hosting Plans
SiteCloud offers 3 shared hosting plans. All of them come with unlimited features such as disk space, bandwidth, mysql databases, email addresses, aliases, etc.
The only difference between the plans are the amount of Compute Cycles that you're given, which is their unit of measure to determine how many computing resources are being used by your site.
Conclusion
SiteCloud is a very unique web hosting provider, they've combined the new technology of cloud hosting with the familiarity of cPanel, the world's #1 web hosting control panel. They offer you everything of a web hosting company in this market should provide with the added comfort of your site being able to run fast and consistent all the time.
We believe SiteCloud is the best cloud hosting provider at the pricepoint they offer.