iPage Review
posted on Oct 5, 2012 by
Francois Planque
in
Reviews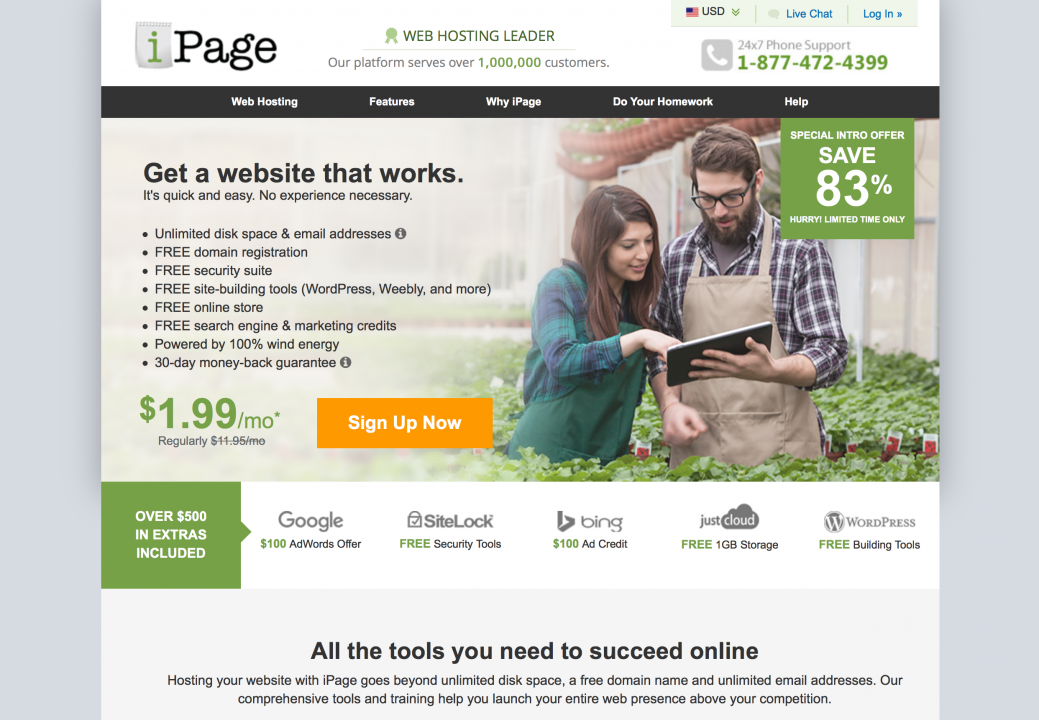 Link: /web-hosting/goto/ipage
General
Originally founded in 1998, iPage started as a full web solution provider based in Burlington, MA. But after 2000, they put their activities on hold to restart as a 100% web hosting company in 2007. With a leading team composed of the top men in the business and an aggressive hosting plan, iPage has made a powerful come-back.
Today, iPage's platform serves over 1,000,000 web sites and they are one of the top well known brands in the web hosting industry.
Founded: 1998 - switched to 100% hosting in 2007
Owner: EIG (Endurance International Group)
Founder and CEO: Thomas Gorny
Office location(s): Burlington, MA
Data center location(s): 2 in Massachusetts
iPage offers a single all-in-one hosting plan -- in the Standard / Shared web hosting category -- which includes everything most individuals and small business need.
Green / Environment focus
***** 100% Wind Energy.
iPage is also seriously involved in the Green Hosting initiative: in order to minimize their carbon footprint, iPage purchases Renewable Energy Certificates (RECs) to cover the usage of electricity for their servers and offices. Relying 100% on wind energy, iPage offsets an energy efficiency comparable to planting 2,390 acres of trees.
If you want to support the green hosting initiative, iPage will give you your own Green Badge to place on your web site. This can be an asset for your business and attract more customers.
Standard / Shared web hosting
iPage's all-in-one shared hosting plan combines the best features in the industry with, probably, the lowest price point we observed at this quality level. 
Features
***** State of the art, complete package.
As is standard now, you get "unlimited everything":
Unlimited Disk Space
Unlimited Bandwidth
Unlimited domains
Unlimited MySQL Databases
Unlimited e-mail addresses
You also get essential features for helping you build, install and get your site up & running as quickly as possible:
Intuitive site builder (drag & drop) with large database of free templates

Easy web application installer including:

Blog (WordPress, b2evolution?)
Photo gallery (ZenPhoto, Coppermine..)
CMS (Drupal, Joomla!...)
Forums (phpBB?)
Control Panel
***** vDeck is more intuitive than CPanel.
iPage has a custom built control panel called vDeck that we found very intuitive and easy to use -- actually even easier than the widely spread cPanel many other hosts would provide. 
For example, creating new MySQL databases is significantly easier with vDeck than with cPanel.
Security
***** Monitoring + Backups + Security Suite.
iPage provides all the security features that are state-of-the-art in today's web hosting services. These include the following:
Access & error logs - these allow you to check exactly what is going on on your site;
24x7 controlled monitoring - so that if any problem ever arises, it is detected immediately by the iPage technical staff;
Nightly backups - so that in the worst case scenario, including if you overwrite your own files by mistake, you can always go back to yesterday's version of your site;
Power back-up - so that your site keeps running in case of a power outtage,
Free Advanced Security Suite - for additional security control.
Performance
***** Fast servers. No downtime observed.
iPage puts a lot of effort on reliability and security. They announce an 99.99% Uptime Guarantee. We have, indeed, not experienced any downtime during our tests.
Our tests also showed fast response times from their servers at any time of the day and on any day of the week.
Customer Support
****- 24x7 North American phone support.
iPage's customer support is among the best found in their hosting industry segment:
Available 24x7
North American phone support (under 2 minutes wait time)
Live chat (instant response) 
Support ticket system (2 hours response time)
Customer Satisfaction & Guarantees
****% Anytime Money Back Guarantee.
iPage is so sure of their customer satisfaction rate that they can offer an "Anytime Money Back Guarantee" which, indeed, makes them a very safe choice to try if you are new to wbe hosting and not exactly sure where you're going.
Anytime Money Back Guarantee
Uptime Guarantee: 99.99%
Award winning phone support
Conclusion
*****
With their all-in-one plan at an excellent price, iPage is perfect for all personal and small businesses needs. And with its anytime money-back guarantee, you can try it out without ever feeling tied-up. Check them out today!
2 comments
iPage use to be a great company we have been with them for five years and recommended them to customers and associates alike.
They are not the same company we signed up with .
Monday morning we come to the office, No web site , No email, No on-line store,
Apparently due to a clerical error on their end our account was put into redemption.
Hours on hold for tech support, dozens of emails (using gmail), dozens of on line chats.
Their response "there is a ticket in we will get to it when we get to it" and when did they get to it? 5 days later…..make no mistake they held us hostage. Charged us stupid money (for what they admit was there mistake).
They couldn't care less about you your business or your reputation . Do your home work, we are just one of hundreds iPage has done this to.
A word of advice, no matter who your web host is, keep them separate from your domain name registrar, if they are one and the same they can hold you hostage like they did us.
I have been with them for a few years. First, the quoted prices are introductory. Be sure to investigate the REAL cost if you want to host your site more than a year or two. The cost jumped from $2 a month to over $10 a month!
Also, beware of the drag and drop tools. Most are limited in number of pages and in the utility of the tools. I was always having to work around the tools to get my site formatting as I wanted.
Finally, beware of extras. Every time I wanted to do something, they tried to upsell me, even on the very basic tasks I was doing.