Posted by

fplanque

on May 21, 2013 in Reviews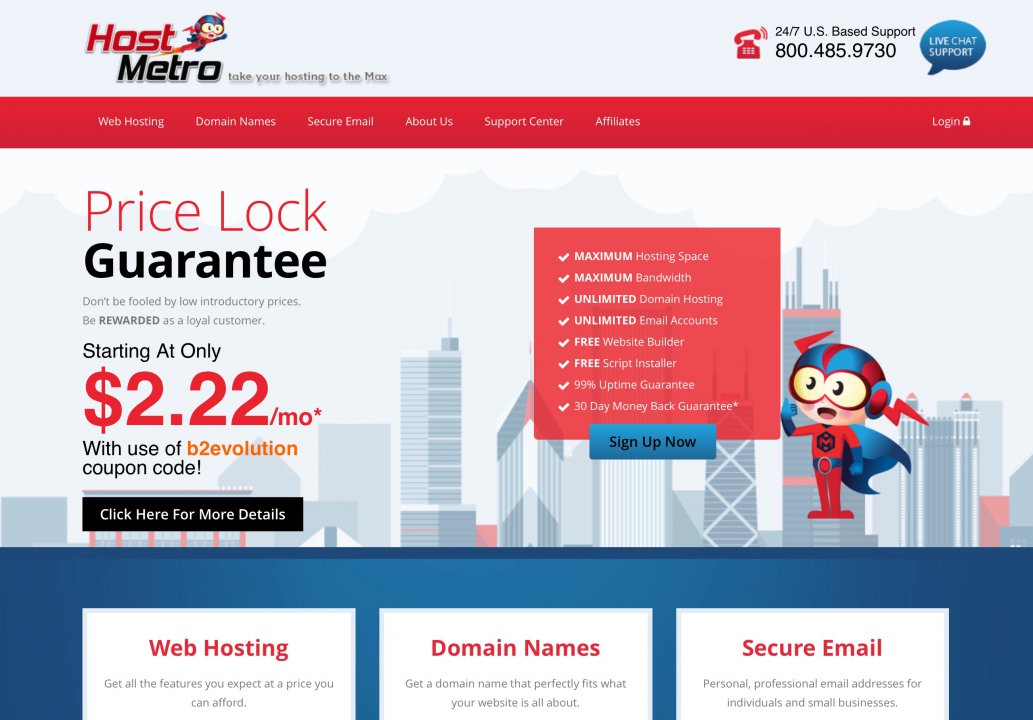 General
HostMetro is a relatively new hosting company born from the reunion of several web hosting industry veterans. They have of 50 years of combined experience and they are set out to make things right.
Features
HostMetro won't make false claims about unlimited space and bandwidth (like many competitors do) but they assure you you will have enough for any normal web site (which means you can't run a file archiving service or a video sharing site; oustide of that you never have to worry about space or transfer limitations).
Hosting Plans / Packages
The standard hosting plan is called Mega Max Hosting. It includes the following:
No limits on space
No limits on transfer
No limits on domains
No limits on email addresses
No limits on databases
You also get a few additional interesting goodies:
Free domain name
Free domain name privacy, which is pretty rare
Free website builder - you actually get 2 different ones
Free website transfer service, if needed
HostMetro also offers a business hosting plan called Business Max Hosting, which includes a few additional features:
SSL Package
SEO Package including a dedicated IP address
SiteLock Security Seal
We recommend starting with the standard plan and upgrading to the business plan when you need it.
Control Panel
The control panel is CPanel 11 and will feel familiar to anyone having used cpanel web hosting before.
It is to be noted that HostMetro's CPanel is *not* overloaded with ads, promos and other distracting boxes trying to upsell you options on your account, which is refreshing.
Easy Web Application Installer
Popular web applications, including b2evolution, can be easily installed with the Softaculous installer which saves you precious time. With Softaculous, you don't need to manually configure a database and then configure that database in teh script you are trying to install. Everything is done automatically.
Performance
Our test site at HostMetro showed excellent performance.
Regarding FTP transfers, we were able to use several simultaneous connections in order to perform extremely fast site updates.
Security
The servers run mod_suphp which is the best practice for securing shared web hosting accounts.
In addition, the system refused to execute scripts with group writeable permissions. This means that, compared to average web hosts, the system has extra layers of security to prevent hacking of your website.
Regarding FTP transfers, we were able to use SFTP, which is excellent for security.
Overall, we give HostMetro a perfect security score. Their security is cutting edge and above average.
Customer Support
HostMetro's customer support is US based and has already won several awards.
They are available 24/7.
Customer Satisfaction
So far, the user feedback we got is very positive.
HostMetro is also proud to offer a full money back guarantee for the first 45 days.
Finally, they promise not to raise your renewal rates for as long as you stay with them, which is extremely rare in the industry.
Conclusion
HostMetro currently offers top of the line hosting quality for an extremely low introductory price, which they promise not to raise for as long as your keep their account with them. At this level of quality the price is likely to increase for future customers, so you may as well grab the deal while it's still available (remember you have 45 days to try them out or ask for your money back).