Posted by

fplanque

on May 03, 2008 in Reviews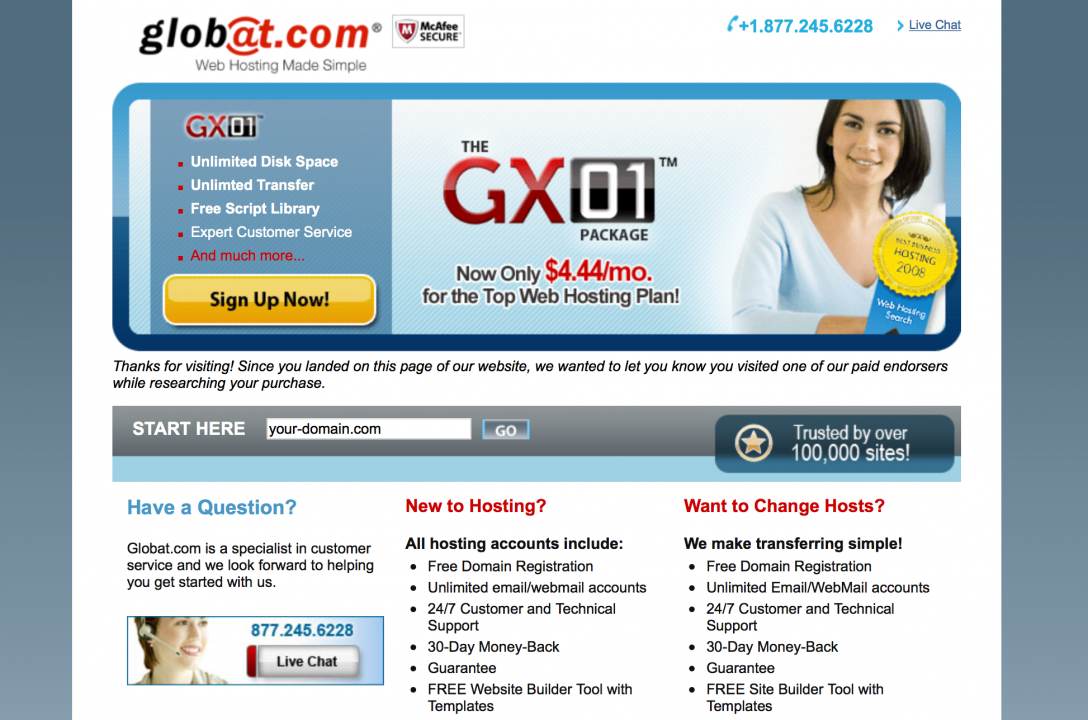 General
Globat was founded in 2001. It is a privately owned company based in Los Angeles, CA. They have nearly 100,000 customers worldwide.
CEO: Ben R. Neumann

President: Chris L. Ueland

COO: Louis J. Rio
User experience
We were able to perform 10 simultaneous FTP transfers, which is outstanding and makes site maintenance extremely fast.
Globat uses their own proprietary control panel called "The Globat Command Console". This control panel has everything you need. Unfortunately it also has occasional upselling popups which is extremly annoying when you're trying to get something done.
Database management with phpMyAdmin is available through the command console.
Customer satisfaction
Customer feedback tells us that the pricing is attractive but the support could be improved. "You get what you pay for" is being cited over and over again.
Customers have also complained about too many upselling messages.
Security
Globat uses mod_suPHP which effectively isolate their clients from each other and provides good security.
SFTP is not available.
Overall security is good.
2 comments
Comment from:
Dave Adendorff
Visitor
I have been with Globat for almost 4 years, but am now finally moving to a different provider. Generally hosting is good, but paying for adding a sub-domain is not acceptable. This was the straw that broke the camel's back.
Comment from:
Johan Delbeke
Visitor
I have never had any complaints about their services, which for me (small-timer) were fine, the site is well-organized, support is good etc…
HOWEVER, the Globat billing practices border on theft or sometimes clearly and simply are theft. E.g. they used to send me emails saying that if I do not opt out of an upgrade, they would simply upgrade my account, and off course they would upgrade the bill accordingly.
I just discovered that they have been charging my credit card for an account that has been closed for ages and that they have added several upgrades to this account. The weird thing is that they are doing this on a credit card that did not even exist at the time I was a client with them. I know it is easy to get confused about such things, but in my case it is clear. After being self-employed (which is why I had the site), I closed the site and went to work for a bank (which is where I got the credit card).
Overall, it does not matter how good their service is, or how cheap they are, I have paid three years of hosting ($500) for a website that did not exist, so I can only recommend to stay far away, and if you have been had, complain to your credit card company immediately. If the credit card companies withdraw their cooperation from Globat, the company is out of business instantaneously, so they do have influence.