State of the Evolution - June 2015
Wow! June Already! What happened to April?
It was about time for an update! We've got great news!
b2evolution version 6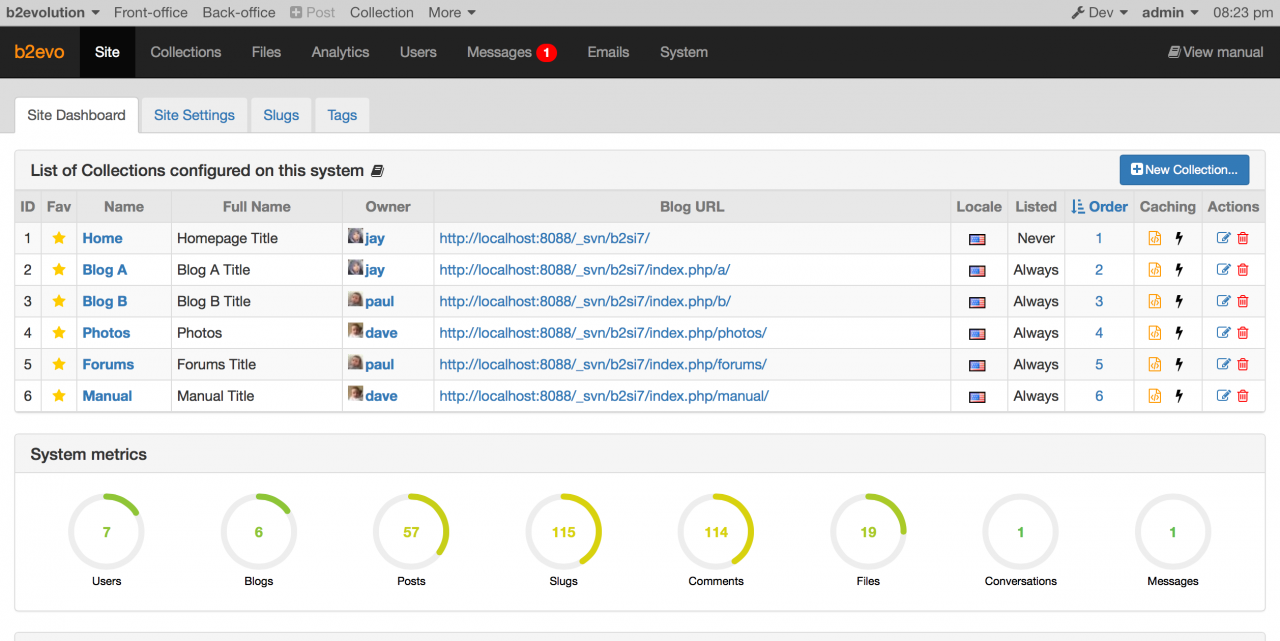 We've made huge progress on b2evolution version 6. Several betas have been released and the latest is 6.4.4 released just 2 days ago! Download Here.
Along the way, we actually added quite a few goodies and b2evolution v6 now far exceeds our original ambitions for this release!
A few highlights of v6:
Everything is now redesigned 100% in Bootstrap by default: front-office, back-office and even the installer (but it's still possible to use non-Bootstrap skins of course);
Tag management interface;
HTML5 semantic markup;
Custom templates for custom post types;
More clean URL schemes accessible without editing any .htaccess file;
More powerful search feature;
Forums can track what posts you have already read and which are new.
You can find more v6 features/changes in the original 6.0.0 release notes and following.
Logo redesign
So the whole app has been redesigned and got a fresh, new, 2015, responsive, bootstrapy look… Now it's time to also give the website a facelift! (Upgrade it to v6, make it responsive…)
Actually, we're starting with the logo. Here are a few variations of what we've been experimenting with: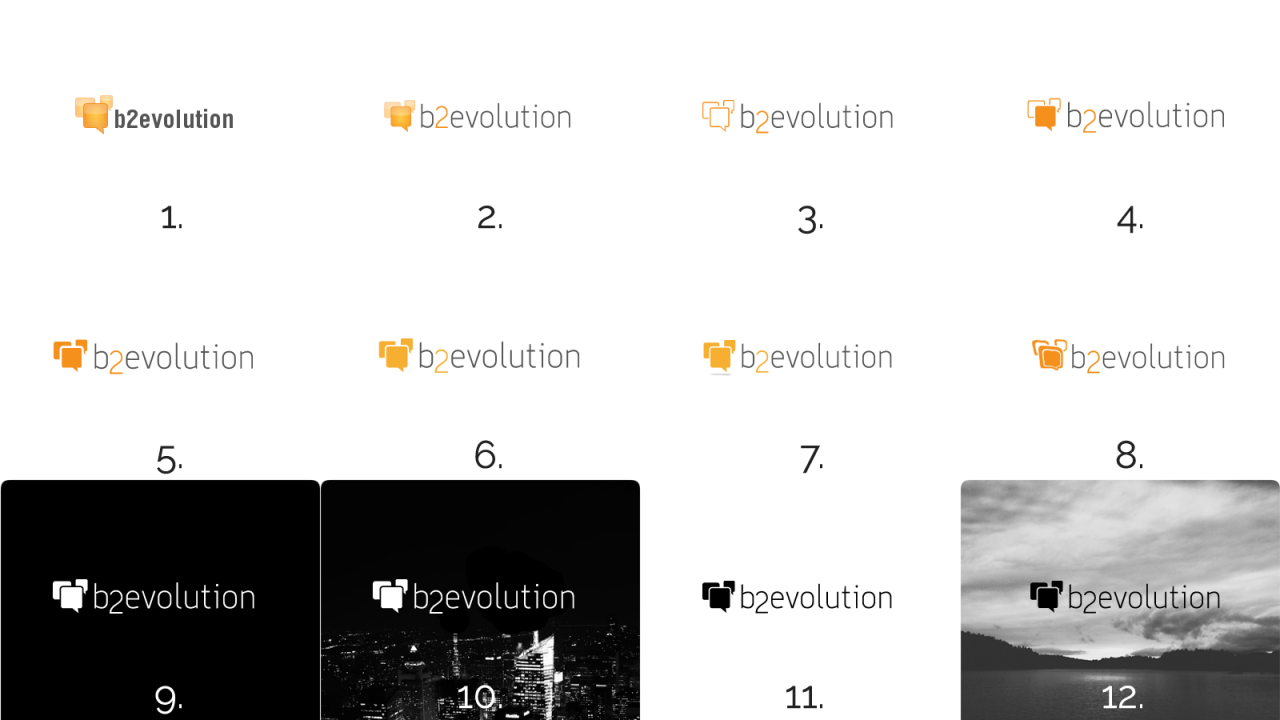 What do you think?
Can you tell us which one you like the most?
And possibly why?
All feedback is welcome!
Have you noticed we have been listening more and more to our users' needs for the last couple of years?
One defining moment was this: Your feedback matters!.
You gave us awesome feedback so far, and we have implemented most of what you requested. A few requests are still in the pipeline, as fixing v6 bugs was a priority over new features. But worry not, if we said we were going to implement it, you'll see it in the next couple of months.
As you check out b2evolution v6, please continue telling us what you think and what you need. No matter how small or how big! If we can make it happen, we will!
Enjoy v6!
9 comments
Wow,
Congratulation for best work in B2evolution 6.x.x. I am running 6.4.3 and all is fine! About Logo 9, 10, 11 and 12 I dislike! Black and white is not good logo!
5 ad 8 are best logos. why? I don't know :-) I just like!
A feature that would like so much in b2evolution is export post (filtered for user) in epub files. Is not a crucial feature, but will be cool.
Anyway, congratulation again for the best CMS + blogging tool ever :-)

Thank you.
I don't know the specifics of the epub format but maybe it could be handled as a custom skin… ?
I vote for #2, especially the text. Then the speech bubble from number 2 or the outlines from #3 based on where it is used.

Thanks. Any particular reason for the text of #2?

Uh, logo.
First orf all: what you intent with the logo? At the moment I only think, the font/the word is ok - the bubbles never would look like a thing to show "This is a blog application".
So, the font should be a little bit moderner like 2-8 or with another mondern font. But the bubbles - hm - I don't know a good icon for the word "blog".
No 9 - 12 is unusable - I get a connection to windows with this pics. And that is not the thing you should intend.

Can I be a bit snarky for a second? ;)
Only the small bubble in the logo stands for "blog". b2evolution is much more than a blog engine now! :p
Ok, more seriously now: one meaning of the bubbles is the idea of a discussion between the site and its audience or between the community members themselves.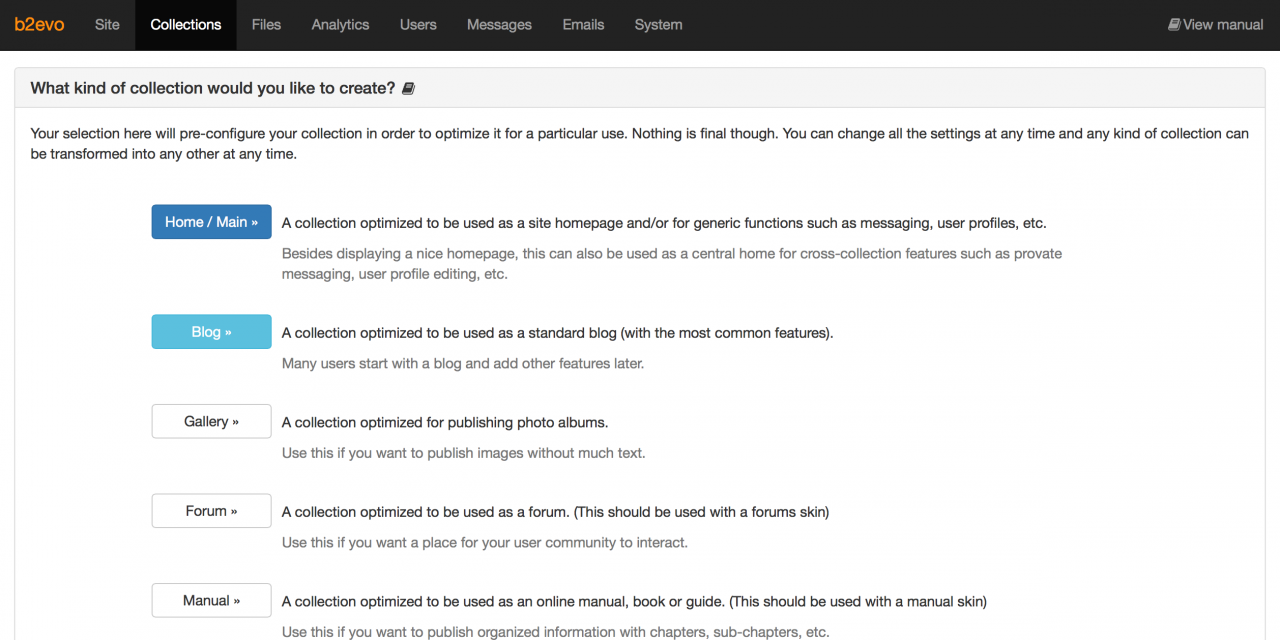 May be No 2 without the subscripted 2 - and it should a little bit bolder, the font. That would great.

Interesting. Why not the subscript? From all the answers we got through different channels, some people have explained why the like the subscript ("it looks scientific") but nobody has explained why they don't like it yet… (although you're not the first to not like it).
Actually we got many many conflicting votes and there is no clear winner. This is why it's very interesting to hear the "why" of every choice.
Thank you.
For me, the non-subscripted 2 is cleaner. It also means that your logo type doesn't have to be a graphic. The subscript seems a bit gimicky.