State of the Evolution - March 2015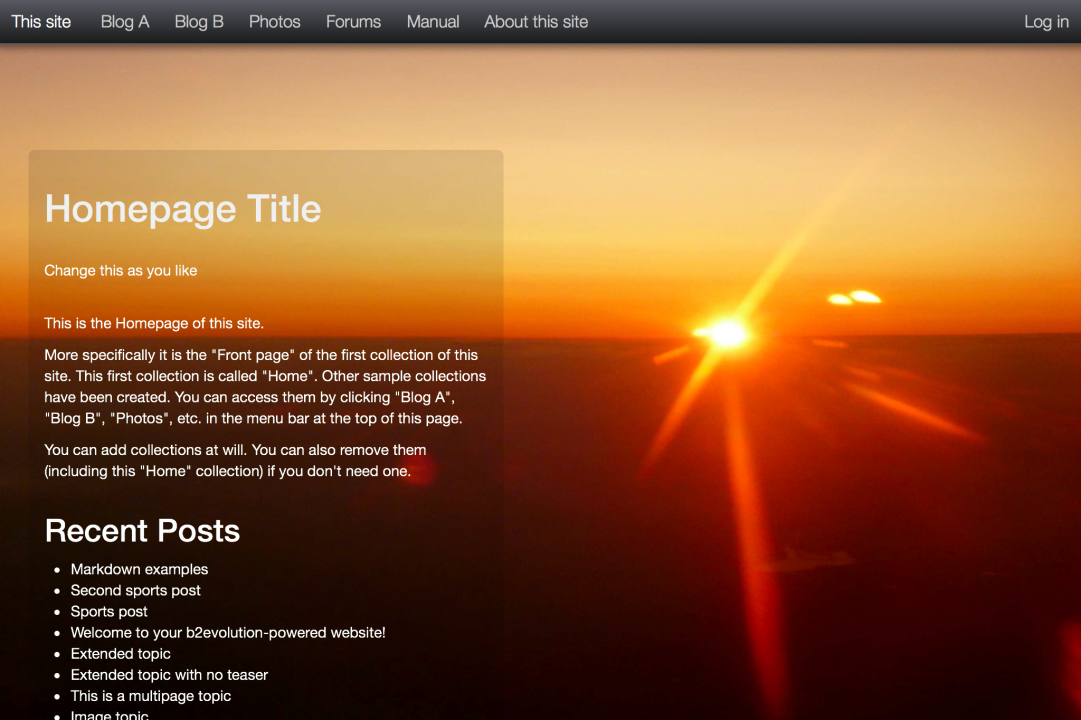 Hello b2evolution Folks!
We have a ton of exciting news for you this month! (We hope you'll understand why we skipped the February news ;)
b2evolution version 6 is here!
We have just released b2evolution version 6.0.0-alpha and it is PACKED with good stuff! Following the previous link will take you to a list but just to mention a few:
Several new skins based on the bootstrap framework.
It supports a global Home Page for the site.
Collections/Blog can be made private, even invisible to non-members if needed.
Email capture / quick registration widget.
100% UTF-8. No more weird character hassles when dealing with multiple languages.
We also have a Guided Tour if you'd like ;)
b2evolution v5.2.2 (stable)
A few days ago we issued a maintenance release of the stable version of b2evolution. You can get it here.
This release includes its fair share of small bug fixes but also a little better bootstrap skin (if you're interested in bootstrap though, we really recommend you take a look at v6!).
This release also includes some new language packs…
Language Packs!
We're happy to annonce that we have completed the translations for French, German, Italian (Thanks to Walter T) and Esperanto (Thanks to Keith Bowes) and that we're getting close to 100% on Russian (Thanks to Yura) and Spanish (Thanks to Manuel).
b2evolution v5.2.2 ships with the complete French and German language packs.
We're currently working hard on updating all the remaining language packs and you're warmly invited to help translating a part of b2evolution to your own language. It's very easy with Transifex. All you need is to know is reading English and writing in your own language! It all happens in the web browser now!
The completed language packs for the current stable version of b2evolution (5.2) can be downloaded from the language pack repository.
Bower
We are proud to announce that b2evolution is now registered and available through bower.
If you have bower on your system, just type bower install b2evolution and voilà: you've got the latest stable b2evolution downloaded to your working directory.
Want the latest alpha? Just type: bower install b2evolution#6.0.0-alpha.1
Better documentation
In its early years, b2evolution suffered from a serious lack of documentation.
With version 5, we started a complete update of the Manual… But until today, we were focused mainly on explaining the details of the most advanced features…
New users and beginners were left out…
Well, we're proud to show you that we have started caring to newcomers as well, with these new "Getting Started Guides":
What's next?
As you can already see in b2evolution v6.0.0-alpha, we are pretty heavily committed to work with the bootstrap framework across the app. Expect more bootstrap skins soon! ;)
In v6, we have also removed the /blogs/ folder. This is an important milestone in b2evolution's transition from "blog engine" to "complete website engine". You might also call b2evolution a CMS (Content Management System) but we don't think it captures it all. It doesn't matter though that we don't exactly fall into an existing category. That is also part of what makes b2evolution unique…
If you have ideas about how to best define b2evolution as of version 6+ though, please let use know! :)
One more thing
If you need a good text editor for working on your custom skins or plugins, we warmly recommend Sublime Text. Skip version 2 and get version 3 (currently beta) right away!
And in case you don't like the default color scheme, you might like this one: evo-sublime.
Did you like this post?
If you liked some or all the news in this post, please share them with a friend or somewhere online like twitter, Facebook or your hangout place of choice. Let someone know!
Thank you for your help in spreading the word.
-Francois.