b2evolution 2.0 comes with a brand new backoffice design a.k.a admin skin, named "Chicago":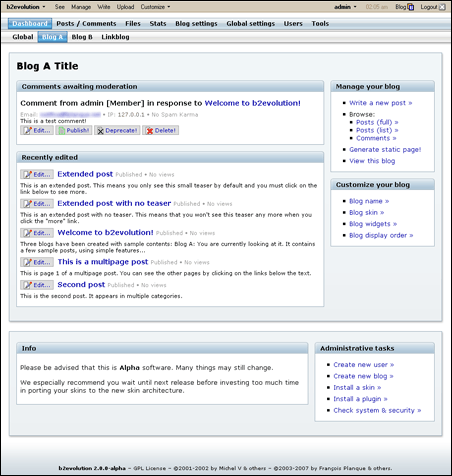 Though not completely polished yet, we hope it reflects how much effort we're putting into the new b2evolution 2.0.
Of course, if you're nostalgic (or if your IE chokes on CSS), you can still use the legacy or the evo admin skins.
By the way, you can now switch admin skins easily from the "evobar" at the top of the screen. In case you wonder: yes that bar is also displayed on top of the public blog page... if you're logged in!
Other than that, you can see on the screenshot that the backoffice now comes with a "dashboard" which gives you fast and easy access to the items you need the most like the comments awaiting moderation (with one click buttons) as well as your recent draft posts (am I the only one repeatedly forgetting to publish my drafts? ;))
b2evolution 2.0.0-alpha will be out in a few days now.
9 comments
Francois
Are Validation issue going to be looked at for this version
eg:[Invalid] Markup Validation of http://demo.b2evolution.net/HEAD/blogs/index.php?blog=1 - W3C Markup Validator
value of attribute "id" invalid: "2″ cannot start a name.

It is possible that you violated the naming convention for this attribute. For example, id and name attributes must begin with a letter, not a digit
It was only a few minutes ago that I got around to upgrading to 1.10, but I'm really excited to get my hands on 2.0. The new admin skin looks great!
This looks great :) can't wait to try this out:)
Few days from now? Yipee!! The long-wait is over!
wow I can't wait to check out the new system.

Comments Sort Order By
I just noticed that Typepad's comments are sorted with the latest comment on the top.
This would be a nice feature.
Stats page
For the stats page, I wish we go back to the old text-based version only. The graphs take a bit to load. Do others have similar comments on this?
Back Office Option For URLs
It would be cool to have a global setting to enable a href on comments. Since the Anti-Spam works like a charm, enabling links may be safe now. Thoughts?

finally, i'm hoping this is the right place for these comments.

Edgar.
This looks good, I am with host monster and they give me you 1.10 version I would love this version but some things i hope you have fixed or are thinking of doing.
First I use it as a site blogging, just just anyone i want to blog but not edit everyone posts. With 1.10 if you can post you can edit anyones.

David, you can still install version 2.0 manually at Host Monster.