Released on April 2nd, 2015.
This is an alpha version. This means it is meant mainly for evaluation and testing.
The main thing to know about alpha versions is that anything might change from one release to the next and we do not guarantee a clean upgrade path from one alpha to the next.
However, this version works! There are many little details that still need to be polished but this version should start to give you a good idea of what the stable b2evolution v6 will be like ;)
Also available on GitHub.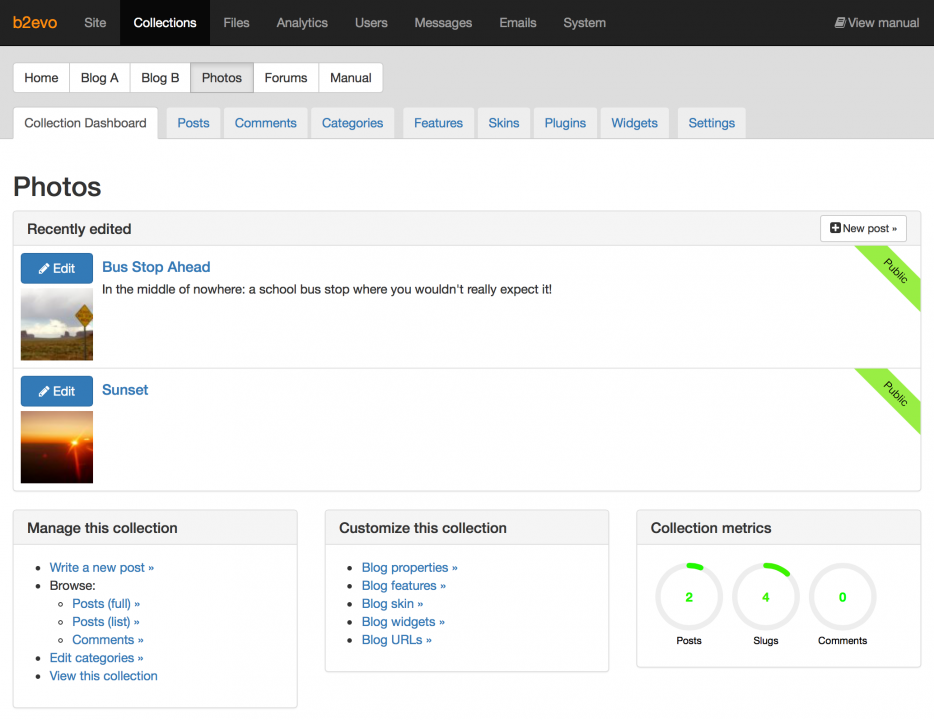 The new Bootstrap Back-Office (and it is responsive indeed ;)
Installation
Our easy Installation Guide will provide step by step instructions to get you started with b2evolution.
Upgrade
At this time we don't necessarily recommend you upgrade a stable version to this alpha version (although we've done it on our own sites… ;) If you feel adventurous today, see: Upgrading an existing installation.
IMPORTANT: many root files are no longer needed in this version and should ideally be deleted from your web server. Also, you should use the provided tool to convert your database to UTF-8. Please check Upgrade to b2evolution version 6.x for instructions.
Changes
In addition to what's been introduced in 6.0.0-alpha:
Bootstrap RWD now used also on:

Back-office completely redesigned with Bootstrap (the old "Chicago" design is available as an alternative admin skin if you're nostalgic ;)
Installer / Upgrader
Config error screen
default.php
more in progress…

Font Awesome is used almost everywhere.
Back-office:

new navigation structure
It is now possible to upload files directly into the post edit screen by simply dragging and dropping files into the attachments area.
Cleaner toolbars on edit screens.

Post structure:

Item/Post types are now fully configurable:

Every field of the post form can be enabled/disabled on a type by type basis.
Custom fields can be defined on a type by type basis.

Switching to a different post type now goes through a "select new type" page.
Admins / Moderators / Editors can now have a private discussion around posts ("meta comments")

Site structure:

It is now possible to set default collections to be used for displaying all login/registration and also for all messaging functions, no matter from which collection they are invoked. This allows a more consistent user experience across the site.

Cleaner URLs:

index.php now recognizes collection URLs like http://baseurl/shortname (requires mod_rewrite which should be enabled if you use b2evolution's provided .htaccess file).
It's now possible to configure collection URLs like http://baseurl/shortname/ in a single click
the first/the default collection will now be assigned just the baseurl (without index.php appearing in the URL)
b2evolution no longer ships with Stub Files like blog1.php– Everything is handled transparently by index.php now (but you can still use stub files if you need them)

Plugins:

Markdown plugin now generates IDs for titles.
Wikilinks plugin now allows to add #anchors into links.
Current filters widget
10 comments

I see that this version is used on the demo site, except it says 6.1.0-alpha and not 6.0.1.
The new Bootstrap Back Office is absolutely stunning. Looks professional and clean. B2-Evolution is so exciting!

Hi Jaques,
Thanks for your compliments, we are also pretty excited with the new image.
In this version we introduced a major change in the back-office's structure, default skin, etc, and also the list of improvements just doesn't stop to grow up, so I guess that the version change should reflect that.
Actually, it will get its final name at the moment of the official release.
Regards!

Hi Jacques! Thanks for the encouragement on the new back-office. We've been working on it day and night! Hence the rapid increase in version numbers ;)
It still needs a bit of polishing but we can't wait to get it out, so we're releasing 6.1.2-alpha today :)
I take it to mean that there's not going to be a 6.0.x release version. That's unfortunate. I was hoping the announcement of 6.1.x meant that 6.0.x was going to be going through stabilization.

Freezing 6.0 didn't make sense to us. It didn't feel complete without the 6.1 features.

Version 6.1.3 on the demo site - Wow.
Looks good - but I miss the "blog" button in the right top corner in the dashboard. The "Home" button on the left corner isn't really intuitive, I think.
And I miss the possibility to sort the comments in the backoffice different of the sorting in the blog ;)
Good work.

Hi Jacques,
The "Disabled" option wasn't removed, now can be set by post type and is disabled by default. You can enabled it by checking "Allow disabling comments" in Collection > Settings > Item type > Post (or any other) > Features. It was a global blog setting in v5 (http://b2evolution.net/man/comment-feedback-options). Manual page for this new feature is still pending.

@ednong hope you get used to the "Home" button in the evobar soon :D. We were looking for a word to identify the front-end matching "Collections" as a general contents concept instead of just "Blogs", and also trying to keep it as simple as possible, in order to ensure an easy translation into many languages. Finally, until v5, there were two links to the same place (See and Blogs), so we removed one of them and kept all the main controls at the left side of the bar.

Manuel In reference to the "disabling comments" posts above, thanks for your instructions. It would be cool if it was possible to show/hide tags the same way… (;
B2e has become so jam packed with goodies (features). What is left to say? Thanks!